Man Utd miss yet another crucial turning point to lurch to new crisis levels

Sign up to Miguel Delaney's Reading the Game newsletter sent straight to your inbox for free
Sign up to Miguel's Delaney's free weekly newsletter
Thanks for signing up to the
Football email
For all that Erik ten Hag discussed refereeing decisions in public, he struck a different tone in the privacy of the Parken dressing room.
"It will turn," he told his Manchester United players. "One moment in the season it will turn in our favour." The assertiveness was at least striking, but it's hard to know whether that still has the same effect.
If only his team were so sure of themselves. This is why it's difficult to have much faith in what the Manchester United manager said in the aftermath of another farcical defeat, this time 4-3 to Copenhagen.
Ten Hag argued that so many individual moments and decisions are going against his team but, even if that's true, it doesn't feel like that is the main factor in these miserable results. It is more how vulnerable United repeatedly look after those moments go against them. They are a team that plays under a huge weight – of history, of form, of expectation. It clearly feeds into a huge anxiety. They become a team that plays with fear.
The problem with Ten Hag's "one moment" is that it's become evident that moment can be so quickly undone by what follows. It could even be argued that's repeatedly what's happened. They've arguably already had a series of such moments, from Rasmus Hojlund's goal against Galatasaray to Andre Onana's penalty save against Copenhagen and Bruno Fernandes' penalty strike in Parken. They were all squandered. Worse than squandered. Such reprieves were just followed by collapses that were all the more exquisite in their haplessness.
That's how United can somehow come up with new calamities that are different to the last.
It is genuinely remarkable for a club this wealthy and this distinguished. There's always some new farce around the corner.
That plays into what is almost the most alarming prospect right now. In situations like this, the tendency is usually to survey the fixture list and see where you might pick up points.
For United, though, any notionally forgiving game just raises the prospect for more punishment; more criticism.
This match at Parken was the ninth defeat in 17, after all. It was also a case in point.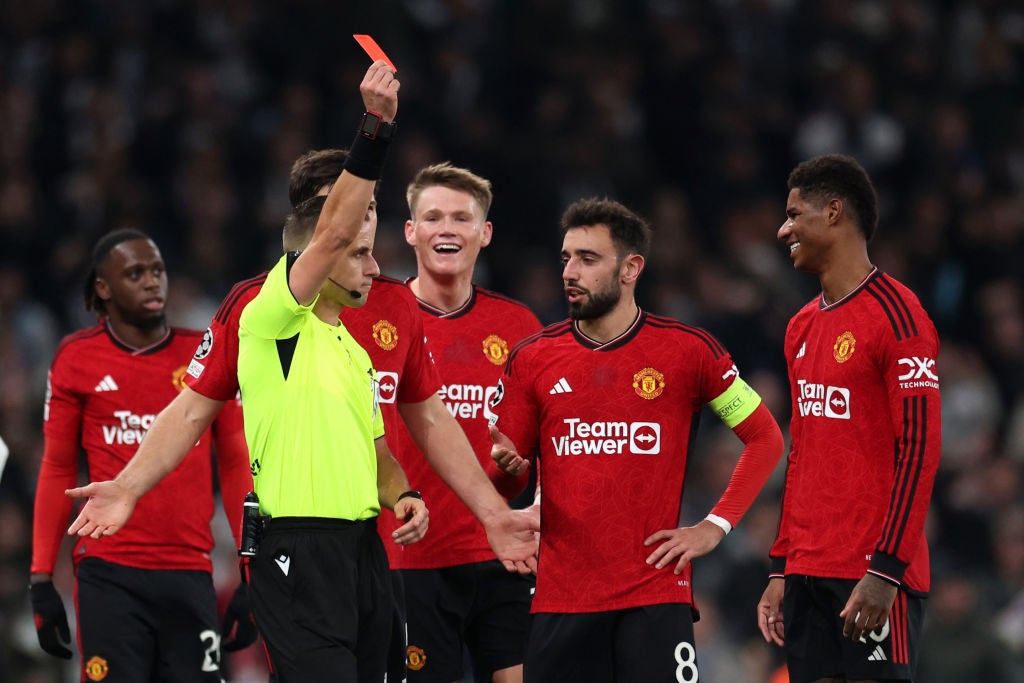 Copenhagen are a well-run and smart club that are clearly overperforming but the vast gap in resources means it should still be the sort of game that allows United to settle, while setting them on the way to second place in the group.
Worse, that was actually exactly what it was, in two separate spells. United were 2-0 up and cruising and then 3-2 up and comfortable.
How it went from those situations to raucous Copenhagen celebrations…
United's capacity for calamity is now a direct inverse of their old ability to win out of nothing. It's not quite a sense of inevitability in the same way but it is that constant possibility something can go badly wrong. Copenhagen, as their manager Jacob Neestrup virtually admitted, could smell it. They felt the opportunity.
And, again, Ten Hag can fairly point to so many decisions going against him like that Marcus Rashford red card; like the offside in front of Andre Onana.
It's just that, rather than competently see out the game in the way a side as expensively assembled as United should, there was that knowledge that this was about to get interesting. Rather than any kind of control, chaos once more engulfed United.
There are other reasons for this than just basic psychology. Ten Hag doesn't have the team playing as he wants. There have been personnel issues, especially with injuries. But, even there, what of a relatively expensive signing like Raphael Varane? How could a player as accomplished as that produce a performance as bad as this? That late attempt at a pass said so much, while setting the tone for what followed.
This game perhaps laid bare that Ten Hag simply wasn't picking him because he just wasn't at the level. Instead, the Leicester City central defensive partnership from 2019 were chosen to start this crucial Champions League match.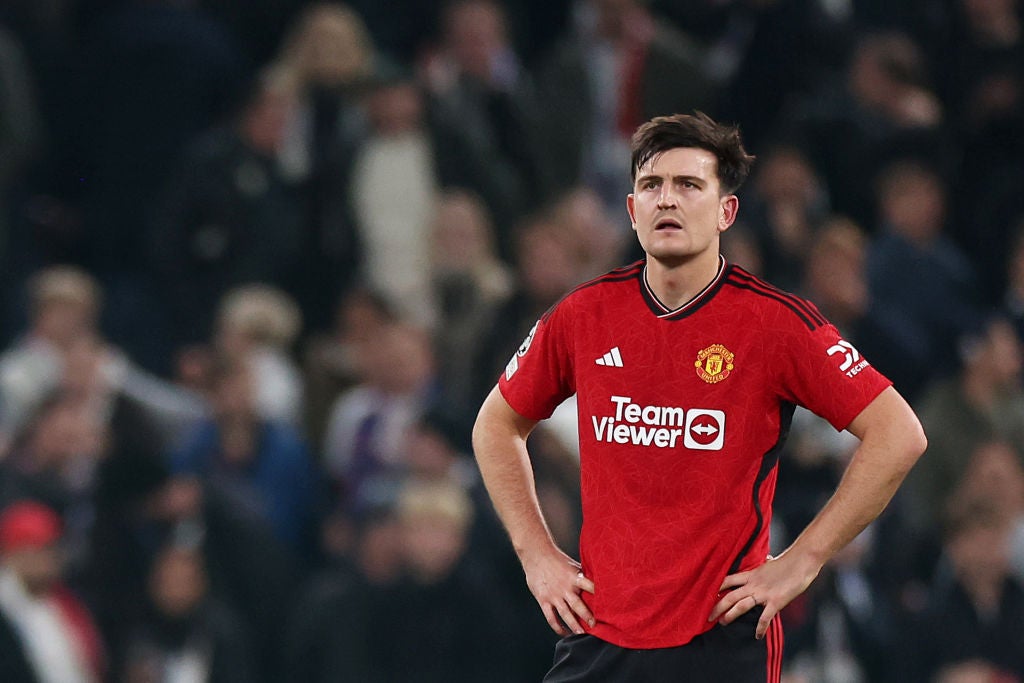 That isn't intended as a slight on either Jonny Evans or Harry Maguire, it's more just the starkness of what it states about United's team building. All of this has already been discussed repeatedly over the past few weeks and there's only so many times you can say the same things without being desensitised, but that's also the entire point.
Even amid all that, United find new ways to astound.
As much as players have individual responsibility in all of this, you could forgive each and every one of them thinking what they have got involved with. Likewise Ten Hag, but then he was specifically chosen to turn all of this around; to be transformative.
His team right now only seem to be transforming the semblance of competence into yet another collapse.
So, a fixture as forgiving as Luton Town at home this weekend isn't so much a chance to set things back on track but an afternoon fraught with risk.
Likewise this Copenhagen match. Likewise a game the entire season could hinge on at Galatasaray.
United's consistent confusion has at least brought a form of clarity there. They know they need to avoid defeat to Galatasary to stay in the Champions League, and prevent a third group stage elimination in six campaigns in the competition. That is just more historical weight to go with that from this fixture in Istanbul.
"Welcome to hell" was the infamous banner at that Champions League elimination 30 years ago. United are currently in a strange purgatory.
Source: Read Full Article