Australian Open 2023 LIVE: Rafael Nadal suffers shock loss plus Emma Raducanu vs Coco Gauff build-up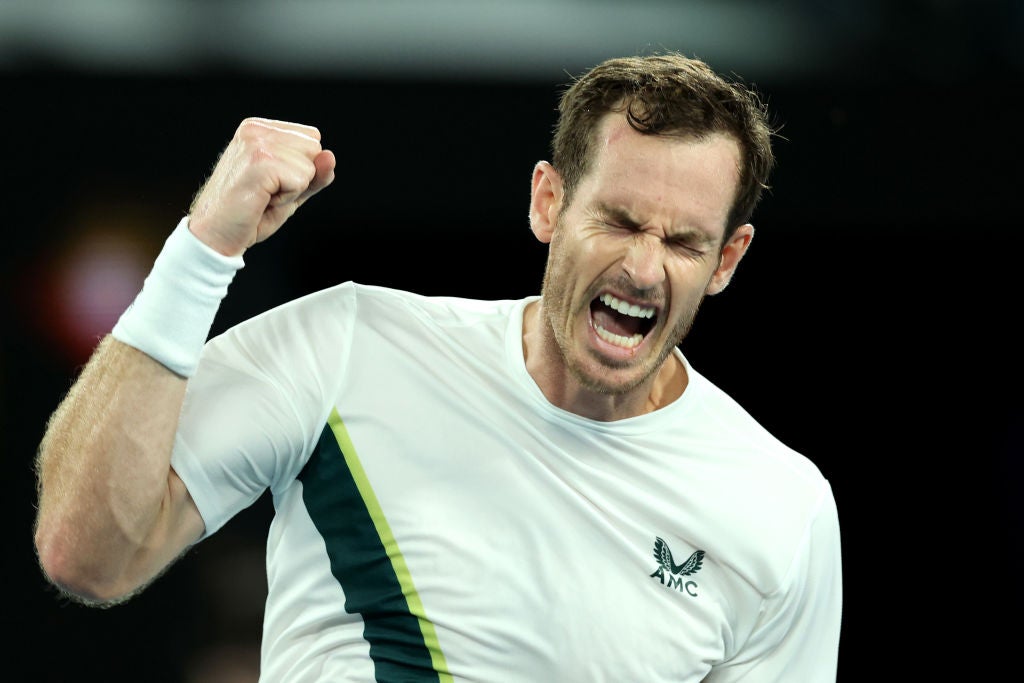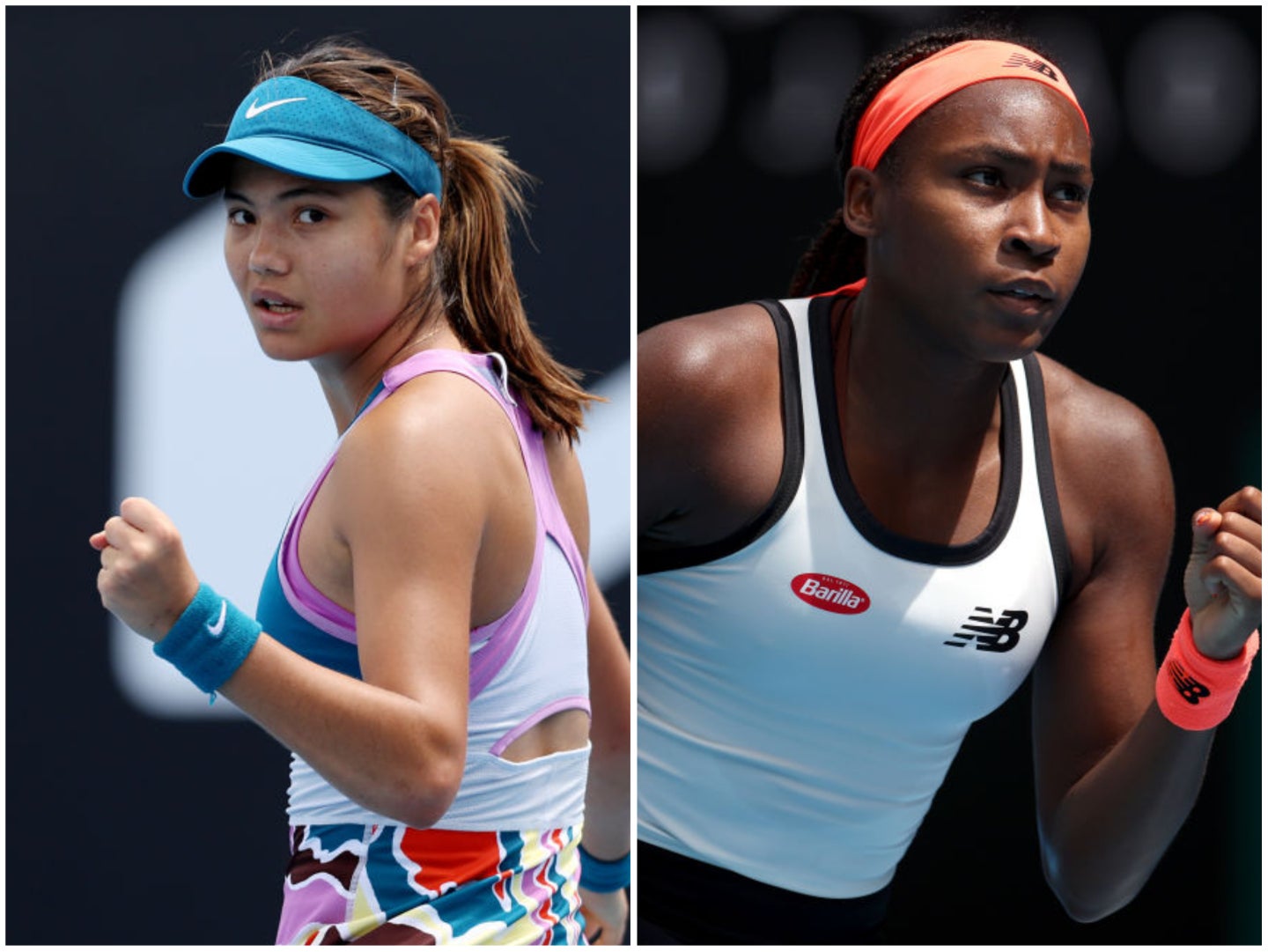 Emma Raducanu, Coco Gauff and the superstar clash of tennis' future and present
As Emma Raducanu continues to navigate the tangly pressures of expectation and progress at the Australian Open, she will come face to face with an opponent in Coco Gauff who can relate to her experiences on a level that few can reach. Given their tennis breakthroughs have followed similar trajectories, it is an astonishing boost to the Australian Open that it gets to stage the first ever meeting between Raducanu and Gauff – two of the sport's most prominent names, let alone teenage stars – on what is only the third day of competition on Wednesday.
They burst onto the scene at Wimbledon at the same stage but two years apart; Gauff with her run to the fourth round as a 15-year-old in 2019, Raducanu to the same point aged 18 in 2021, and then more significantly as she won the US Open as a wildcard two months later. Their worlds changed overnight, and in a way that only a few players on the tour can truly understand. Raducanu and Gauff were held up as future multiple-time grand slam champions, endorsements followed, and the demands to repeat their initial success were not always met with perspective.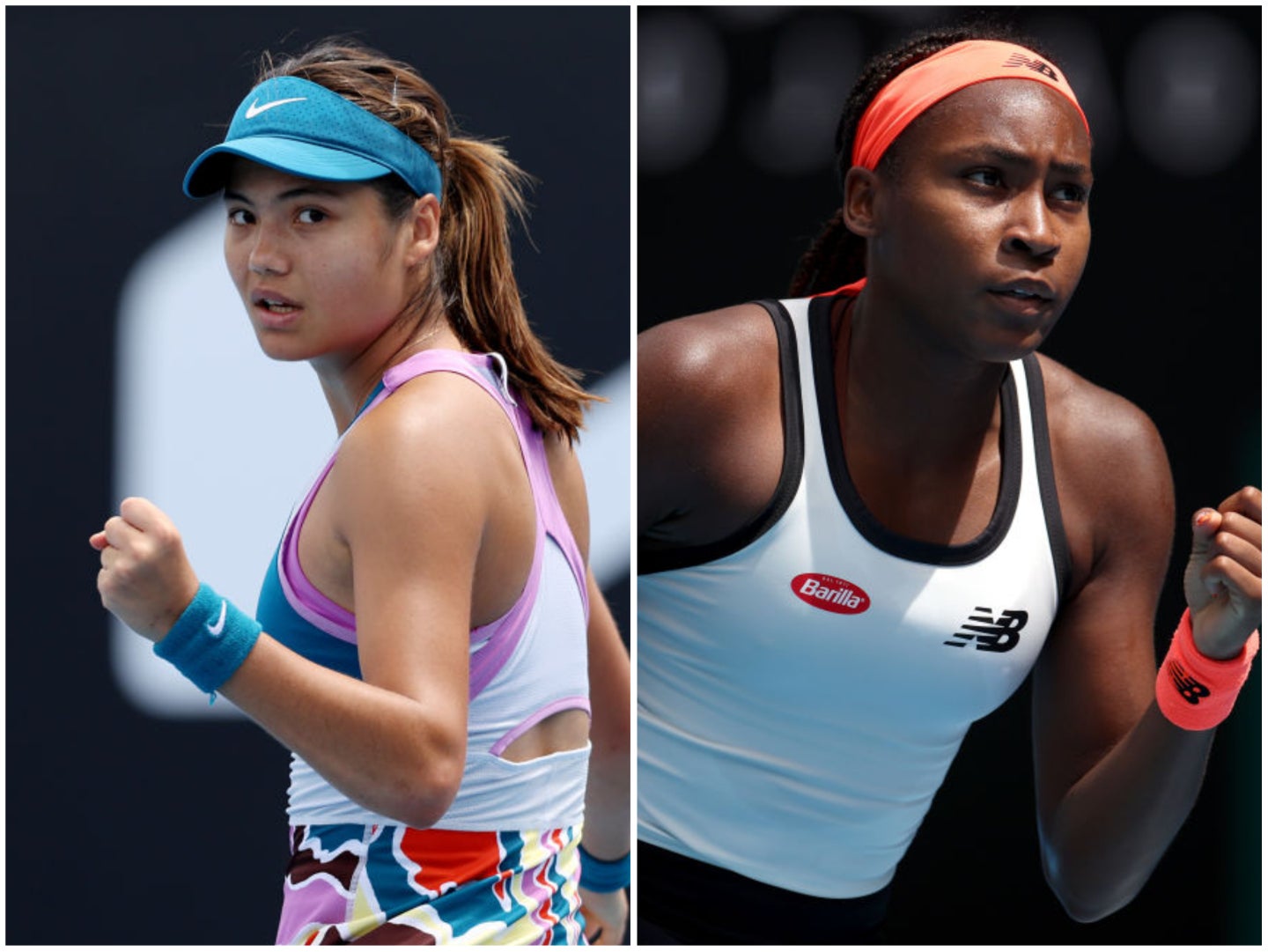 Emma Raducanu, Coco Gauff and the superstar clash of tennis' future and present
While the two teenagers share that they both exploded onto centre stage, Raducanu and Gauff have taken contrasting paths to a first grand slam meeting at the Australian Open
Australian Open 2023
We expect Emma Raducanu vs Coco Gauff at 08:00.
It's been a busy morning in the Australian Open on day three, here's what you missed:
Women's top seed Iga Swiatek had too much for Camila Osorio, easing through 6-2 6-3.
Third seed Jessica Pegula joins her, dispatching Aliaksandra Sasnovich 6-2 7-6 (7-5), as does sixth seed Maria Sakkari – just.
She avoided a shock to battle past Russian teenager Diana Shnaider 3-6 7-5 6-3.
But 15th seed Petra Kvitova is out after Anhelina Kalinina pulled off a 7-5 6-4 win.
As well as Rafael Nadal's stunning loss, as his injury woes returned, sixth seed Felix Auger Aliassime rallied from two down to edge past Alex Molcan 3-6 3-6 6-3 6-2 6-2.
But there were no such problems for Italian 15th seed Jannik Sinner, who cruised through thanks to a 6-3 6-2 6-2 victory over Tomas Etcheverry.
Australian Open 2023
We're almost ready to go at John Cain Arena.
The 18th seed Karen Khachanov faces a tough one here.
Home favourite Jason Kubler will hope to use home advantage to take down the seed.
Australian Open 2023
There's an all-French clash on Court 5 as Richard Gasquet, a champion after victory over Cameron Norrie in the ASB Classic final last week, trails compatriot Ugo Humbert 1-0 after a set.
Australian Open 2023
So then, after the shock of Nadal's exit, attention turns to the rest of the day's games.
The ain has stopped at Melbourne Park meaning matches can resume on the outdoor courts.
Andy Murray is resting up nicely and must wait to find out his next opponent as home favourite Thanasi Kokkinakis looks to polish off Italian veteran Fabio Fognini.
The Aussie needs just two games to advance and secure a mouthwatering second round match with Murray.
Australian Open 2023 – Rafael Nadal suffers shock second-round loss to Mackenzie McDonald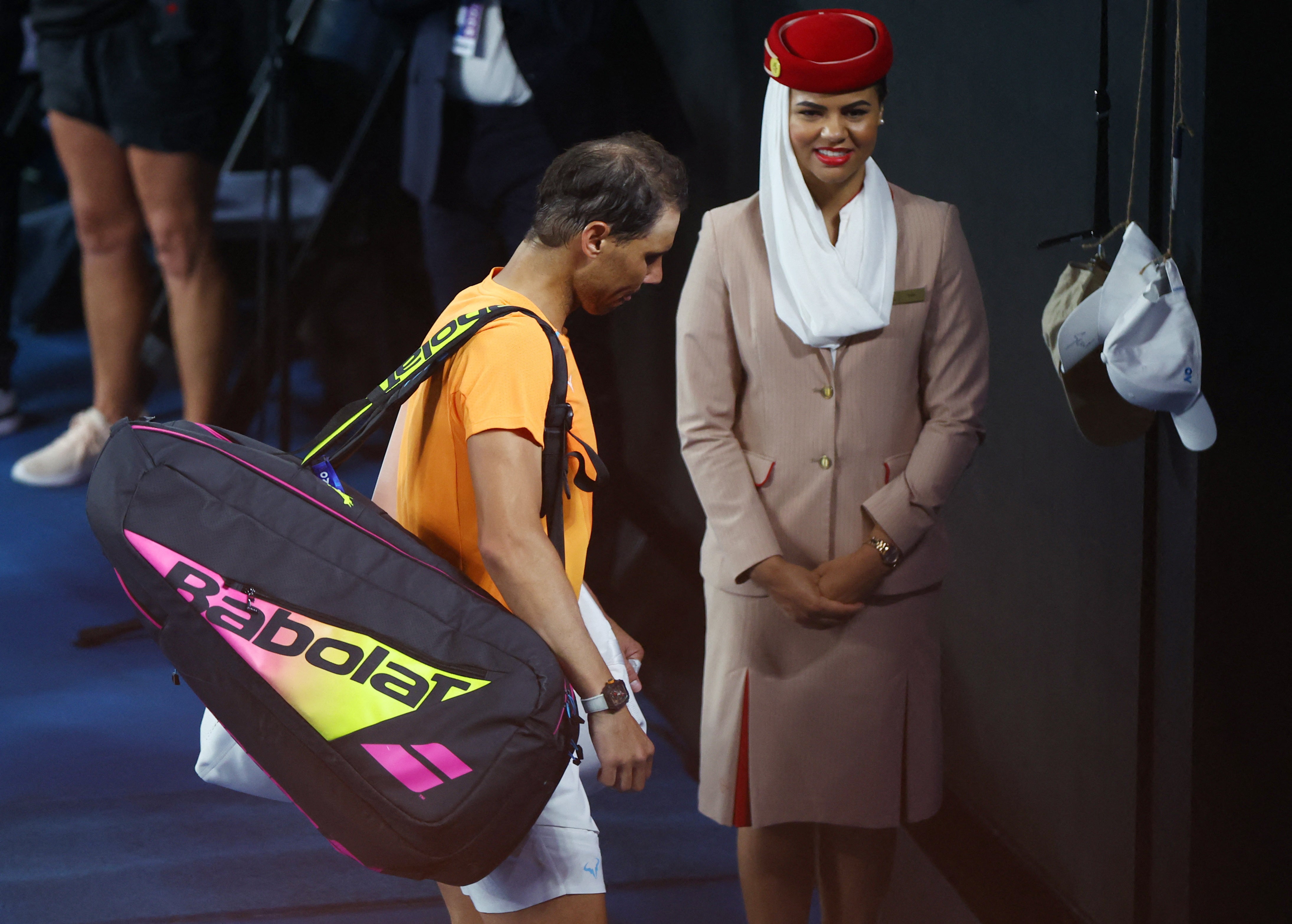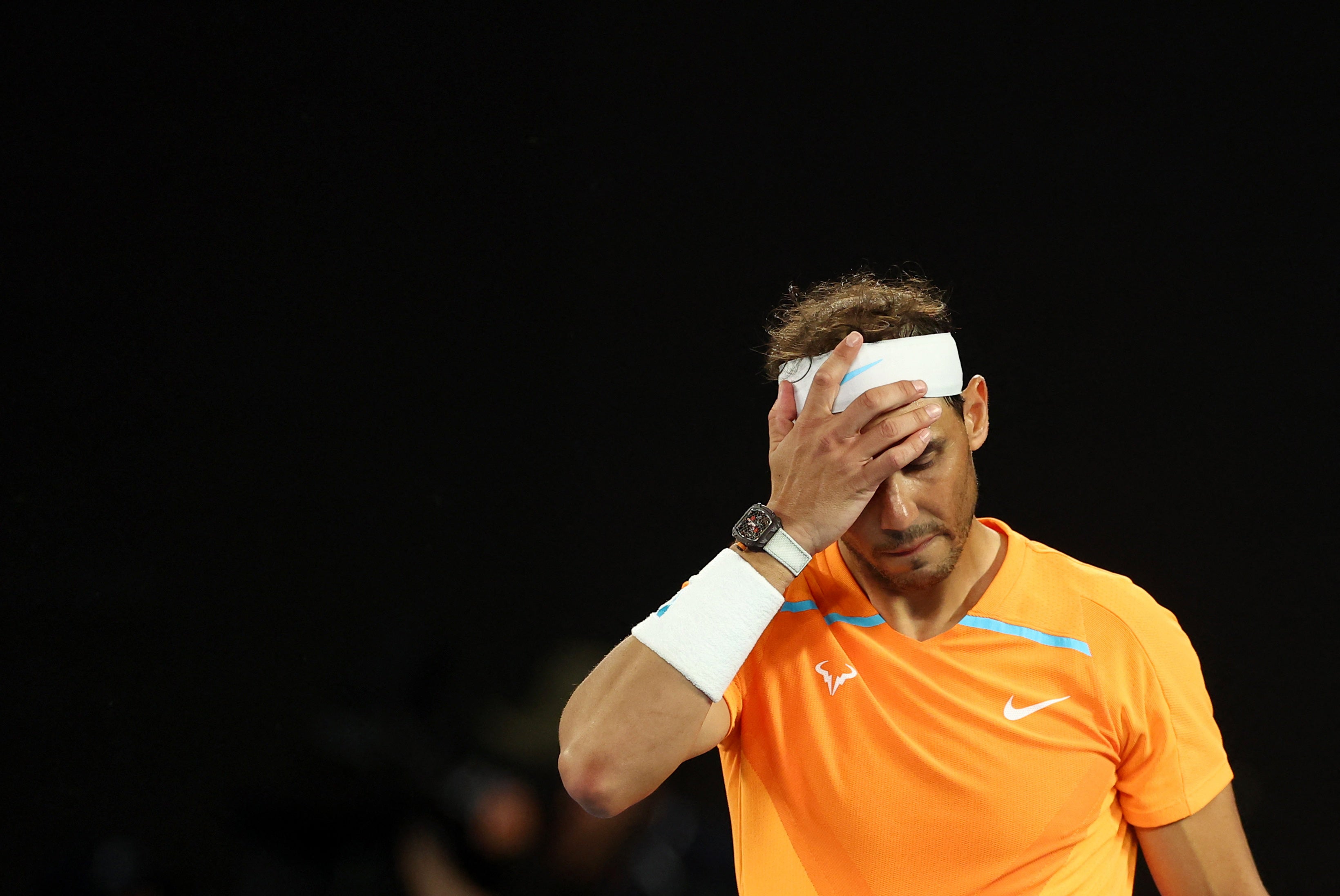 Spain's Rafael Nadal looks dejected after losing his second round match
Rafael Nadal, right, of Spain congratulates Mackenzie McDonald of the U.S
Australian Open 2023
A stunner early on day three at the Australian Open then.
Rafa is gone, could this be the end of his time in Melbourne at 36?
"He's an incredible champion," says McDonald.
"He's never going to give up so closing it out against a guy like that is tough.
"I'm happy I kept focusing on myself and got through."
Australian Open 2023: Nadal 4-6, 4-6, 5-7 McDonald* – Game, set and match!
Here we go then, McDonald serving for the match and the biggest win of his career.
Remarkable, what nerve here, he races to 30-0!
But Rafa to the net and tips a pass cross court, courage!
And that's it, McDonald has done it! Nadal returns to the net, the American stuns the defending men's champion, who is OUT!
Australian Open 2023: Nadal 4-6, 4-6, 5-4 McDonald*
This is a bit of a grind for Rafa, McDonald digging in here and forces deuce as the Spaniard's lazy backhand drifts long.
And now a chopped backhand volley at the net gives the 27-year-old a break point!
A booming unreturned serve gets him out of trouble. Deuce. Then a smash at the net, the crowd really into this now and hoping to inspire the champ!
The whipped cross court forehand catches McDonald off balance, GAME! That's massive, he leads 5-4.
Australian Open 2023: *Nadal 4-6, 4-6, 4-4 McDonald
That is a superb service game from McDonald, who holds to love.
We're dangerously close to the end here for Rafa.
There's a grimace, but he takes the balls and will hope to nudge ahead once more.
Source: Read Full Article