Manchester City vs Manchester United: How Football Leaks showed Abu Dhabi's money has made City's long-time inferiority complex a thing of the past
Peter Swales made his money in selling sheet music and renting out televisions, and when he was Manchester City chairman he would phone up the club secretary at midnight to find out exactly why he had changed Maine Road's black bin bag supplier. He infamously flew Paul Lake back from knee surgery in California in economy class, cramping his operated leg so badly that he had to go through customs in a wheelchair.
City's chairman today is Khaldoon Al-Mubarak, the effective prime minister of the United Arab Emirates. When City were negotiating with Uefa in 2014 over what their sanctions would be for breaching Financial Fair Play, club lawyer Simon Cliff allegedly wrote that that Al-Mubarak said that he would "rather spend 30 million on the 50 best lawyers in the world to sue [Uefa] for the next 10 years."
You can read Tim Rich's brilliant 'Caught Beneath The Landslide' to learn about the inner workings of City before the Abu Dhabi takeover, especially during the reigns of Swales and Franny Lee. And for one view of how City have functioned over the last 10 years, you can read Der Spiegel's reports of the last week, although City themselves state that "the attempt to damage the club's reputation is organised and clear".
The two operations portrayed are utterly unrecognisable from one another. Of course you can point to the most cosmetic similarities between the two, like City blowing £1.4m on Steve Daley in 1979, a transfer fee that was as surprising back then as anything the club have spent in the last 10 years. But ultimately there is no comparison between a club that has been built piece by expensive piece to dominate world football – where board member Simon Pearce allegedly emailed a colleague to say City "can do what they want" – and one that once relegated itself by mistake.
But football clubs are not just made up of their owners and employees. In a moral sense they belong to the fans. They are the people who define what the club is meant to mean. So while every buyable aspect of City has been upgraded by Abu Dhabi, the fanbase has not been. And while the traditional fans have been almost unanimously delighted by the events of the last 10 years – "Manchester thanks you Sheikh Mansour" – that does not mean that the fans and the owners will always feel the same way.
Because when a fanbase has grown up with an inferiority complex, it takes some adjustment to suddenly be the biggest fish in the lake. "City, City, the best team in the land or all the world" was never meant as an earnest description. But it has been Abu Dhabi's goal for some time and for the last year or so it has been the literal truth. Can it still work as a joke after that?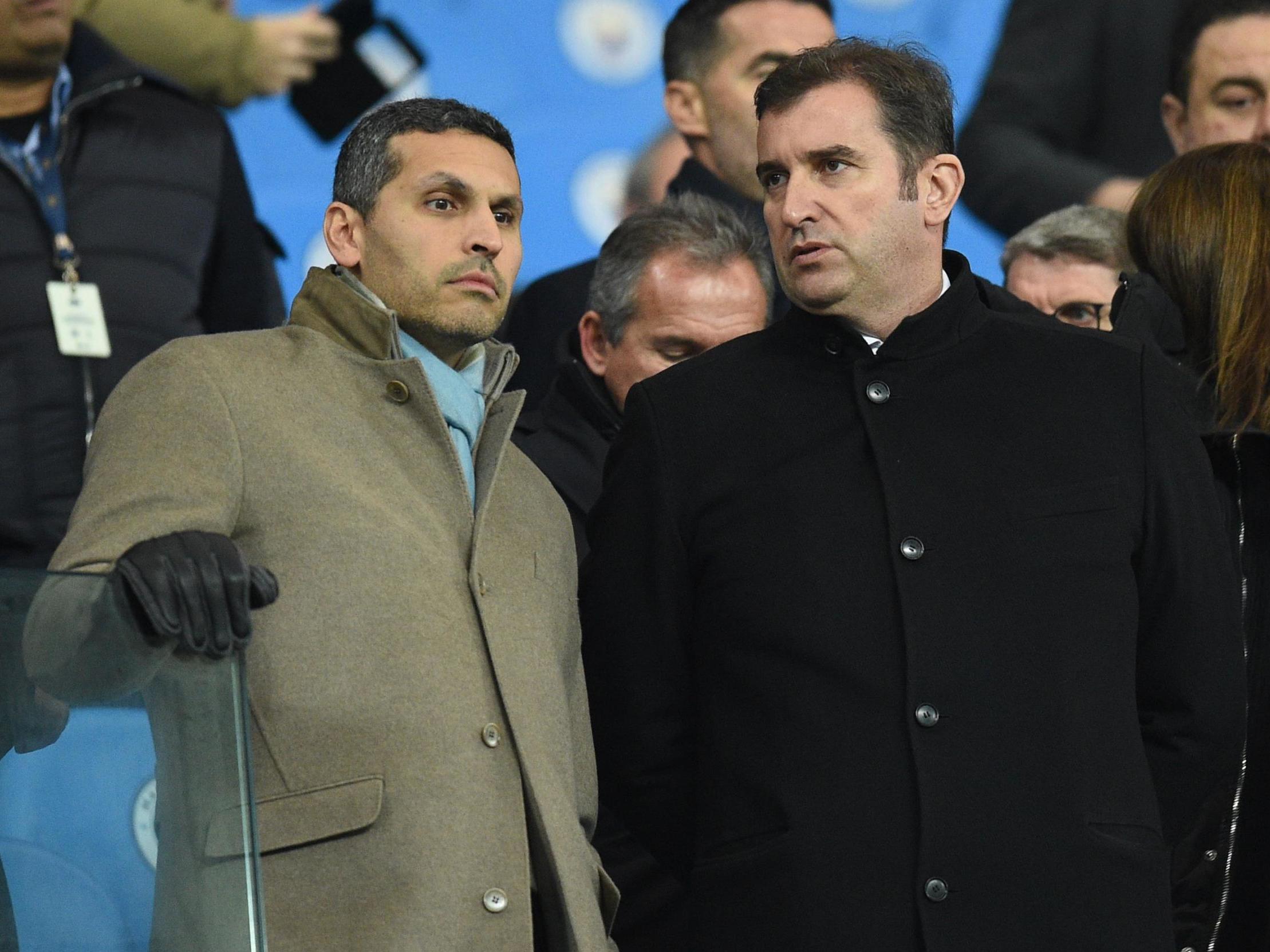 Nowhere is this tension more obvious than regarding the Champions League, and City's place in it. The hierarchy believe City need to win it to validate their years of progress and success, and prove themselves among the Barcelona, Real Madrid, Bayern Munich and the rest. Pep Guardiola is desperate to win it for the third time, almost eight years on from his second triumph.
But City fans do not necessarily see things the same way. Attendances at the Etihad Stadium are down even in this, their eighth season in the competition and their third under Guardiola. There were 40,111 people at the Etihad when City lost 2-1 to Lyon on 19 September. On Wednesday night the crowd was better for the 5-0 defeat of Shakhtar Donetsk, 52,286. This has been annoying Guardiola ever since he took over in 2016 and he is clearly frustrated that the broader fanbase is not as enthused by this competition as he is. This week, as City tried to drum up interest in the Shakhtar game, he contributed to a new video on social media telling City fans that "every Champions League game is amazing".
At Barcelona and Bayern Munich, Guardiola would never have to tell the fans something that obvious. But then those two clubs have won the trophy five times each. It is an indispensable part of their history, their identity and their self-esteem. At City it is not. The Champions League anthem has soundtracked the greatest nights in the careers of Guardiola, Ferran Soriano and Txiki Begiristain. To them it makes no sense to boo it. But for many City fans, it feels right. They find themselves members of a club that they never asked to join. So why do they have to pay respect to its traditions?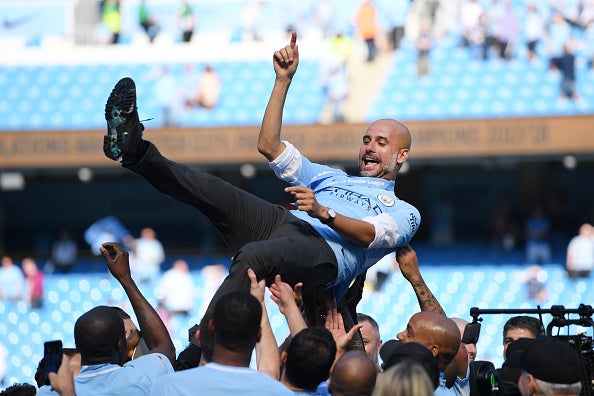 But to read the allegations in Der Spiegel this week is to read an account that claims City are not only comfortable at the top table of European football, but that they are among the most powerful and aggressive sides there. City might argue privately that they are not as politically influential as they look. But they are reported as being one of the 11 founder signatories of the "binding term sheet" for the European Super League. Those clubs are interested not only in setting up their own standalone tournament, but in ensuring that they will not be relegated from it for another 20 years.
This has been a sensitive topic at City for some time. In 2016, Soriano was photographed meeting Ivan Gazidis, Bruce Buck, Ed Woodward and Ian Ayre for a secret super league meeting. One Abu Dhabi advisor allegedly emailed him: "We need to be very careful moving forward, and avoid at all costs the perception of a cartel".
The idea of City being in a cartel alongside Manchester United would have appeared ludicrous under Swales, Francis Lee, or in fact until very recently. For decades City's relationship to United was defined by inferiority. Swales was obsessed during his tenure with "wanting to get over United", and is described in 'Caught Beneath A Landslide' as "fanatical that City should be on a par with United", and "losing all rationality about it." Ian Niven, a fixture on the City board for years, could reportedly not bring himself to call them by their name, using 'Stretford Rangers' instead.
But that old relationship no longer holds. Off the pitch, City have far more in common with United than they do with almost any other club in the country. On the pitch, they are clearly superior, finishing ahead of United five seasons in a row. Only in one of those seasons – 2015-16 – have United finished less than nine points behind City. When City lost 3-2 to United at the Etihad in April, the second half felt more unlikely than the first.
That superiority and dominance still takes some getting used to for many people. But the evidence of last few years, of 32 wins, 106 goals and 100 points, of their start to this season (even without Kevin De Bruyne), of Melbourne City, New York City, Girona and CFG, and of this week's stories in Der Spiegel, is that this relentless process is not going to slow.
Follow the Independent Sport on Instagram here, for all of the best images, videos and stories from around the sporting world.
Source: Read Full Article