Keepers Wield More Than Just Guesswork In The Battle Against Penalty Kicks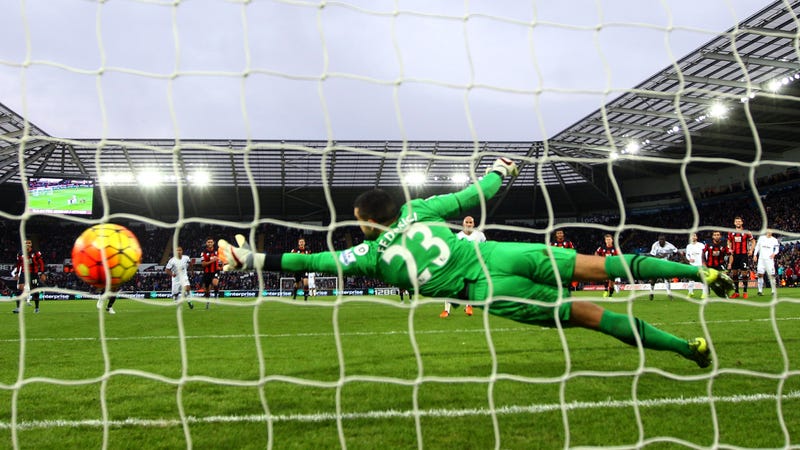 Penalty kicks are bad. They're dramatic and can be a fascinating experience out of context, but we don't get to experience them out of context. We have to deal with penalties as a clumsy method of deterring fouls in the box and as a makeshift solution to tied games dragging on forever. The fact that they're preferable to determining winners by flipping a coin isn't much of an endorsement.
That's largely irrelevant griping, though. Referees have been awarding penalties since a debatable date in the late 19th century, and competitions have been deciding games with shootouts since at least the 1950s. We're stuck with them until we come up with something better, or the hockey-esque one-on-one breakaway format of the early MLS comes back into style. We may as well enjoy them for what they are, or at least try to appreciate the dynamics.
Before this year's men's World Cup, Lucas Hubbard put together an excellent Deadspin primer on penalty shootouts that covers the basics. In this installment of None Shall Pass, we'll dig deeper into the goalkeeper's perspective on penalty kicks. The bad news is that the keeper is expected to fail—their save percentage is well below the Mendoza line and even that involves a lot of luck. The good news is that it's tremendously satisfying when they succeed.
In-game penalties vs. shootouts 
There are two different situations where penalties are employed: a one-off kick during the course of play or a dedicated game-deciding shootout. The broad strokes apply to both, but there are some distinctions from a goalkeeper's point of view.
Advertisement
Most teams have a player or a few players who handle the bulk of their penalties. This means that on a single kick, a keeper is generally pitted against someone who is skilled and experienced. The upside to facing a specialist, though, is that there's often a solid sample size of metrics and film available to study for tendencies. Especially if it goes deep into the bench, during a shootout goalies can run into the opposite scenario, facing less offensively skilled players who may never before have taken a competitive penalty kick.
The biggest tangible difference between the two formats though, is the significance of rebounds. In a shootout, barring a highlight-worthy topspin disaster, the ball is dead once the keeper saves it and they can focus solely on stopping the initial shot. On a normal penalty, however, anything parried back into play or bouncing off a post is live. Given that the shooter has a 10-yard lead on any defenders rushing in to help, balls spilled toward the center are in huge danger and a keeper has to be ready to recover from their first effort immediately. Stuffing a PK only to watch an attacker coolly slot the rebound into an open net can be demoralizing.
Such a nightmare struck Everton keeper Jordan Pickford just this weekend:
Pickford calmly withstood Paul Pogba's comically slow run-up, and then stoned the shot with a strong left hand only to have to watch helplessly from the ground as Pogba flicked home the rebound. That's about as good as a penalty save can get, leading to the worst possible outcome.
Advertisement
This is not exactly paper-scissors-rock 
It's understandable how it happens, but the conversation around penalty kicks tends to get oversimplified. The process, after all, is not that complex and it makes for interesting game theory experiments and research papers, but it also isn't as simple as two actors making an independent black-box choice between three pure directions.
There are all kinds of complicating factors. There's a rich metagame and psychological pressures that have a statistically significant impact. Both parties have an opportunity to read and influence each other right up until the ball is struck. And there are a lot more choices being made than just left, right, or center.
Advertisement
Shooters do have the option to pick a spot and fire it there regardless of what the keeper does, with the knowledge that a great penalty is nearly impossible to stop. León ended up losing their Copa MX meeting against Cruz Azul but in the process they provided some quality examples. On León's fourth kick, lefty Juan Cornejo fired it high and hard to Cruz Azul keeper Guillermo Allison's right.
This is a stellar penalty. Even though Cornejo is going to his "unnatural" side, he doesn't betray it by opening up his hips, a tell that keepers will look for, until the last second. It's hit with pace and ends up in the side netting. Because of the distance from where the keeper starts and the parabolic arc of any dive, the top corners are by far the hardest area to cover. Allison either guesses correctly or sees Cornejo telegraph something, because he's headed to the proper side before Cornejo's plant foot lands, but he's just never going to get there.
Advertisement
If kickers were infallible, they'd likely smash the ball as hard as they can into a top corner every time. Even a good keeper selling-out very early would need a spectacular effort to stop it. The reasons they don't are intuitive. Hitting shots at full power sacrifices accuracy and increases the chance of missing the goal completely. Aiming high makes skying the ball over the net much more likely, which given previous history is not an image that anyone wants to be attached to. And while high penalties are harder overall for a keeper to deal with, poorly located ones can still be tracked down, as Nick Rimando does here using his top hand against Teal Bunbury.
But the reason penalties are weighted so heavily against the keeper is that at this range, it doesn't nearly require a rocket into the upper ninety to beat them, especially if they wait to react. León's final kick in that same shootout was taken by William Tesillo. Allison stands his ground until very late and doesn't appear to guess much at all.
It's possible Tesillo's exaggerated final stride froze him, but either way, Tesillo places a roller perfectly inside Allison's left post. Allison has loaded up his pre-dive hop and is ready to spring as Tesillo is planting his foot, but doesn't truly start laying out until the ball is struck. Despite the relatively casual pace, it's too much distance for Allison to cover and the ball slides past his outstretched hand.
Advertisement
To make things worse, the shooter has other options. They can draw the keeper into moving and then place it where they aren't, or assume that the keeper is going to guess and fire it down the middle. When this works it seems simple and makes the keeper look foolish, but there are risks.
Here we turn once again to Everton's Jordan Pickford, who faced down Crystal Palace's Luka Milivojević after a penalty was called during their clash two weeknends ago. Milivojević angles his run and his hips to make it appear that he's going to the keeper's left, and appears to have the keeper beat. Pickford buys it and begins his leap in that direction.
But just because a goalkeeper has guessed wrong does not mean they are dead weight. As Milivojević whips his leg across the body and tries to bury it behind the keeper, Pickford's feet are still in contact with the ground. When the keeper recognizes the trap, he's able to slow his momentum, drag his right foot behind him, and even generate a small kicking motion to counteract the velocity of the shot. Pickford gets to play the hero and sheepishly admit in the postgame interview that, in spite of the kick save, he forgot to do his penalty kick research.
Advertisement
This is the exact sort of thing that the Panenka, which Hubbard also covered nicely, is meant to avoid. Its change-up pace means that if a keeper jumps early, their legs and everything else will be out of the picture by the time the ball arrives. Orlando's Yoshimar Yotún recently left Zack Steffen in a heap with a glorious one.
Given those threats, and the fact that they likely won't be able to reach a perfect kick anyway, it's a reasonable tactic for the keeper to sometimes stand tall as long as they can, and hope it flusters the kicker into giving them something they can react to.
Advertisement
What a keeper can influence from the line
The laws of the game currently read, "The defending goalkeeper must remain on the goal line, facing the kicker, between the goalposts until the ball has been kicked." Before 1997, though, they included the phrase, "without moving his feet." While referees have notoriously given leeway to keepers leaving the line and bounding forward too early—beyond the head start it also helps them cut down the shot angle slightly—this change allowed movement laterally and opened up more completely legal options.
Importantly, this gives a keeper a better chance to react. Instead of having to have their feet rooted in place until impact, they can now bounce into a hop (see Allison against Tesillo, above) or start shuffling their momentum in one direction as early as they dare. They could always distract a kicker by waving their arms or bouncing in place but being able to actively reposition or feint back and forth during the kicker's run-up can give them more to think about.
Advertisement
Even if they do stay stationary, there are reasons a keeper might want stand offset instead of dead center in the goal mouth. As Hubbard mentioned, giving the kicker more goal to look at on one side can influence them kicking to that side, even if the shift is so small that they don't consciously notice it. A keeper may also be significantly better diving to one side or the other, or know a kicker's tendencies, and want to hedge against those weaknesses.
For an exaggerated example of this, let's head back to the Copa MX. Pachuca's keeper, Óscar Pérez Rojas, sets up significantly to his left for the kick from Monterrey's Luis Madrigal.
It may have been too far. Both Rojas and Madrigal know they are going to opposite corner, and Rojas starts heading that way very early, but Madrigal hits a good ball into the top corner. The keeper never really gets that close.
Advertisement
A more understated and successful example comes from the CONCACAF Women's Championship. Panama's 17-year-old goalkeeper Yenith Bailey had an incredible tournament, but Jamaica's Nicole McClure, who was subbed-in specifically for the penalty shootout, ended up making two saves that would send the Jamaican women to their first World Cup.
On Panama's fourth kick from Kenia Rangel, McClure lines up shifted only slightly to her left, with her right foot near the center of the goal. (There's a better angle of her positioning, but with lower quality video, here.)
Just as Madrigal did, Rangel sends it to the right side of the keeper where there is more space. She doesn't hit it nearly as well, though, scuffing it along the ground, and McClure gets down and palms it away with relative ease.
Advertisement
"With relative ease" is a hell of a thing to say about any penalty save, though. Nothing about any of this is easy and whatever a keeper can do to keep one out of the back of the net is worth celebrating.
The save that will enrich your life
On that note, let's close with one of Yenith Bailey's eight million saves from that same tournament. In stoppage time of the first half of Panama's 2-0 stunner over Mexico, Bailey brick-walled Charlyn Corral on a penalty kick to keep the game scoreless.
This is pretty well hit by Corral, and it's not that far off the post. Bailey, who by the way started playing keeper a year ago, just covers an incredible amount of ground with her first stride and is somehow there before the ball is. It's worth turning your sound up for because the combination of the thud when she intercepts it and the announcer's disbelief is wonderful.
Source: Read Full Article