Jurgen Klopp: Liverpool must 'earn right' to reach Champions League semi-finals after first-leg loss to Real Madrid
Liverpool coach Jurgen Klopp has said his team must "earn the right" to reach the Champions League semi-finals following Tuesday's first-leg defeat by Real Madrid in the quarter-finals.
Vinicius Jr and Marco Asensio both scored to give Real a 2-0 half-time lead on their training-ground pitch – with the Santiago Bernabeu under reconstruction – before Mohamed Salah pulled one back for the visitors after the break.
But Vinicius Jr would strike again to seal a 3-1 win for Zinedine Zidane's Spanish champions, leaving Klopp's Liverpool with it all to do in the second leg next week.
"If you want to go to the semi-final, you have to earn the right to do so," Klopp told BT Sport at full-time. "We didn't do that tonight, especially in the first half.
"The only good thing I can say, apart from the goal, is it's only the first half of the tie.
Read more:
Vinicius Jr exposes Liverpool errors as Real Madrid take control of Champions League tie
Phil Foden hands Man City last-gasp win over Dortmund in quarter-final first leg
Premier League top four race: Who has the best run-in?
The Champions League trend that could come to the fore again
"We just didn't play good enough football to cause Real Madrid more problems. We made it too easy for them. These mistakes can happen.
"We didn't deserve a lot more but that one goal and the second half was okay. It gives us a lifeline."
Naby Keita did not even make it to half-time before being substituted by Klopp, three minutes before the break and six minutes after Asensio had doubled Real's lead.
Independent Football Newsletter
Get the latest football headlines direct to your inbox twice a week
Read our privacy notice
Independent Football Newsletter
Get the latest football headlines direct to your inbox twice a week
Read our privacy notice
Of his decision to replace Keita with Thiago in midfield, Klopp said: "It's not a big story, I don't like it. He wasn't the only one.
"It was tactical. I could have done a few more changes in that moment."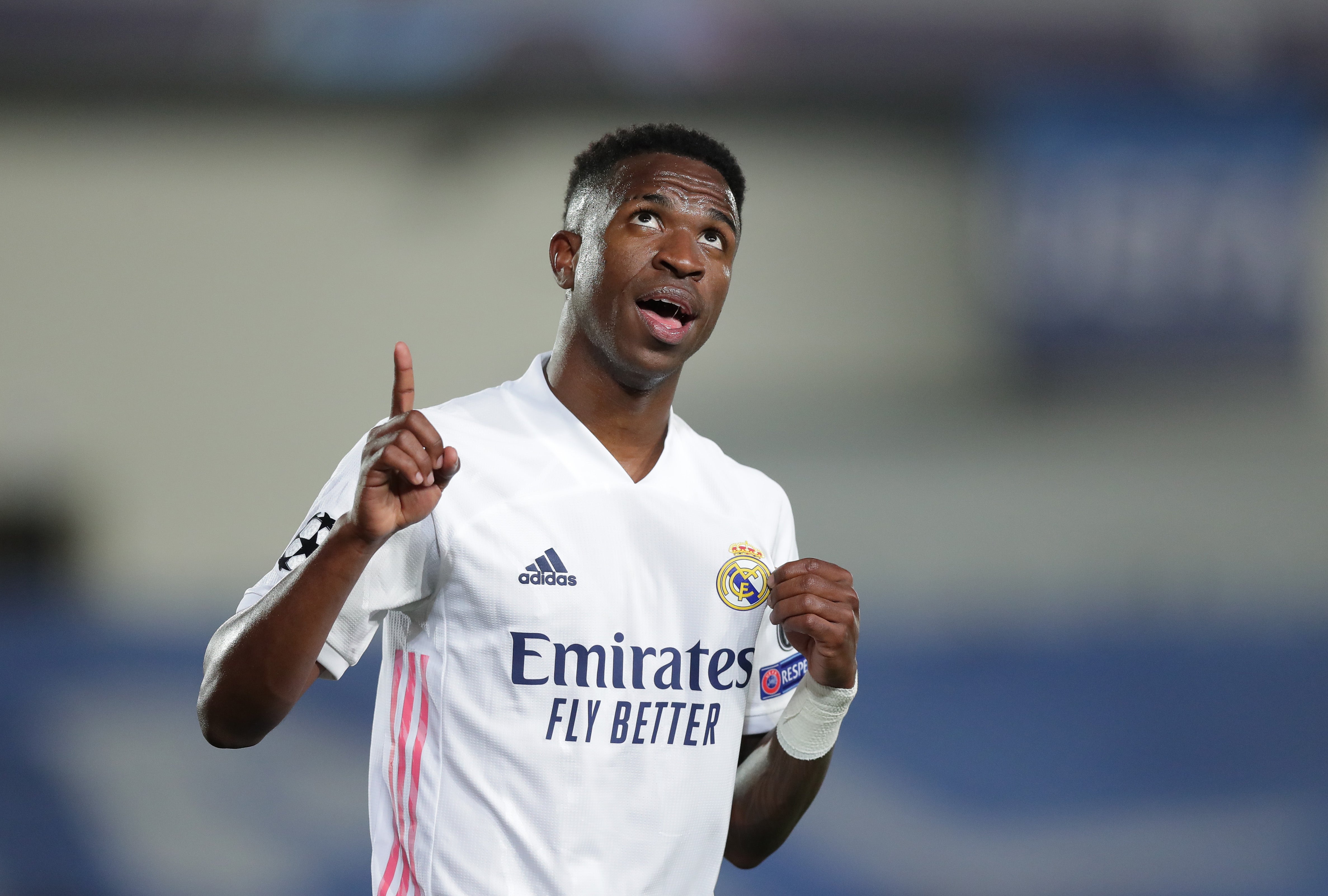 Vinicius Jr scored twice for hosts Real Madrid – once in each half
The German coach, who led Liverpool to the Champions League title in 2019 and the Premier League trophy last season, was asked what his players need in the second leg at Anfield if they are to reach the semi-finals, and said: "Intensity with the ball especially.
"You cannot defend the speed of Real Madrid when you give them the ball at the wrong moments. If you lose ball in the right moment, it's okay.
"We lost the ball… so many easy passes. [They] have really quick and world-class players in one-on-ones. We have to be better in possession."
Meanwhile, captain Georginio Wijnaldum said: "It was difficult, we played against a good side.
"The way we did in the first half wasn't good. We lost [the ball] quickly with simple passes. Two moments of not concentrating enough and they scored; we weren't sharp enough.
"We said in the second half we have to play our football and not lose the ball too easily and concentrate more. They were a few times dangerous with long balls, [but] we played our own game and that's why we scored. Unfortunately they scored [again] and that makes it more difficult."
Source: Read Full Article