Euro 2020 news live: England reaction after Italy win final on penalties
England lost the final of Euro 2020 at Wembley Stadium last night, beaten by Italy on penalties to see ensure their 55 years of hurt will become 56, if not even more.
Luke Shaw's half-volleyed opener at the back post gave England the perfect start, but Gareth Southgate's side lost control of the game and Italy's superiority resulted in an equaliser through Leonardo Bonucci following a corner on 67 minutes. With neither side able to find a winner in normal time, extra time followed. Still parity remained, with Southgate bringing on Jadon Sancho and Marcus Rashford at the last moment – just in time for the young pair to take penalties.
Both would miss, however, as would Sancho's fellow teenager Bukayo Saka with the decisive spot-kick for a 3-2 shootout defeat. The trio were the victims of racial abuse after the game, only adding to England's misery. Italy, meanwhile, were able to celebrate a 34th straight win under Roberto Mancini and a second European Championship triumph – marking their sixth major trophy. England remain on one, still clinging to that 1966 World Cup triumph at Wembley, which was stormed by ticketless fans ahead of kick-off yesterday evening. Follow all the fallout from England's Euro 2020 final defeat.
Euro 2020 news: Fan violence at Wembley spoils special night
"Hundreds" if not "thousands" of ticketless fans stormed Wembley ahead of kick-off last night in scenes that were somewhat scary for many supporters to see unfolding.
Our Senior Football Correspondent, Melissa Reddy, was at the ground and wrote about what took place:
"The stadium had to be briefly locked down after hordes of ticketless fans had breached sections of the stadium and stormed the concourse. Fences were torn down and thrown aside, with multiple eyewitnesses suggesting thousands had pushed in, including through a disabled entrance.
"The breach prompted violence, with videos capturing an adult punching a kid in the head inside the stadium, while a group of men kicked an Asian male while he was on the floor.
"A volunteer stationed outside the ground told The Independent: 'There were thousands on the steps near Wembley Way that bomb-rushed the barriers and broke through. It looked so co-ordinated as it happened in one big move as soon as God Save The Queen started.'"
Read more here:
Fan violence the only thing that disgraces England in defeat
England lost on penalties, but the only tarnishing display was the actions of the fans who tore up the city and forced entry into Wembley without tickets
Euro 2020 news: Penalty decisions were mine – Southgate
Gareth Southgate has shouldered the blame for the penalty shootout loss to Italy and told his young side to hold their heads high. Here's what the England coach had to say last night:
"In terms of the players, they've given everything they could have – not only tonight but through the whole tournament. They should hold their heads high.
"They're a team who have pulled together, given the country some incredible evenings, but of course tonight the devastation of getting so close and not being able to give our country the trophy we wanted to is difficult to put into context.
"Nobody is left out on their own and the calls for the penalties were mine.
"My decision. My decision to ask the players to take the penalties that they did."
More from the manager here: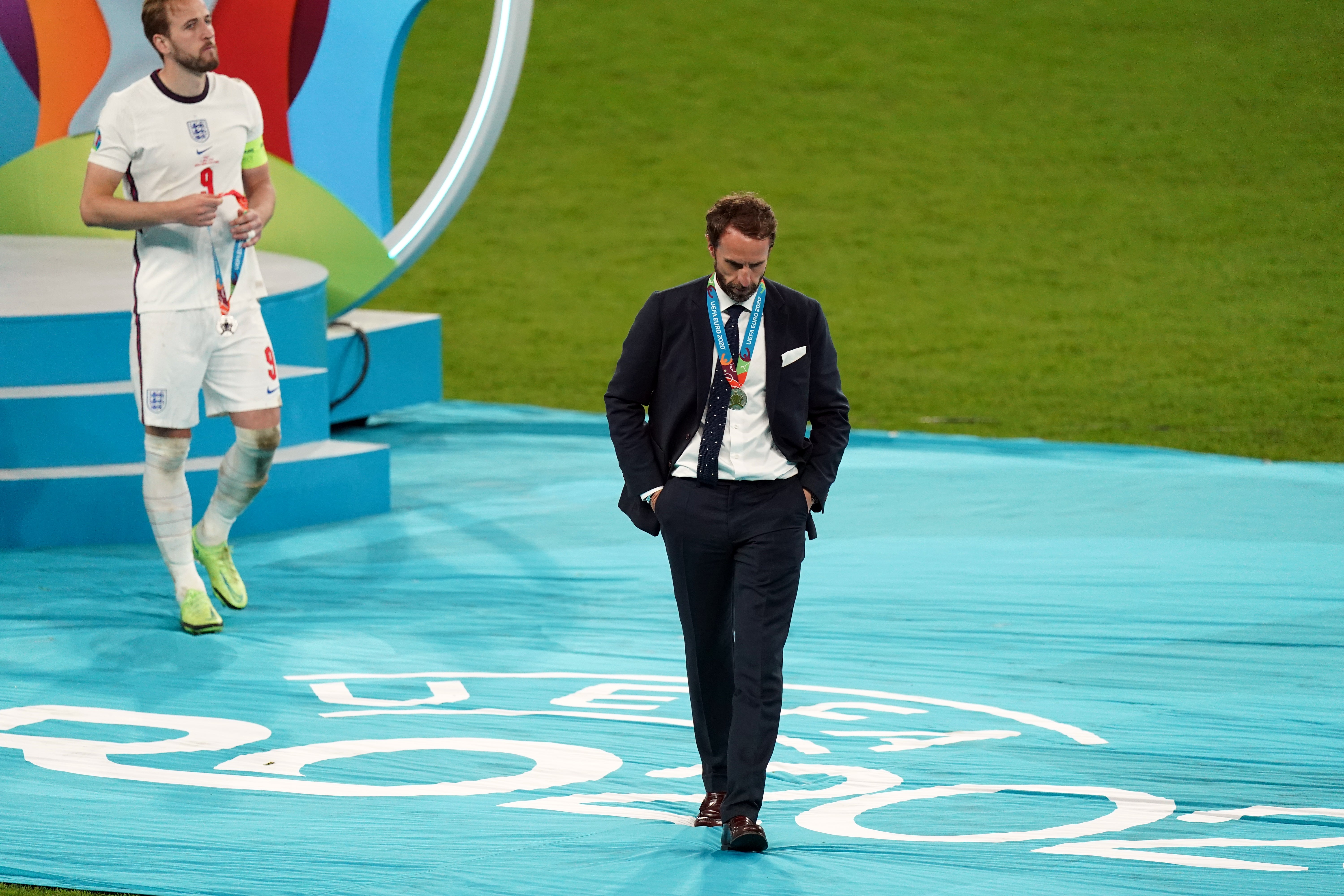 Gareth Southgate takes responsibility for England's penalty heartbreak in Euro 2020 final
The coach brought on Marcus Rashford and Jadon Sancho to take penalties, but the pair missed – as did Bukayo Saka
Euro 2020 news: PM condemns racist abuse of England trio
Boris Johnson has urged fans not to racially abuse the England football team after a barrage of hatred was unleashed against its black players.
The prime minister said people responsible for the "appalling" abuse, which is being investigated by the police, "should be ashamed of themselves".
England lost out on their first major trophy in over half a century on Sunday night after Italy defeated them on penalties.
Marcus Rashford, Bukayo Saka, and Jadon Sancho, who failed to score their penalties, have been subjected to the worst of the abuse – posted on platforms like Twitter and Instagram.
Full story here: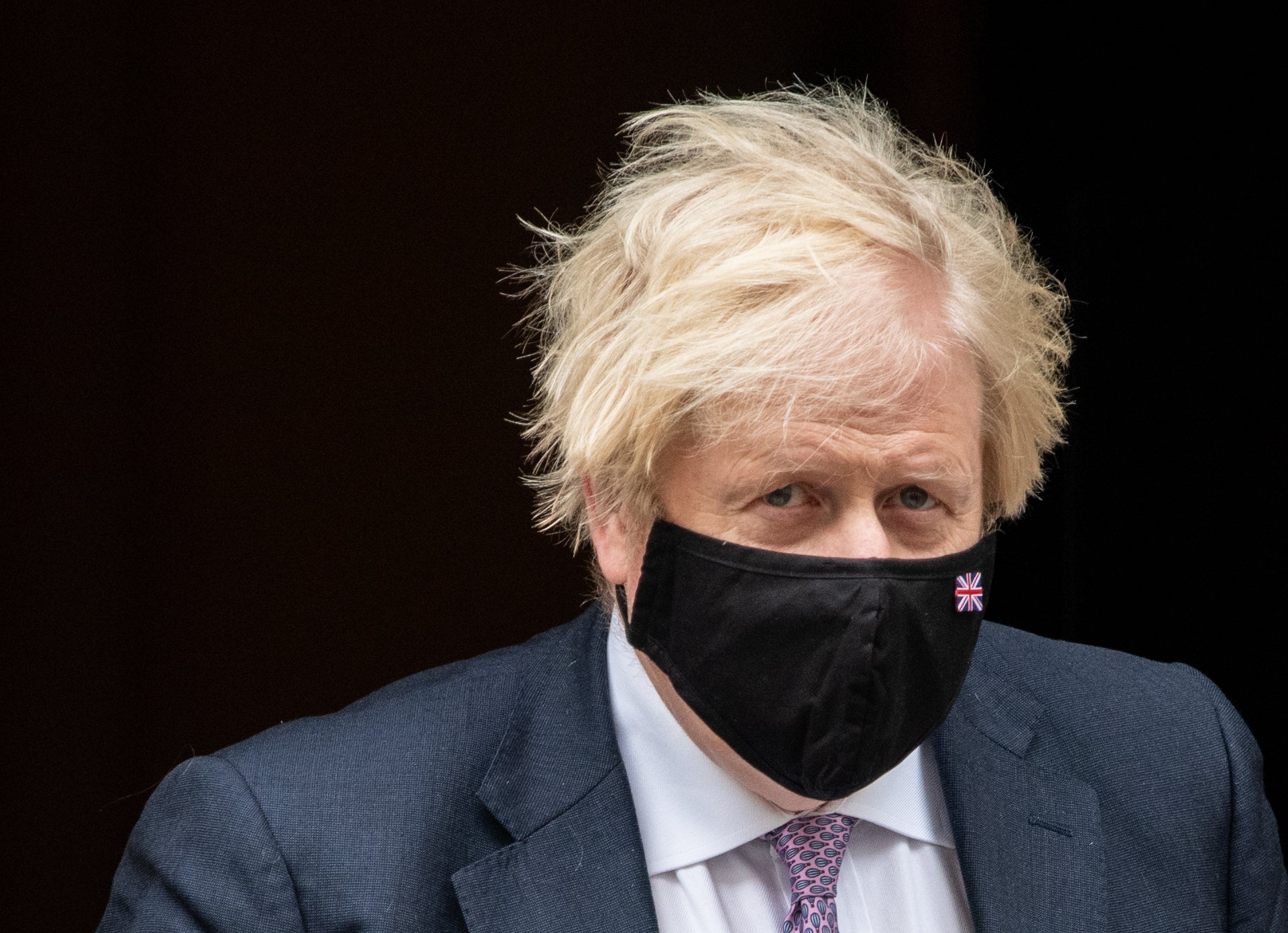 Boris Johnson condemns 'appalling' racist abuse of England players
Abuse has flooded in against Marcus Rashford, Bukayo Saka, and Jadon Sancho
Euro 2020 news: Report from Wembley
Firstly, a recap of last night's game – if you can bear to relive it. Here's an excerpt of what our Chief Football Writer, Miguel Delaney, had to say about the final:
"Another oh so near, and the most painful yet. England's wait will go on to at least 56 years as Italy seize the moment, and the game, to lift their second European Championship.
"That it was penalties, and the element that Gareth Southgate was supposed to address more than any other, only added to the anguish. That it was Marcus Rashford, Jadon Sancho and Bukayo Saka who missed only added to the unfairness of it in terms of emotion – not that Italy will see it like that. They more than deserved their win.
"The really big question that will persist on until a trophy is finally won – and England will surely never get a better chance than this – is why Southgate's side so squandered the initiative; why a 1-0 lead was allowed to become 1-1 and then even worse."
More here: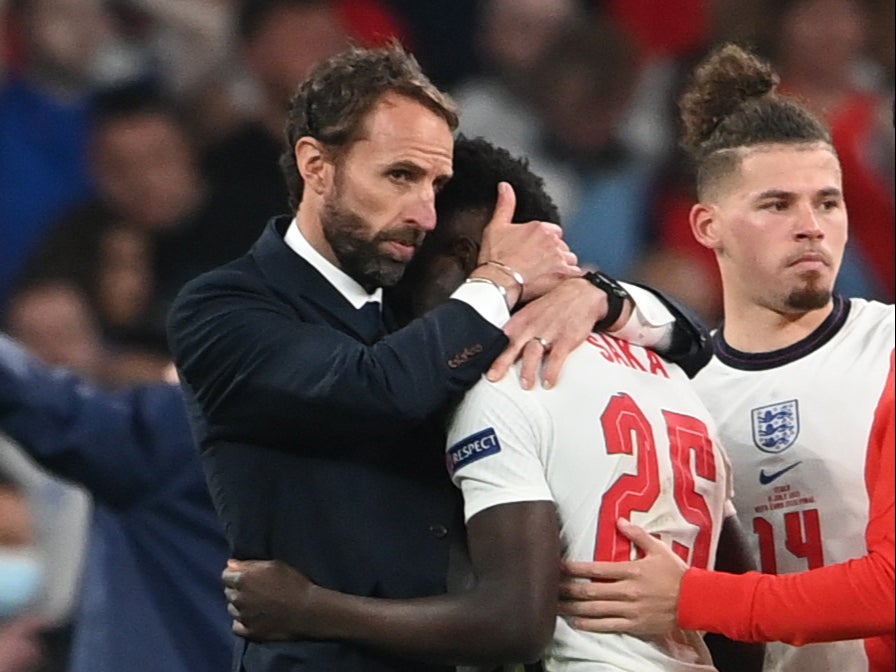 England lose Euro 2020 final after penalty shootout heartbreak against Italy
Italy 1-1 England (pens 3-2): Marcus Rashford, Jadon Sancho and Bukayo Saka missed the crucial spot kicks in the shootout
Euro 2020 news: Welcome
Welcome to The Independent's live coverage of today's fallout from the Euro 2020 final.
Football didn't come home in the way fans had hoped it would, despite the thrilling ride that Gareth Southgate and his players took supporters on over the last few weeks.
The Three Lions, for all of their progress and all the smashed barriers, suffered familiar heartache last night, losing on penalties to a superior Italy side.
The final was marred by fan violence at Wembley Stadium before kick-off and by the racial abuse of Marcus Rashford, Jadon Sancho and Bukayo Saka at full-time following their missed penalties in the decisive shootout.
We'll bring you all the reaction to last night's loss, as well as the fallout from the key stories as England were beaten by Italy.
Source: Read Full Article