Chelsea coach Thomas Tuchel praises team's 'complex' performance as Blues 'suffer' to beat Liverpool
Thomas Tuchel has praised his Chelsea side for their "complex" performance in defeating Liverpool at Anfield on Thursday evening.
The Blues condemned Liverpool to a fifth straight home loss for the first time in the Reds' history as Mason Mount scored the only goal of the game to send Chelsea fourth in the top flight.
And Tuchel, whose team are unbeaten in the 10 games they have played under the German since his arrival at the end of January, said at full-time that he was "delighted" to be part of such a fine performance at Anfield.
READ MORE: Revitalised Chelsea expose jaded Liverpool
"We had moments where we needed to suffer, but we never lost the attitude to defend, we never lost the discipline, desire and also courage to defend up front," he said. "It was a well-deserved win, a big performance and a big result.
"We don't plan whole matches, we just try to plan our performance. The point is, when you play at Anfield, you cannot overthink – you have no time to think. So, we told the players: We need your best performance but nothing extra, super special.
"We need to [have] courage if we want to escape the pressure, and we did this excellent … The performance was very complex; we were also strong in the transition game, we were strong in defending and in winning second balls and counter-pressing. That was the key.
Independent Football Newsletter
Get the latest football headlines direct to your inbox twice a week
Read our privacy notice
Independent Football Newsletter
Get the latest football headlines direct to your inbox twice a week
Read our privacy notice
"We knew when we arrived here that we needed to be top in all situations of the game. They ask you a lot of questions and you need to have the answers.
"Everybody was very brave and we needed to adapt the positions all the time. The pressure is high inside, but the solution is also inside – under the highest pressure is also the solution to escape the pressure.
"It was a lot to do, and the guys had an excellent performance from Edou [Mendy] up to Timo [Werner]. Everybody was sharp and that was absolutely necessary."
Chelsea thought they had taken the lead through Werner in the first half before Mount's goal, but the Germany international was ruled offside by the finest of margins.
"It was instantly clear that this was going to be a super close decision," Tuchel said. "You never know exactly where the line is. You have to accept that sometimes it's in your favour, sometimes it's not."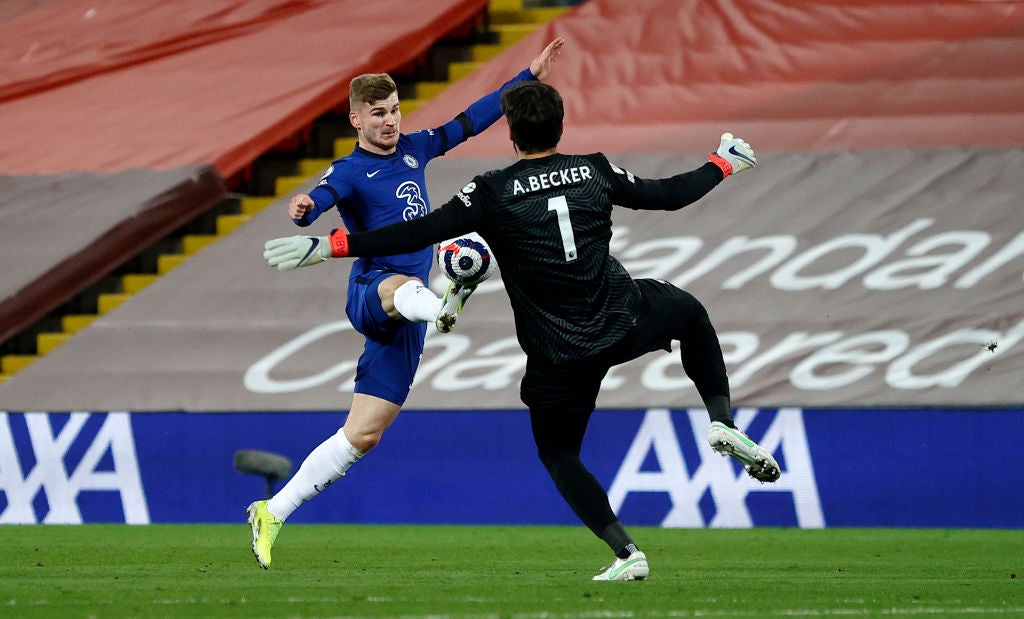 Timo Werner was ruled narrowly offside as he netted for Chelsea
Earlier in the evening, Everton had moved up to fourth place in the Premier League with their own 1-0 away win at West Brom, but Chelsea overtook the Toffees with the three points they collected at Anfield.
"It's a six-point game," Tuchel said of the result against the English champions, who sit in seventh place – four points behind Chelsea. "The race is on, there are still 11 games to go. Go step by step, there's no other way to prepare.
"It's good, because we can never rest, we can never celebrate and be happy too long."
Of the unbeaten run that Chelsea have put together under Tuchel – which includes a win against Atletico Madrid in the Champions League and victory over Tottenham in the Premier League, as well as a draw with Manchester United – the German said: "I feel as a part of this group, as a big part of the club from the first moments.
"[I am] delighted to be part of it."
Source: Read Full Article