North Melbourne 'will get through' coronavirus crisis: CEO
North Melbourne are in a "strong position" to survive through footy's coronavirus crisis and the club intends to bring all of its staff back when the situation settles.
Kangaroos chief executive officer Ben Amarfio said the club – which has fought off numerous crises in its history, including almost relocating to the Gold Coast – is almost debt-free, meaning it can absorb the further debt that will come when things return to normal.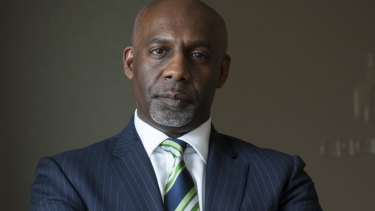 Ben Amarfio is confident North will survive. Credit:Fairfax Media.
An industry analyst said last week that smaller Victorian clubs such as North, St Kilda and Melbourne would face the biggest fight for financial survival in the crisis.
Amarfio accepted there were challenging times ahead but was more optimistic than the IBIS World analyst.
"I know a lot of people try to speak on our behalf sometimes, but we are very fortunate. If this had been nine years ago it might be a different case," Amarfio told SEN radio on Tuesday.
"Over the last nine years this club through its board and its management team and previous CEOs have done an amazing job of reducing $9 million of debt and effectively wiping it over that nine years.
"We go into this [coronavirus crisis] with $650,000 of debt so we are financially in a very strong position.
"We know that the landscape has changed enormously and we know that the AFL is doing an amazing job of trying to ensure that all the clubs are a going concern. We will all be taking huge loans off the back of this, some clubs have some cash reserves, but some huge debt awaits on the other side of this, but we're lucky we're starting from a zero-start in that respect.
"[North Melbourne] will get through. This is a club that has endured big crises before."
Like all AFL clubs the majority of staff at North have been temporarily stood down.
"Hopefully that's not the case [that North lose staff permanently]," Amarfio said. "Our hope is, and what we told our staff is, our intention is to bring everyone back when the suspension is lifted and we hope and we hope the suspension is lifted at the end of May, but who knows it's all dependant upon the spread of this damn virus," he said.
"The club is amazingly resilient. It's made of tough stuff. The people who are at the club and those who have been connected with the club for many years are all standing by the club.
"We will get through this. There will be pain on the way through and there will be debt waiting for us on the other side, but I have every confidence in the club and the people around the club and our supporters, our backers and I have enormous faith in the AFL themselves."
Source: Read Full Article