Eels rally around Lane after Mad Monday celebration makes headlines
The Parramatta Eels are rallying around Shaun Lane after the forward was engulfed in the NRL's latest off-field scandal.
Lane told his Eels teammates he was about to become headline news on Monday night, when a photo of the 24-year-old holding a small bag of white powder was published.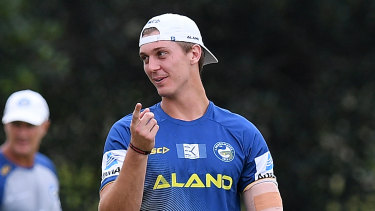 Eels forward Shaun Lane.Credit:AAP
"I'm sure it will probably hit him but he has the support avenues there to look after him and to make sure he's all right.
"It has nothing to do with me. We just have to support him as a mate and look after him."
Eels veteran David Gower said Parramatta players had already offered their support when Lane told them about the imminent headlines on Monday.
"We rallied around Sean last night when he told us," Gower said. "(But) it happened at a previous club. It wasn't on our watch.
"We need to focus on the game and we're paid to play football.
"We aren't paid to listen to media hype or to listen to negative headlines that people are going to run.
"We need to be professional and our whole focus is on getting better as a team at training and that starts today for us."
Lane's punishment for the leaked photo – which was taken during Manly's Mad Monday last year – is yet to be determined though it's understood a fine is the most likely outcome.
Source: Read Full Article