'A bit of a shame': The sacrifice 21-year-old Murray made in pursuit of Origin
South Sydney lock Cameron Murray has spoken post-Origin about having to sacrifice his life as a 21-year-old in exchange for his Blues jersey.
Murray said he made the decision to surround himself with people who had the same "mission" as him to achieve his rugby league dreams, gravitating instead towards people who understood the pressures of playing at an "elite level".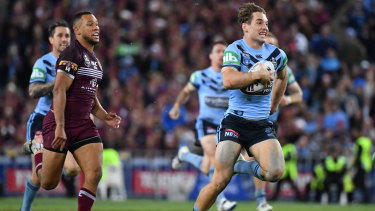 Cameron Murray finds a break during State of Origin on Wednesday night,Credit:AAP
"If you train and play and you believe that you deserve to be here, it doesn't matter how old you are."
With an Origin win on his back, Murray said the decisions he had to make leading up to this point made the win "all the more worth it".
"It's just part of what you have to do as a rugby league player," he said. "I wouldn't change it for the world."
In the move to first grade, the Blues rookie said he pushed himself further away from life as a regular 21-year-old to dive deep into the world of rugby league.
"It's a sacrifice I am more than willing to make… everything is worth it when you're standing in a winning shed," he said.
Murray said his fitness levels were "definitely tested" on Wednesday night, needing a moment to catch his breath next to the goal line with ten minutes left on the clock.
"I was a bit tired, yeah … you can't hide in an Origin," he said. "I managed to get my breath back in the last couple of minutes."
Murray was sure to make his presence known, only coming on for the last half an hour of the match, and making some defining plays to push the Blues over the line. He helped the Blues triumph 26-20 over Queensland.
Murray, pictured evading a tackle from Corey Norman, made some defining plays in just half an hour on the field. Credit:AAP
"Obviously I get nervous and everybody gets nervous but nerves just show you care," he said. "I believed in every single person on the team … I knew I'd done the work."
Murray, one of the most promising forwards in the game, was said to be "battling" physically and mentally during his rookie season with the Blues.
Murray, Damien Cook and Paul Vaughan take part in a team walk ahead of Wednesday night's game.Credit:AAP
"I haven't played in a lot of big games, but the ones that I have, it takes a lot of mental strength and it takes a lot of desire to want to win," he said.
Source: Read Full Article