Mexican GP: Sebastian Vettel rues costly spins in title race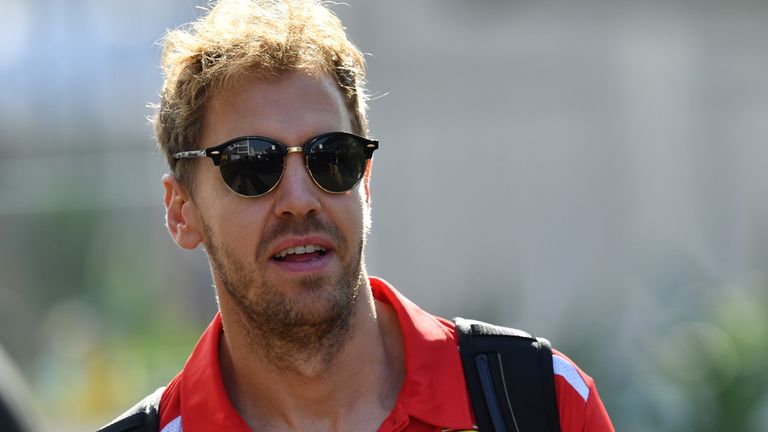 Sebastian Vettel has rued his damaging spate of in-race spins but says those incidents have not been the result of taking too many risks.
Vettel's attempts to beat Lewis Hamilton to this year's world title could officially end in Sunday's Mexican GP with the Ferrari driver's challenge heavily compromised by three spins in the last five races.
"If you are the one spinning then obviously something didn't go right," conceded Vettel
"Obviously inside the car it always looks a little bit different than you look from 13 different angles and in slow motion and so on and, by that time, even the last person in the paddock might have an opinion. So it's obviously different but every opinion might differ.
How Hamilton can win the title in Mexico
"The main thing is that fundamentally I didn't try to do anything silly or anything stupid. I wasn't hard-headed trying to do something that would never work.
"Obviously now it's happened a couple of times too much. Next time there will be a gap I'm sure I will go for a gap but, surely, it's in the back of your head trying to keep the car facing the right direction."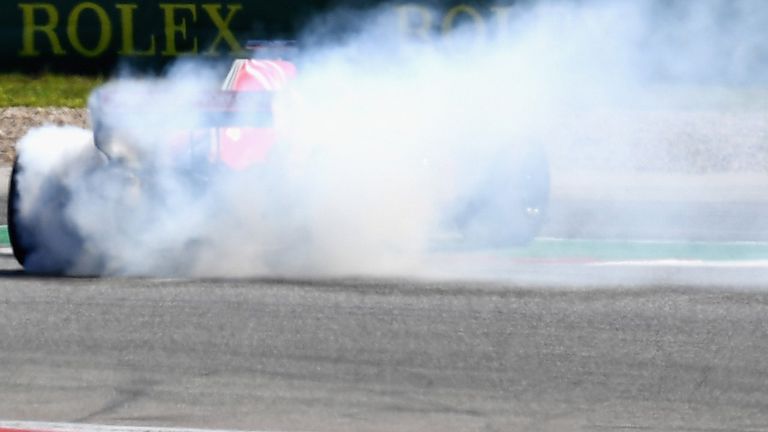 Why is Vettel spinning?
All three of Vettel's spins in racing combat – with Hamilton in Italy, Max Verstappen in Japan and Daniel Ricciardo last weekend in Austin – have come when the Ferrari has been on the inside of the corner.
Asked by Sky F1 if he could put his finger on why this was proving the case, Vettel joked: "Maybe I need to try the outside next time, at least I don't spin!"
He added: "Obviously you want to have the inside to the corner, that doesn't change. The closer you are to the other car you lose some downforce and the spins I had were all quite weird because there was not much I could have done.
"It's not like I was going in too fast or would have spun on my own at that speed, not at all. So I guess there must be some sort of hole being on the inside of another car in that position. In all three occasions, I wasn't clearly ahead, at best side-by-side. So, as I said, maybe next time I should try the outside."
Hamilton will have 'won' title
The high likelihood is that, barring a rare race retirement for the Mercedes driver, Hamilton will be crowned a five-time world champion at the end of Sunday's Mexican race.
Vettel was asked whether he had 'thrown away' the title or if Hamilton would have won it.
"You should always look at it as a championship won by the driver who scores more points than anybody else. I think it's not fair [to say somebody 'lost' it]," said Vettel.
"Arriving here with the deficit in points that we have, surely we could have had more [points] but at the end of the day you need to ask yourself whether you have always been in the position to get the result that we need and that we wanted. We had races where we were very competitive but we also had races where we were not. At the end of the season you look at the points you have, you add them up and then you know yourself first what's been missing or not."
How Hamilton can win title in Mexico
If Vettel wins in Mexico, Hamilton must finish seventh
If Vettel is second or lower in Mexico, Hamilton is world champion
Sky F1's Mexican GP schedule
Friday, October 26
3.45pm: Practice One build-up LIVE!
4pm: MEXICAN GP PRACTICE ONE LIVE!
7.45pm: Practice Two build-up LIVE!
8pm: MEXICAN GP PRACTICE TWO LIVE!
Saturday, October 27
3.45pm: Practice Three build-up LIVE!
4pm: MEXICAN GP PRACTICE THREE LIVE!
6pm: Qualifying build-up LIVE!
7pm: MEXICAN GP QUALIFYING LIVE!
Sunday, October 28
5.30pm: Pit Lane LIVE!
6.30pm: On The Grid LIVE!
7.10pm: THE MEXICAN GP LIVE!
9.30pm: Paddock Live
Sky Sports F1 is the only place to watch every Formula 1 Grand Prix, qualifying and practice session live in 2018. Get Sky Sports F1.
Source: Read Full Article