Urban development: Jaguars coach building culture for longterm success
With Urban Meyer leading the culture change and No. 1 draft pick Trevor Lawrence installed as the franchise QB, things are looking up for the Jacksonville Jaguars, who finally appear set up for sustainable success.
JACKSONVILLE, Fla. — It was the day before his first draft as an NFL head coach, and Urban Meyer was standing on the deck of a Navy destroyer talking about misery.
"You have to embrace the misery of greatness," he told the dozens of young sailors arrayed before him on the USS Delbert D. Black. "It hurts. It's staring at a ceiling fan all night. Greatness is miserable. It's hard. Most of the time, people turn back. They grab their bag and go home."
This section of what would seem to be a standard motivational spiel has particular resonance in Jacksonville, where the football team and its fans know plenty about misery, but not much about greatness. Meyer, one of college football's most successful coaches but an NFL newbie, was hired by the Jaguars, heretofore one of the NFL's most anonymous, if inoffensive teams, to change that – to change everything, really.
Even before the biggest possible change was made when the Jaguars selected quarterback Trevor Lawrence with the first overall pick Thursday night, Meyer's work had begun and was noticeable in ways big and small. His challenge is straightforward, but not simple. Change a culture that had allowed the Jaguars to settle into mediocrity and irrelevance months before the team can even take the field, indeed before Meyer can even talk to most players face to face.
Meyer appeared Wednesday morning in a custom-made golf shirt that bore the words "Own It" right where he would put his hand over his heart. That is Meyer's mantra here and that small bit of public accountability delights the team owner, Shad Khan, and is plastered on billboards and placards and, now, Meyer's clothing. There are fresh coats of paint at the team's stadium, improved food for the players, and plans for the imminent construction of a new, state-of-the-art building that will house football operations – a badly-needed upgrade of everything from the weight room to food services that are currently jammed into an aging stadium the team leases from the city.
Even Meyer's appearance at Naval Station Mayport is part of this extreme makeover, gridiron edition. New on the job, Meyer one day got a call from NFL Commissioner Roger Goodell, who suggested it would be good for the coach to get out into the community. Jacksonville is one of the NFL's smallest markets and years of languishing mostly far from the playoffs hasn't helped the profile of a team that, most recently, has been talked about largely for selling off its star players. So, Meyer has taken a tour of a local neighborhood not far from the stadium where the team hopes to increase its volunteer service. He has presented an award to a local schools superintendent. And, on Wednesday, he forged a tie with Jacksonville's military community, the largest of any NFL city.
It was Meyer's idea to reach out to the military – his father was in the Army and his sister in the Air Force, and he considers the military the ultimate in leadership – but he explained that appearance, on a day when most of his coaching contemporaries were deep in their draft bunkers, as an opportunity to get out of what he calls "the cave" and get some fresh air. Really, this is all about breathing new life into a team that, as much as anything, needed to be brought down to the studs and rebuilt.
A rebuild is helped immensely by having the No. 1 draft pick. Khan feels he had the first head coach pick, too, in Meyer. The combination has raised hopes that, finally, the Jaguars will ascend to the top of the NFL. And stay there.
"You don't want to have too much hyperbole, but it is transformational," Khan said in an interview earlier in the week. "It gives us the opportunity for sustainable and longterm success. That's what really eluded us. Three years ago, I thought, 'Okay, we really turned the corner.' We were even a Super Bowl darling. We even got off to a 3-1 start. That was September of 2018. And then obviously it's been a downhill ride. This feels like we have definitely turned the corner."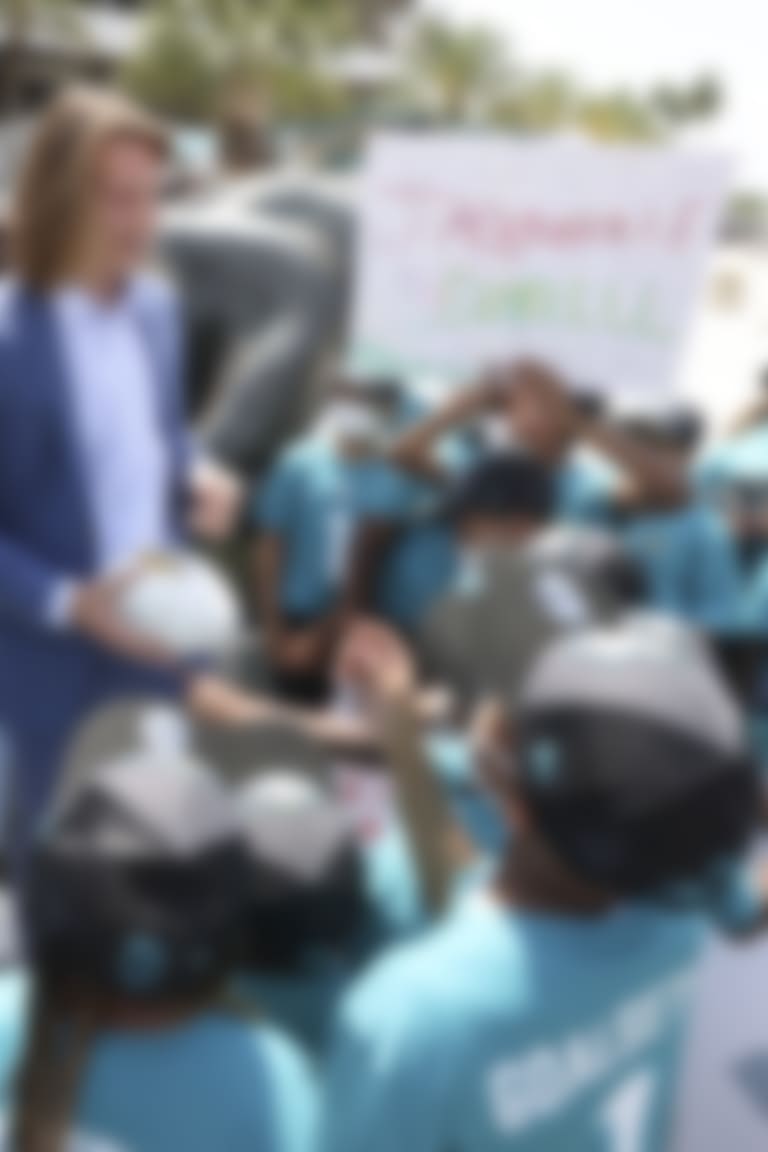 Shad Khan has owned the Jaguars for nearly a decade, and in that span the team is 41-106. Its one playoff appearance, in 2017, led to a stunning run to the AFC Championship Game, where the Jaguars led the Patriots with just 10 minutes to play before a catastrophic collapse cost them a trip to the Super Bowl and a whole lot of public respect. Every other season under Khan has ended with double-digit losses and has featured a conga line of quarterbacks – remember Jake Luton? – who have failed to seize the mantle of the franchise signal-caller.
Receiver D.J. Chark, one of the current players who gave t-shirts to fans at the draft-night party on Thursday, has played with six quarterbacks in three seasons in Jacksonville. He and Laviska Shenault said that last year, when the Jaguars shuffled between three starting quarterbacks, there were some game weeks when they didn't know who would be throwing them the ball as late as 24 hours before kickoff.
Lawrence, of course, is expected to change all that, which is why Jaguars fans were rooting for their own team's demise late last season, when they were in a neck-and-neck race with the New York Jets for the bottom of the barrel and the golden ticket to Lawrence. His imminent arrival, and Meyer's hiring, has juiced local interest in the team, and has focused some national attention on a franchise that has all too often been an afterthought.
According to the Jaguars, they saw a spike in new season ticket deposits in December, when they secured the first overall pick and then again when Meyer was hired in mid-January. The sales office has received eight times the number of new deposits compared to the last few seasons. Perhaps most important to the business side of the franchise, more than 50 percent of those deposit holders are completely new – they weren't even in the team's database for having purchased a ticket of any kind. And they are, on average, about 10 years younger than the existing season ticket base, indicating that the Meyer-Lawrence tandem is attracting a new generation of fans.
Few teams know how tenuous that enthusiasm is better than the Jaguars, who saw a similar spike just three years ago, after the out-of-nowhere AFC Championship Game appearance. That was the high point of a previous attempt to right the franchise, when Khan reached into the team's past and brought back Tom Coughlin – the franchise's first head coach, who took the team to an AFC title game in the 1999 season – to run football operations. As Coughlin's second go-around came to an end, highlighted by high-profile disputes with star players like Jalen Ramsey, Khan realized he might have been too hands-off as an owner.
He did a lot of soul searching. The dynamics of his team were bad. It was a collection of stars that was not cohesive as a team, an analysis backed up by some of the players who remain. And, he knew, his franchise needed to be modernized by a forward-thinking coach.
"You can have the right principles, but if you have 20th-century practices in a 21st-century world, your practices have to change," Khan said. "You're dealing with athletes today, and the modern athlete is very different than even 10 years ago. Social media, look how powerful it is, (players) are very aware of the brand. We shouldn't be fighting that; we should be embracing that. How do we supplement that?"
"It's just evolution of the species," Khan continued. "You have to change with the times. Football is a very dynamic, changing game. That's the judgment – who is going to evolve? (Meyer) struck me that he is able to adapt."
Meyer began his deep dive into the NFL a year ago, in anticipation of a potential entrance into the NFL, because he simply did not know enough about the salary cap and roster management. He studied all 32 teams. He noted, he said this week, that some teams work well, and some teams do not. He said there were people who told him not to take the Jacksonville job because of the long history of hiring and firing coaches, with little change in the results.
That was not the prevailing wisdom among most in the NFL, though. The Jaguars were in a position they haven't found themselves in much – they were coveted. Khan knew he had the best available job because of the first overall pick, the 10 picks overall and the league-leading amount of salary cap space.
Meyer said he found it admirable that Khan — a man so wealthy he needs none of the aggravation that goes along with owning an NFL team — wants badly to give Jacksonville something to cheer. Still, there is no mistaking the reality: If Lawrence were not the potential quarterback, and if Khan was not willing to give his new coach so much influence throughout his franchise, it is hard to imagine Meyer would have taken this job. Was this the only NFL job Meyer would have taken? Meyer takes a long time to answer.
"I don't know," he said, pausing for several seconds.
"Good question," he continued before another long pause.
"How do I answer that one because it's kind of true, and kind of not true."
Pause.
"I don't think it would have been the only job," he concluded. "I think it was the best opportunity."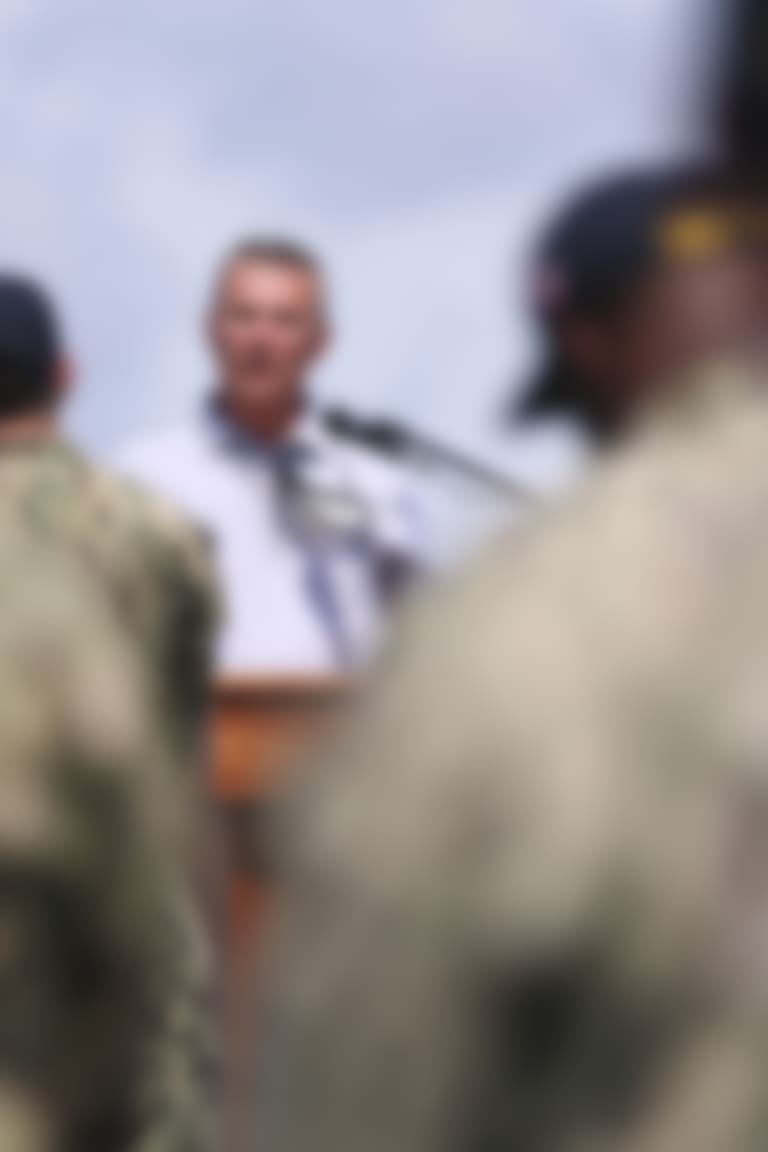 When Khan handed Meyer the keys to the Jaguars, the head coach who won three national titles at Florida and Ohio State went to work on virtually every part of the franchise. Meyer said he studied the Jaguars' culture for a month, talking to players about exactly how things were done in Jacksonville.
"Just saying there's bad players, that's not fair," Meyer said. "I don't agree with that at all. Certain organizations draft before others every year and they just don't win, so you can't blame the players. And I don't believe it's just bad coaching. I'm a big believer in culture and leadership and I found some things I felt we can make better."
Most prominently among them is sports performance, which Meyer said is the biggest change he has made in Jacksonville so far. He first became interested in it when he was a receivers coach at Colorado State in the early 1990s. He made his receivers run track, rationalizing that while he didn't know anything about coaching speed, the track coaches did.
Meyer emphasized sports performance throughout his college career, particularly at Ohio State, but it takes tremendous resources to hire the myriad of specialists used by top-level talent. NFL teams have the resources and Meyer intends to use them in Jacksonville. If players want dry needling and acupuncture, why shouldn't they have those practitioners available to them where they work, Meyer wonders. Why not offer the best possible setting and facilities, so players will want to stay in Jacksonville? Which is why players now have control of the music in the weight room, and why the shades in the room, which had been permanently down during past regimes, are now up.
"We have windows!" Chark said.
Meyer wants specialized workout and treatment and nutrition programs for each player. He talks a lot about maximizing each player, and he said that is how he will measure success early on, not in wins and losses. His inspiration is simple: He followed the careers of his best college players who went on to the NFL, and whose careers ended prematurely. He would ask them: What the heck happened?
"Coach, they don't take care of you," Meyer said his former players told him about the NFL. "An elite athlete needs to be treated like an elite athlete. It's like a sports car. You better take care of the sports car or it's going to break down. I always wondered why you see a 340-pound guard and they have the same weight coach working on him and the 174-pound corner. They can't be more different, their body structure, their mindset, the issues they deal with physically. If it's all the same, why doesn't the offensive line coach coach the corners? You can't do that."
Meyer has told players like defensive lineman Josh Allen that if anything isn't the best of the best, he should be notified. Food, training, recovery items like plunge pools – Meyer believes in investing in the players' bodies. That's not a new concept but it is newer to the Jaguars. Such an approach has already borne results. Shenault, who was hampered by injuries last season, said there is more collaboration with this staff about what works for his body. Chark was told by coaches that he should gain weight. He has added 10 pounds and it has made him faster.
"Woody Hayes said it in the '60s and '70s: If you're going to push people to their edge, which we plan to do, you better treat them right," Meyer said. "The best nutrition, the best sports performance, best weight room, best training staff – because if you push people and don't give back, the organization breaks down. That's corporate America and that's athletic teams."
Meyer is very much a CEO-style coach, touching every aspect of the organization, but he is also been something of a motivational speaker here. Employees take notes of his sayings:
4 to 6 + 2: A play lasts four to six seconds, and Meyer wants just a little bit more than you think you can give.
E + R = O: Success is not determined by the events that you experience, it is the outcome of your response to an event.
Meyer said this week that if someone does deep-dive analysis on him, they would find he wants to empower people. He believes there is greatness in everyone, and it is his job to find it and nurture it.
Meyer has made it clear to everyone in the building that the Jaguars should be a players-focused organization, but in March he also gave something of a pep talk to more than 100 employees from the business side, many of whom have been through the down years with the team. They, like members of the fan base, have been beaten down by losing; one said this week it made it difficult to come to work sometimes.
"I almost felt at the time the situation was expected," Meyers said of the losing. "That bothered me when I first got here. When you see that beautiful Jaguar emblem, people don't fear that emblem. If in three years from now they still don't fear it, we've failed. That's the business office, ticket sales, marketing, everybody is on the clock. Everybody. Not one human being walking around this organization is not on the clock. We have to elevate our game, because what they did in the past did not work very well."
The Jaguars were 1-15 last season, but Chark and Shenault believe the team was more competitive than the record, lacking the killer instinct required to close out games. That, combined with the arrivals of Meyer and Lawrence, is why Chark and Allen believe the Jaguars are poised for a quick rebound.
"We're going to remember these moments, what we did last year, and make sure it never happens again," said Allen, who called having the first overall pick a slap in the face, although he is excited about Lawrence.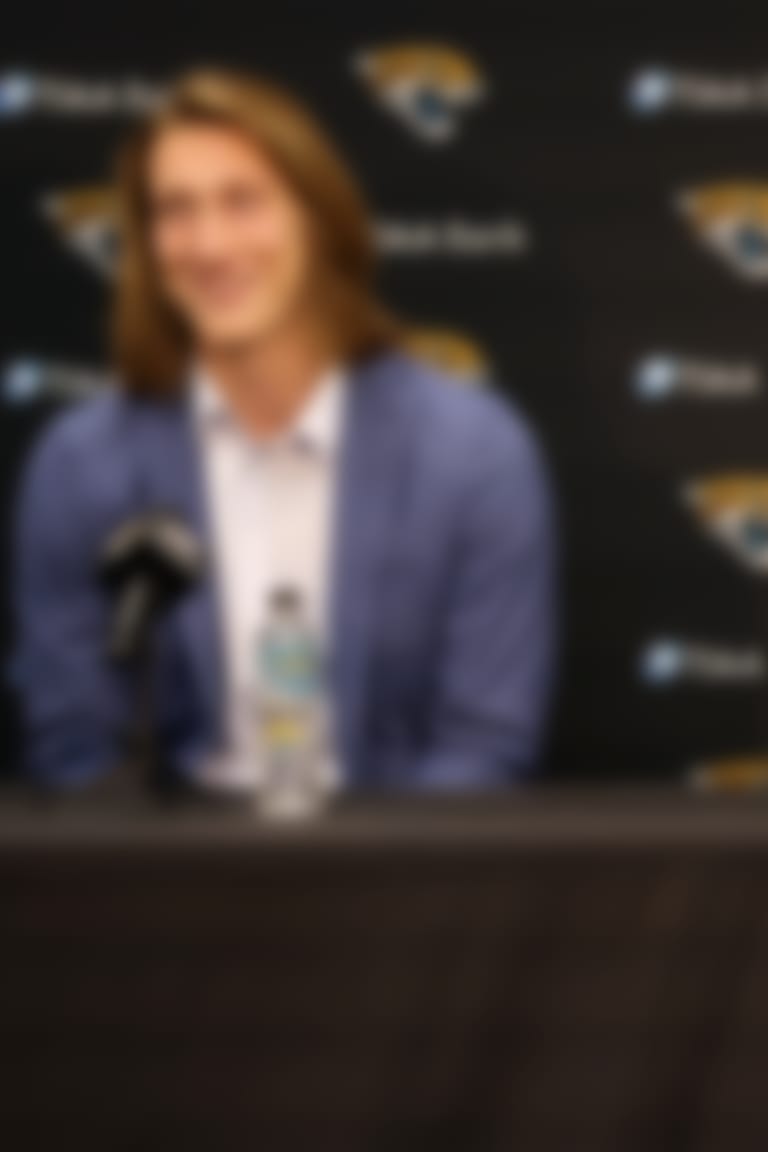 An enormous part of Meyer's appeal to Khan is that he is something of a specialist in football reclamation projects. From Bowling Green to Utah, from the University of Florida to Ohio State, Meyer took over struggling programs and quickly turned them around. He has told his players that he finally understood greatness and what it takes to win a championship when he saw it up close at Florida.
Meyer was in his second season there when his friend Billy Donovan took the Gators basketball team to the NCAA Championship. It was a team with plenty of stars, but no selfishness. They had different scorers and were among the league leaders in assists. Meyer thought to himself that if he could get his football team to see what it takes – how the selfishness and laziness go away – to create a great team, they could win it all, too. He told his players to give him six months of the best they had, to commit themselves to greatness. The players were good enough, they just had to commit to it. Six months later, the Gators were football national champions.
Meyer remains close to Donovan, who is now the coach of the Chicago Bulls. Because he has had success in college and the pros, he has unique insight into what Meyer is about to attempt and he gave him some advice about a month ago.
"In college, you're getting very young players that anything you say, they're going to listen to you because they are young players," Meyer said Donovan told him. "These guys are pros. Don't undervalue the intelligence of a professional athlete. You don't get to become a pro unless you're very gifted, but it's much more than that. They're going to measure everything you say, they'll measure everything you do. So just make sure you and your staff are on point, because if you lose trust, it's over."
Meyer is one of three coaches, along with Pop Warner and Nick Saban, to win a major college football national championship at two universities. Winning a title in Jacksonville would make him part of an even more exalted fraternity – coaches who have won championships in college and the NFL, an exclusive list that includes Jimmy Johnson, Pete Carroll, Barry Switzer and the legendary Paul Brown, who, like Meyer, won at Ohio State before his Cleveland Browns dominated the pro football landscape.
That is a notably short list and NFL history is littered with the careers of college coaches who were much less successful in making the leap to the NFL. Even Saban, perhaps the greatest college coach in history, struggled in his time with the Miami Dolphins, before he left to create the Alabama dynasty.
The glaring difference: Saban searched unsuccessfully for a franchise quarterback. Meyer thinks he already has one.
"There's a history of NFL coaches (who haven't come from the college game) that don't do very well in the NFL, too," he said. "It's about even. A lot of coaches fail. It's a tough league. I hear 'Welcome to big-boy football.' I get it. I'm not arguing with you."
Meyer is brimming with confidence because of his success at evaluating, recruiting and developing players in college. But there are plenty of people in the NFL who will hear about Meyer's commitment to sports performance and roll their eyes. Didn't we hear a lot about Chip Kelly's personalized post-workout shakes when he first got to the NFL, too?
When Meyer first settled in, he asked his staff to find a comparable example of a team in NFL history that had the first overall draft pick, 10 picks in one draft, the league-leading amount of salary-cap space, plus a good core of young players. They couldn't find one, Meyer said.
The Jaguars are, quite literally, in an historic position. It is up to Meyer to replicate the rebuilds he used to dominate college football, using more resources than he has ever had, and produce historic results where few before him have succeeded.
"If he was doing exactly the same thing and it wouldn't be Urban Meyer, it wouldn't be as effective," Khan said. "We are defined by our track record. That was the amazing thing to me about the NFL – I had a life before it and I still do, but all my failures were never on the sports pages. This is the kind of business where everybody is more competent than you are. People have an opinion. The simple fact is Urban Meyer has street cred."
If the Jaguars are really going to emerge from misery to greatness this time, he's going to need it.
Follow Judy Battista on Twitter.
Source: Read Full Article