NFL mid-season awards: Todd Gurley, Aaron Donald and Adrian Peterson take the honours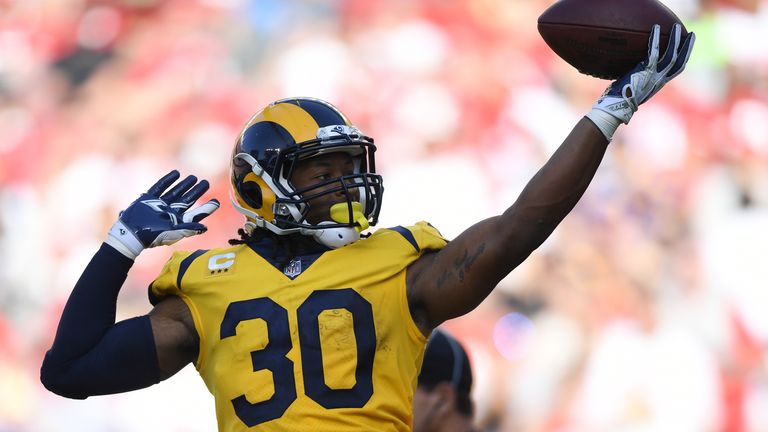 Nine weeks in, and we are just over halfway through the 2018 NFL season.
With that in mind, it's time to dish out some awards and crown the league's most valuable players based on performances from the first half of the season.
On the weekly Inside the Huddle Podcast, Neil Reynolds and co give out the 'Ryans' to their picks of Player of the Week each episode. So, who better to dish out the honours here than the man Rob Ryan himself…
Offensive MVP
Todd Gurley, Los Angeles Rams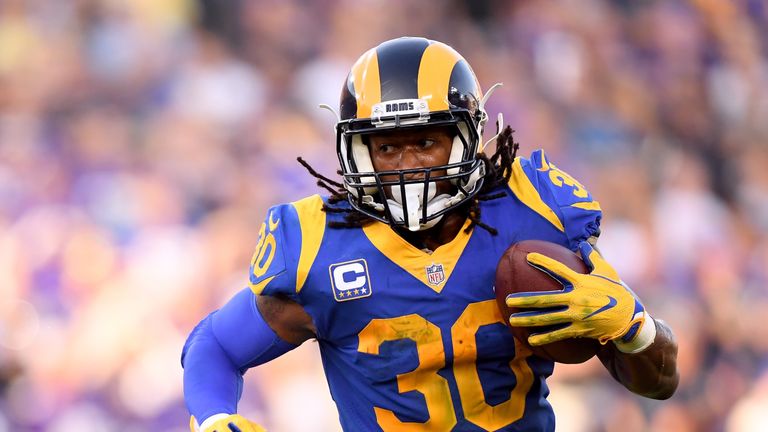 It has to be Gurley. He is having a special year – 16 touchdowns already! I know they normally pick a quarterback – Adrian Peterson in 2012 was the last time it wasn't – but, right now, I would go with with Gurley.
Honourable mentions: Coming in a close second would be Drew Brees. The veteran Saints quarterback is doing a phenomenal job, not turning the ball over at all. He is only getting better as the season goes on.
Also, Adam Thielen would sneak into the reckoning. A receiver has never won it, but he has just been sensational – he topped 100 yards in each of the Vikings' first seven games, tying an NFL record to start the season.
Defensive MVP
Aaron Donald, Los Angeles Rams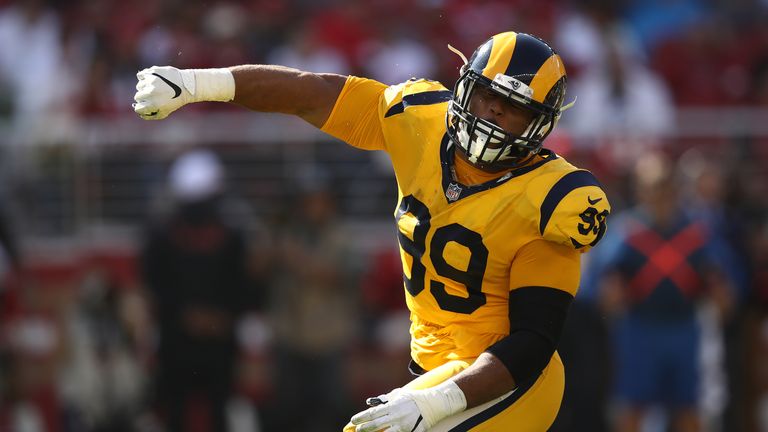 Donald has just been ridiculous. A freak! He is just everywhere on that defense – he kills the run, getting tackles for losses, sacks the quarterback, brings loads of pressure. All the while he is double-teamed by O-linemen on basically every play.
What an impact he has had. It takes you back to the dominant days of Reggie White in the late '80s and early '90s. He also reminds me of Warren Sapp – someone I actually coached and thought I hadn't seen anything like before, but this guy might be even better.
Honourable mentions: J.J. Watt is again playing great, so I would but him second in the running – it's almost like he has never been hurt. Also, Stephon Gilmore is someone who stands out for me in the secondary for the Patriots.
Offensive Rookie of the Year
Quenton Nelson, Indianapolis Colts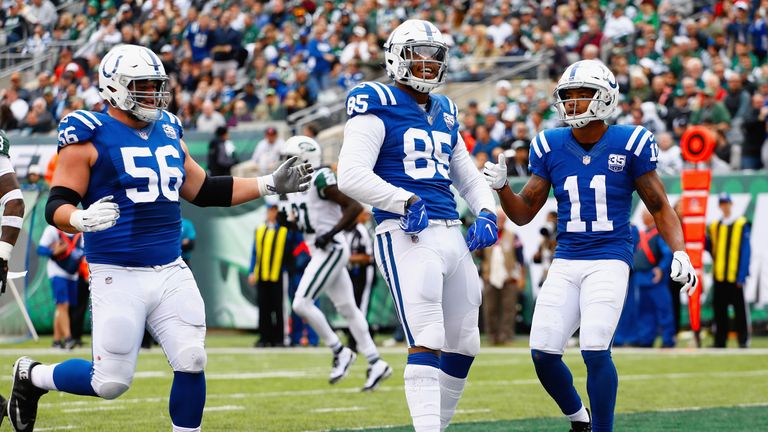 Nelson – the No 6 overall pick in the draft – is everything the Colts wanted. They needed a great offensive lineman to protect Andrew Luck at quarterback.
He and Anthony Castonzo at offensive tackle are doing a great job at protecting Luck's blind side and no one is throwing the ball more than Luck is at the moment. He has never before had the privilege of good pass protection.
Honourable mentions: Saquon Barkley has also stood out, and is probably the sexier pick. The running back already has over 1,000 yards from scrimmage for the Giants – amazing for a rookie.
Also, it's not really allowed, but I want to give him a mention – Patrick Mahomes is in his second year in the NFL, but this is his first as a starting quarterback for the Chiefs. He is a little bit too young still for me to consider him for the main offensive MVP award, but what a great player. He already his 29 passing touchdowns – it's crazy how good the kid is!
Defensive Rookie of the Year
Derwin James, Los Angeles Chargers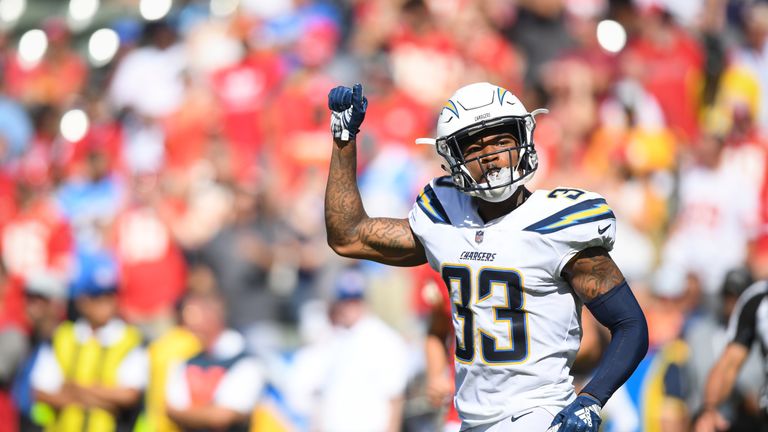 This guys is just all over the place – he is a safety, but you find him all over the field. He already has 3.5 sacks on the year (from safety!) and has six pass break-ups and an interception.
Teams are scared to throw anywhere across the middle on the Chargers, because this kid can flat-out hit! He has really energised a defense that has been missing the presence of edge-rusher Joey Bosa all year.
Honourable mentions: There are four further standout guys that it is tricky to split. Four absolute studs. Bradley Chubb already has eight sacks in nine games for the Broncos.
Jaire Alexander for the Packers looks like the real deal at cornerback, as does Denzel Ward for the Browns. Also, linebacker Darius Leonard is getting all kinds of stats with the Colts, but I don't like their defense as a whole.
Comeback Player of the Year
Adrian Peterson, Washington Redskins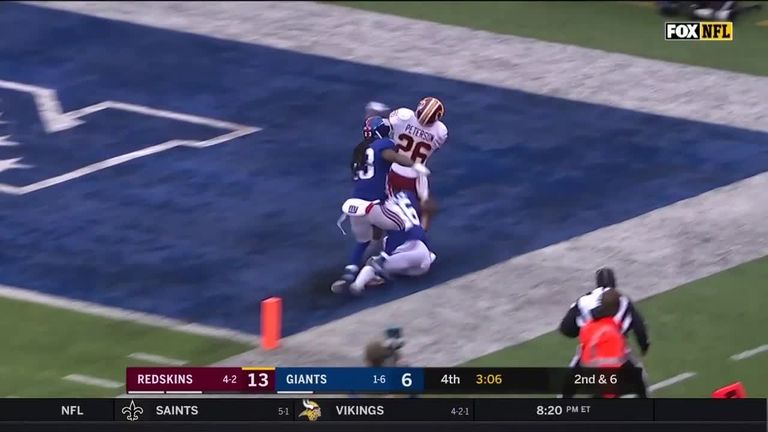 It is Peterson, no question about it. A slam dunk. He was such a last-minute addition – he is 33 years old and nobody wanted to touch him – but the Redskins had injuries at running back, so were looking for someone.
In fact, they actually offered somebody else the job – Orleans Darkwa (who?) – but he turned them down. AP came in and has been phenomenal, rushing for 604 yards and four TDs through the first eight games.
Honourable mentions: I also like J.J. Watt here, give his injury history with the Texans. Plus, I like the look of Josh Gordon the past couple of weeks with the Patriots. He has the potential to get hot down the stretch.
Coach of the Year
Bill Belichick, New England Patriots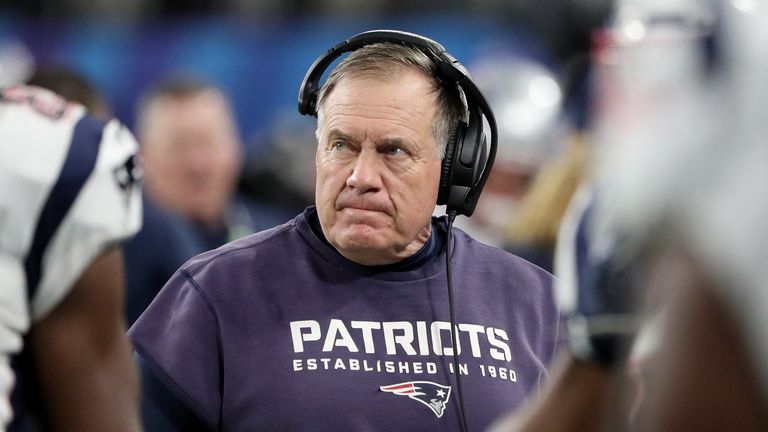 He has done just an amazing job this year. I know he does an amazing job every year, but it's all the more impressive this year because of all the offensive players they have lost. People forget that.
Plus, they started the season in a hole at 1-2 but they have righted the ship with six-straight wins since. A word too for Josh McDaniels at offensive coordinator – he'd be my assistant coach of the year.
Honourable mentions: Runner-up out of the head coaches, for me, is Sean Payton at the Saints. Then, from the assistant coaches, there's Don Martindale, who has done an amazing job with the Ravens defense, and Norv Turner with the Panthers offense.
Super Bowl teams?
Minnesota Vikings vs New England Patriots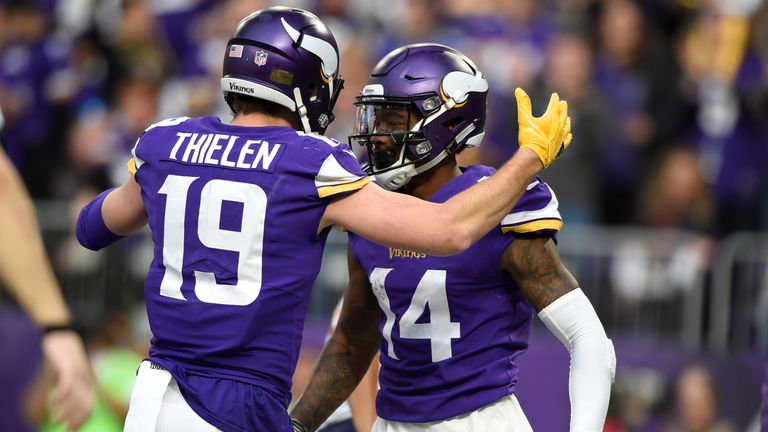 I think the Vikings are sneaky good. Their current record, at 5-3-1, might not immediately jump out at you, but I like them out of the NFC, as they can play offense and defense. Everyone will be tempted to look at the front-runners and all-star teams of the Rams (8-1) and Saints (7-1), but both struggle on defense – look at their game last week, 45-35!
From the AFC, I can't look past the Patriots.
Follow the 2017-18 NFL season with us on Sky Sports and through our website skysports.com/NFL also our app for mobile devices and iPad, or follow our Twitter account @SkySportsNFL
Source: Read Full Article