New York Giants 27-23 San Francisco 49ers: Eli Manning throws three TDs in Giants win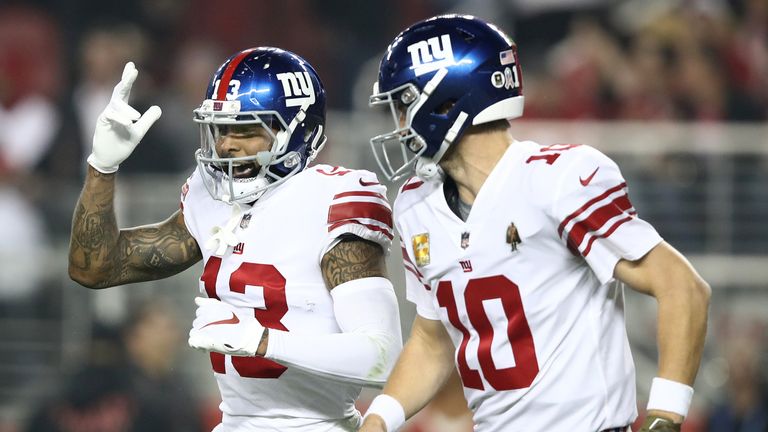 Eli Manning threw a three-yard touchdown pass to Sterling Shepard with 53 seconds left to lift the New York Giants to a 27-23 win over the San Francisco 49ers on Monday Night Football.
Manning's game-winning TD was his third of the night, having earlier found Odell Beckham Jr in the endzone twice.
But, the Giants were made to work had for the win, having trailed by 10 points early in the third quarters after Nick Mullens – in only his second NFL start – threw a three-yard touchdown pass to running back Matt Breida to see San Francisco 20-10 ahead.
Breida ran for 101 yards and also scored a first-half rushing touchdown for the 49ers (2-8). But, they were unable to win consecutive games under third-string QB Mullens.
The Giants (2-7), meanwhile, snap a five-game losing streak.
FIRST QUARTER
Giants 0-3 49ers: Robbie Gould 53-yard field goal
Giants 7-3 49ers: Eli Manning 10-yard touchdown pass to Odell Beckham Jr (Adrick Rosas extra point good)
SECOND QUARTER
Giants 7-10 49ers: Matt Breida three-yard touchdown run (Gould extra point good)
Giants 10-10 49ers: Rosas 20-yard field goal
Giants 10-13 49ers: Gould 36-yard field goal
THIRD QUARTER
Giants 10-20 49ers: Nick Mullens 11-yard touchdown pass to Breida (Gould extra point good)
Giants 17-20 49ers: Manning 20-yard touchdown pass to Beckham Jr (Rosas extra point good)
Giants 20-20 49ers: Rosas 31-yard field goal
FOURTH QUARTER
Giants 20-23 49ers: Gould 30-yard field goal
Giants 27-23 49ers: Manning three-yard touchdown pass to Sterling Shepard (Rosas extra point good)
Game's key stats
Source: Read Full Article