Miami Dolphins 23-42 Houston Texans: Deshaun Watson throws five touchdowns in win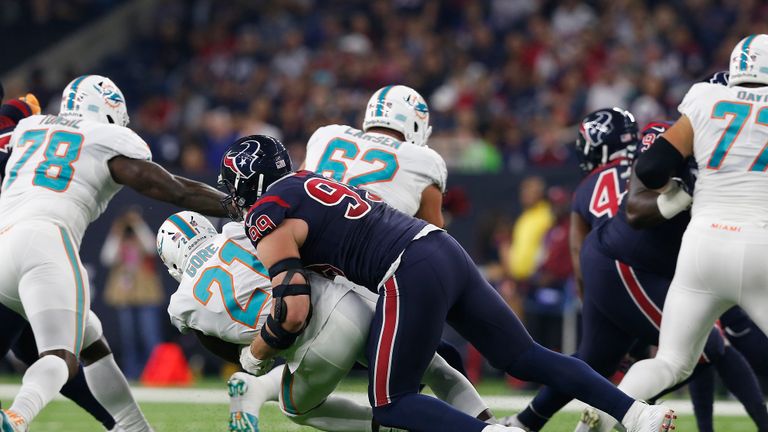 Deshaun Watson matched his career high with five touchdown passes to lead the Houston Texans to their fifth straight victory, 42-23 over the Miami Dolphins on Thursday night.
The Texans (5-3) have left their 0-3 start behind with their longest single-season winning streak since reeling off six victories in a row in 2012.
Watson's five scoring strikes give him 34 career scoring passes to move ahead of Dan Marino (32) for the second-most in NFL history after 15 games.
Miami's Brock Osweiler, who had one tough season in Houston after signing a $72m contract in 2016, threw for 241 yards with an interception in his third straight start in place of injured starter Ryan Tannehill.
Kenyan Drake had a touchdown run and touchdown reception – off a 28-yard pass from receiver Danny Amendola – for the Dolphins (4-4), who lost for the second week running and fourth time in five weeks.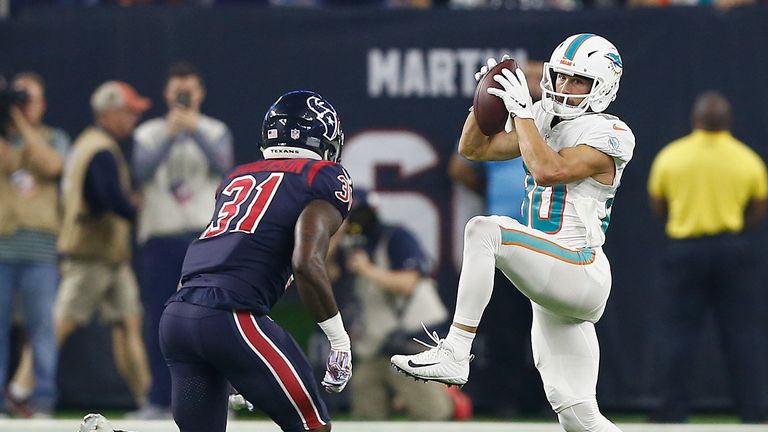 For the Texans, rookie Jordan Thomas caught the first two touchdown passes of his career, DeAndre Hopkins had 82 yards receiving and two scores and Will Fuller added 124-yards receiving and a touchdown.
Texans running back Lamar Miller, who grew up in Miami and spent his first four seasons with the Dolphins, had 133 yards rushing and a touchdown for his second straight 100-yard game.
Houston led by only eight points when Watson threw a 49-yard touchdown pass to Hopkins on the first play of the fourth quarter to make it 35-20 before streaking clear.
FIRST QUARTER
Dolphins 7-0 Texans: Kenyan Drake 12-yard touchdown run (Jason Sanders extra point good)
Dolphins 7-7 Texans: Lamar Miller two-yard touchdown run (Ka'imi Fairbairn extra point good)
SECOND QUARTER
Dolphins 7-14 Texans: Deshaun Watson 13-yard touchdown pass to Jordan Thomas (Fairbairn extra point good)
Dolphins 10-14 Texans: Sanders 37-yard field goal
THIRD QUARTER
Dolphins 10-21 Texans: Watson two-yard touchdown pass to Thomas (Fairbairn extra point good)
Dolphins 17-21 Texans: Danny Amendola 28-yard touchdown pass to Drake (Sanders extra point good)
Dolphins 17-28 Texans: Watson 73-yard touchdown pass to Will Fuller (Fairbairn extra point good)
Dolphins 20-28 Texans: Sanders 41-yard field goal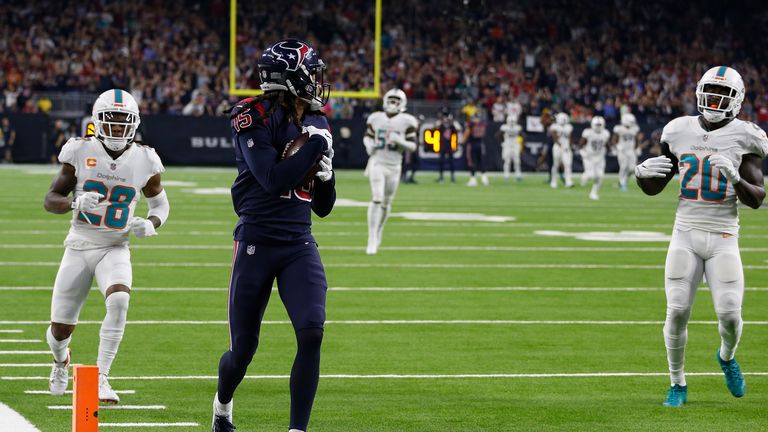 FOURTH QUARTER
Dolphins 20-35 Texans: Watson 49-yard touchdown pass to DeAndre Hopkins (Fairbairn extra point good)
Dolphins 23-35 Texans: Sanders 46-yard field goal
Dolphins 23-42 Texans: Watson two-yard touchdown pass to Hopkins (Fairbairn extra point good)
Game's key stats
Source: Read Full Article