ESPN Apologizes To SEC Commissioner For James Carville Spouting Alabama Conspiracy Theories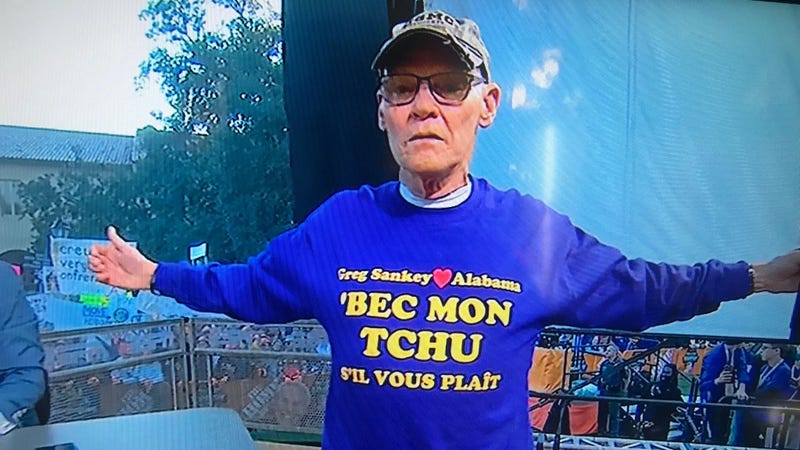 ESPN issued an on-air apology to SEC commissioner Greg Sankey for comments that political analyst James Carville made during his appearance on College Gameday about the conference being inherently biased towards No. 1 Alabama.
Carville was invited to the program because of his well-known fandom of LSU—who play the Crimson Tide tonight—and the first question he was asked was about linebacker Devin White's suspension for the first half of the game. He said he's not surprised about it because the SEC has "taken out" the best defensive players of other teams Alabama has faced like Tennessee, Missouri and Texas A&M.
White was ejected from an Oct. 20 game against Mississippi State. Because the ejection occurred in the second half, the NCAA targeting rules state that he has to continue his punishment through the first half of his next game. This is the second time this week Carville has accused the SEC of pro-Alabama bias. He told TMZ on Friday: "I would trust the Saudi government more than I'd trust the SEC. [White] is our best player we got, no reason he shouldn't be playing."
Even though Carville's comments weren't nearly that harsh—nor did he mention Sankey's name outside of his sweater—but ESPN still felt the need to come in a couple hours later for the on-air apology, citing an encouragement for "diverse opinions" but believing that the political analyst "went too far."
Advertisement
Carville, for his part, doubled-down on his statement on Twitter, promising to provide documented evidence of this ongoing conspiracy in what I can only assume is his best impression of Alex Jones.
Advertisement
This sport and its fandom are really something else.
Source: Read Full Article