DeSean Jackson requests trade from Tampa Bay Buccaneers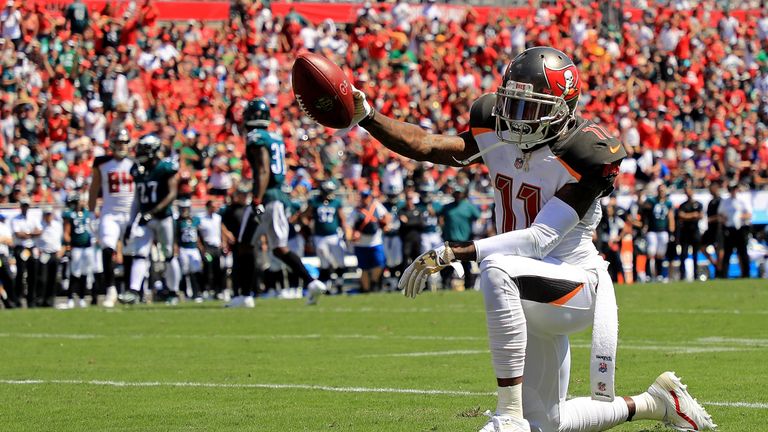 Tampa Bay Buccaneers wide receiver DeSean Jackson has requested a trade, according to a report by NFL Media's Ian Rapoport.
The NFL trade deadline is on Tuesday, although Buccaneers general manager Jason Licht is reportedly not open to trading one of the league's most dangerous deep threats.
#Bucs WR DeSean Jackson requested a trade from Tampa Bay, sources say. The team has resisted. But an intriguing name to watch. My story: https://t.co/CeoQcy5SAc
Jackson has 26 catches for 594 yards for a league-leading 22.9 yards per reception this season. However, he has struggled to build chemistry with quarterback Jameis Winston, and was held to a season-low two catches for 25 yards in last week's overtime win against the Cleveland Browns.
Winston was benched during the Week Eight 37-34 defeat to the Cincinnati Bengals, in which Jackson had three receptions for 68 yards and a touchdown. Winston was intercepted four times and replaced by Ryan Fitzpatrick, who led the team to two wins earlier in the season in relief of the suspended starter.
Jackson has 571 career receptions for 10,013 yards and 52 touchdowns. He is earning $11 million this season, although his $10m salary next season is not guaranteed.
The Dallas Cowboys acquired wide receiver Amari Cooper from the Oakland Raiders earlier this week, and Denver Broncos' Demaryius Thomas and Miami Dolphins' DeVante Parker are among those believed to be on the trade market as well.
Source: Read Full Article