NBA round-up: New Orleans Pelicans, Toronto Raptors and Milwaukee Bucks extend perfect records with Friday night wins
New Orleans Pelicans, Toronto Raptors and Milwaukee Bucks extended their unbeaten starts to the season with victories on Friday night.
Friday night's results
Brooklyn Nets 115-117 New Orleans Pelicans
Jrue Holiday scored five of his game-high 26 points in the final 22 seconds as the New Orleans Pelicans rallied to stay undefeated with a 117-115 home victory over the Brooklyn Nets on Friday night.
Holiday, who was coming off a 2-for-15 shooting performance, made two free throws to pull the Pelicans within 115-114 with 21.9 seconds left. With the shot clock turned off, New Orleans didn't foul and D'Angelo Russell threw the ball out of bounds with 7.5 seconds remaining.
Then Holiday hit a jumper to give the Pelicans a one-point lead with three seconds left. During a Brooklyn timeout, the Nets' Ed Davis was called for a technical for shoving the Pelicans' Solomon Hill as Hill walked near the Nets' huddle.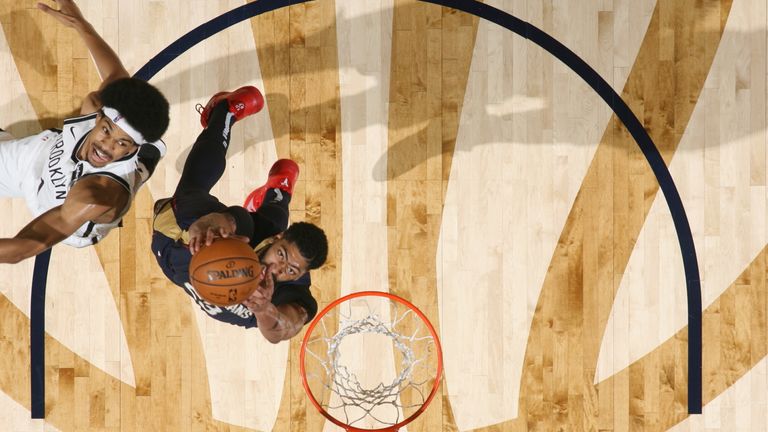 Holiday extended the lead to two by making the technical free throw, and Anthony Davis stole the in-bounds pass to seal the victory.
D'Angelo Russell led Brooklyn with 24 points, Caris LeVert scored 21, Shabazz Napier had 16 and Spencer Dinwiddie and Allen Crabbe 11 each.
Davis had 18 points, 14 rebounds, five blocks and four steals, while Elfrid Payton scored 17, E'Twaun Moore had 15, Julius Randle 14 and Nikola Mirotic 10.
Dallas Mavericks 107-116 Toronto Raptors
Kyle Lowry had 20 points and 12 assists to record his fourth straight double-double as the Toronto Raptors defeated the visiting Dallas Mavericks 116-107.
Kawhi Leonard scored 21 points and grabbed nine rebounds for the Raptors, who have won their first six games of the season for the first time in franchise history. They won their first five to open the 2015-16 season.
The Raptors also have won their first five home games of the season to match the club record previously accomplished in 2014-15 and 2003-04.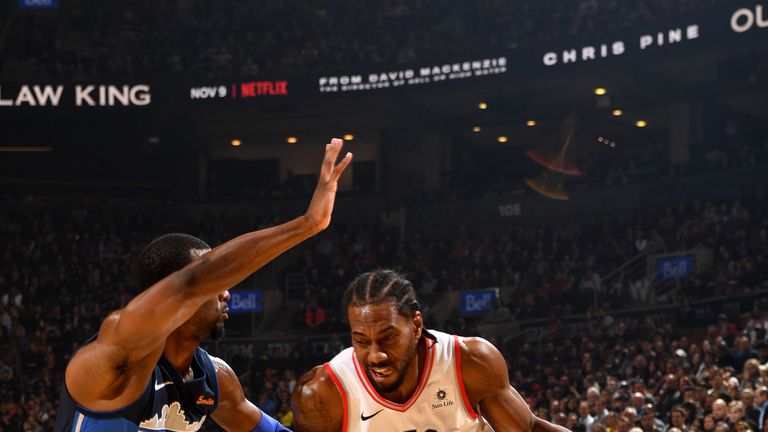 The Raptors, who led by as many as 17 points in the first half, had a three-point lead after three quarters. They scored the first seven points of the fourth quarter and regained command of the game.
When Jonas Valanciunas put in his own rebound with two minutes to play, the lead was 13.
Valanciunas finished with 17 points and eight rebounds for Toronto, Danny Green added 15 points and eight rebounds, Serge Ibaka had 11 points and eight rebounds and CJ Miles and Pascal Siakam each scored 10 points.
Luka Doncic scored 22 points for the Mavericks, who have lost two in a row. Wesley Matthews added 21 points for Dallas, followed by DeAndre Jordan (18 points, 15 rebounds) and Harrison Barnes (14 points).
Milwaukee Bucks 125-95 Minnesota Timberwolves
Khris Middleton and Ersan Ilyasova scored 16 points apiece as the visiting Milwaukee Bucks improved to 5-0 by pounding the Minnesota Timberwolves 125-95 in Minneapolis.
Giannis Antetokounmpo recorded 15 points, 12 rebounds and six assists for Milwaukee. Malcolm Brogdon scored 13 points, Brook Lopez added 11 and John Henson collected 12 rebounds for the Bucks, who led by 25 points at half-time en route to the easy victory.
Milwaukee is two wins shy of matching the franchise-best 7-0 start engineered by the 1971-72 team led by Kareem Abdul-Jabbar.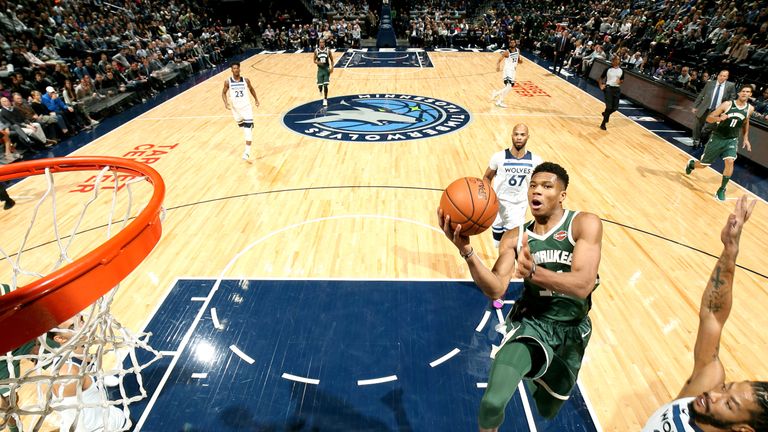 The Bucks were 19 of 46 from three-point range, with 10 players making at least one. Milwaukee shot 53.3 per cent overall.
Karl-Anthony Towns scored 16 points, and Derrick Rose added 14 for the Timberwolves, who lost their second straight game. Jimmy Butler had just four points on 2-of-11 shooting for Minnesota, who were booed off the court at half-time after their poor play over the first 24 minutes.
The Timberwolves played without small forward Andrew Wiggins (quadriceps) for the second straight game.
Minnesota shot 32.1 per cent from the field, including 10 of 43 from long range.
Golden State Warriors 128-100 New York Knicks
Kevin Durant scored 25 of his game-high 41 points in the fourth quarter as the Golden State Warriors completed a furious rally to beat the New York Knicks 128-100.
The Warriors (5-1), the defending NBA champions, have won five of six games to open the season.
Stephen Curry scored 29 points for Golden State while Draymond Green (18 points) and Klay Thompson (12 points) also scored in double digits.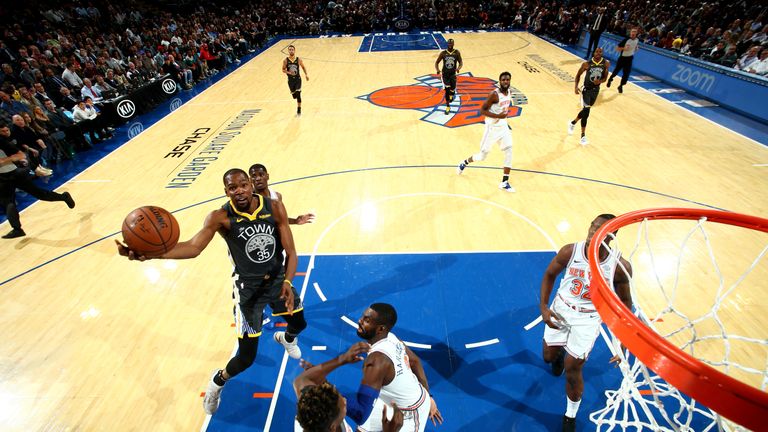 The Knicks (1-5) have lost five straight since a season-opening win, though they have fallen to contenders such as Golden State, the Boston Celtics and the Milwaukee Bucks.
Tim Hardaway Jr led New York with 24 points while Frank Ntilikina had 17 points. Trey Burke added 15 points and Damyean Dotson finished with 12 points.
Los Angeles Clippers 133-113 Houston Rockets
Montrezl Harrell scored a career-high 30 points and Lou Williams chipped in 23 as the visiting Los Angeles Clippers rolled to a 133-113 win over the Houston Rockets.
The Clippers, whose lacklustre start offensively was covered by their stellar defense, thrived on offense against the injury-depleted Rockets, who were without starters James Harden and James Ennis and remained winless at home.
Houston welcomed back guard Chris Paul from suspension, but he shot three for 13 and had five turnovers while scoring 12 points in 34 minutes.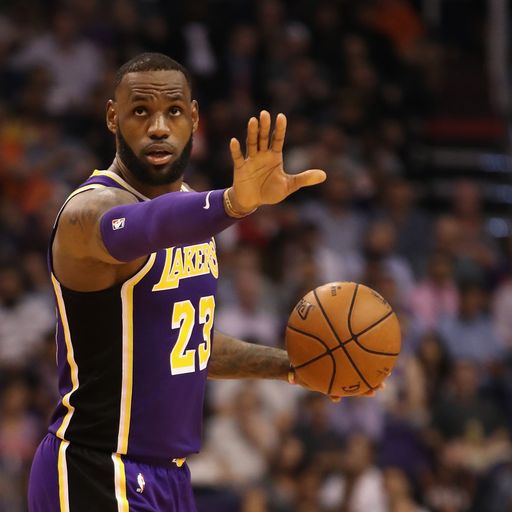 NBA alerts on your phone!
Receive the latest NBA news, top plays & features with the Sky Sports app – find out more
Harrell, shipped to Los Angeles along with Williams by the Rockets in the blockbuster trade that landed Paul, ran roughshod on the interior throughout. He combined with Danilo Gallinari to post 26 points prior to the intermission, including 7-for-8 shooting from the free-throw line.
The Rockets mounted one final push midway through the third quarter, cutting the deficit to 81-78 before Eric Gordon missed a difficult reverse layup. The Clippers closed that period with a 15-5 run, then held the Rockets scoreless until Anthony made a free throw at the 8:41 mark of the fourth. By then, the deficit was 107-83 and the Clippers were scoring with alarming ease.
The Clippers shot 54.4 per cent overall, sinking 12 of 23 three-pointers and 35 of 38 free throws.
Chicago Bulls 106-135 Charlotte Hornets
Kemba Walker scored 30 points, all in the first three quarters, as the Charlotte Hornets salvaged a split of a two-game home-and-home against the visiting Chicago Bulls with an easy 135-106 victory.
The Hornets erupted for 45 points in the second quarter and led 68-54 at half-time, then pushed the lead up to as many as 28 in the third quarter. The biggest lead wound up being 135-101 late in the fourth.
The Bulls beat the Hornets 112-110 in Chicago on Wednesday night, when Zach LaVine hit two free throws with 0.5 seconds remaining.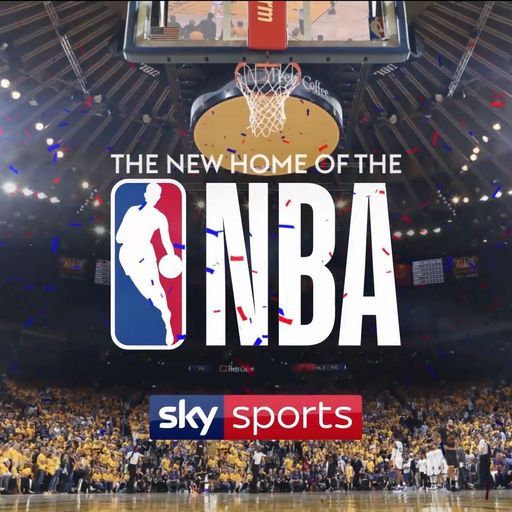 Follow Sky Sports NBA on Twitter
See the NBA's best plays and stay up to date with the latest news
Walker finished 11 of 18 from the field and also got close to his first triple-double of the season with six rebounds and seven assists in just 26 minutes. The Hornets also got 18 points and eight assists from Tony Parker, so the point guard position accounted for 48 points and 15 assists.
LaVine led the Bulls with 20 points. The Bulls also got 19 points from Jabari Parker, 15 from Cameron Payne and 13 from Antonio Blakeney.
Washington Wizards 112-116 Sacramento Kings
Buddy Hield scored seven of his 22 points in the final 6:18 as the host Sacramento Kings took advantage of three late Washington Wizards turnovers to hold on for a 116-112 victory.
Hield made three of four free throws in the final 19.6 seconds, De'Aaron Fox one of two with 2.4 seconds left and Nemanja Bjelica a pair with 1.8 seconds to go, allowing the Kings to record a second straight win and improve to 3-3 on the young season.
John Wall, whose three-pointer with 3.2 seconds remaining gave Washington a chance, led the Wizards with 26 points. Washington lost its fourth of five games.
The Wizards trailed 108-101 with 2:45 remaining after a layup by Hield. But Kelly Oubre Jr buried a three-ball, Wall converted a lay-up and Bradley Beal connected from beyond the arc, closing the gap to 110-109 with 1:04 still to go.
After Beal committed a turnover with a chance to put Washington in front, Hield made one of two free throws with 19.6 seconds left to make it a two-point game.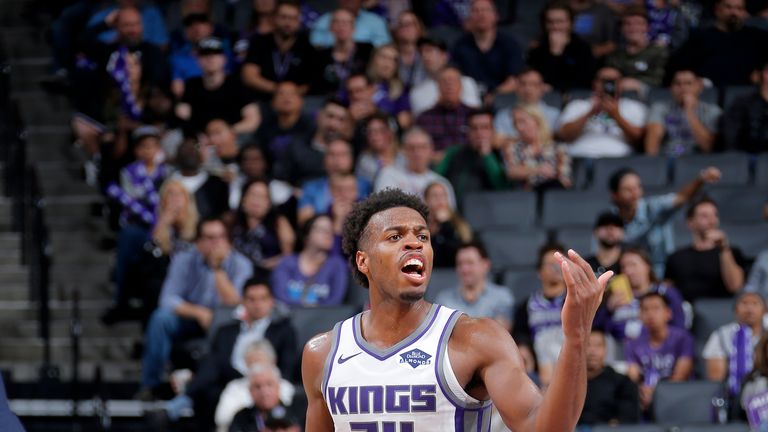 After a timeout, Markieff Morris was whistled for travelling with 9.9 seconds left, allowing Hield to seemingly ice the win with two free throws for a four-point lead with 6.0 seconds remaining.
But Wall then hit his three to get Washington within 113-112, and the Wizards got the ball back with 2.4 seconds left, down two, after Fox made just one of his two foul shots.
However, Jeff Green threw the inbounds pass out of bounds, setting up Bjelica's two win-clinching foul shots.
Sky Sports is the new home of the NBA in the UK with live coverage throughout the week, including selected live games free to all Sky subscribers via Sky Sports Mix.
And www.skysports.com/nba will be your home for news, reports, video and features throughout the season while you can follow us @SkySportsNBA
Source: Read Full Article