NBA round-up: Jamal Murray scores 48 points as Denver Nuggets beat Boston Celtics
Jamal Murray scored a career-high 48 points as the Denver Nuggets beat the Boston Celtics 115-107 to move to 9-1.
Monday night's results
Boston Celtics 107-115 Denver Nuggets
Jamal Murray scored a career-high 48 points to outshine Kyrie Irving as the host Denver Nuggets rallied to beat the Boston Celtics 115-107 on Monday night.
Murray missed a chance to become the first Denver player since Carmelo Anthony to score 50 or more points in a game. Anthony did it twice, the last time on February 7, 2011 – two weeks before he was traded to the New York Knicks.
Murray's big night helped the Nuggets (9-1) to their fifth straight win. Irving finished with 31 and Jayson Tatum and Jaylen Brown had 15 each for Boston (6-4). The Celtics have lost two straight games.
Murray, whose previous career high was 38 against Portland in January, had 29 points on 11-of-18 shooting through the first three quarters, then took over with 19 points in the fourth to lead Denver to the win.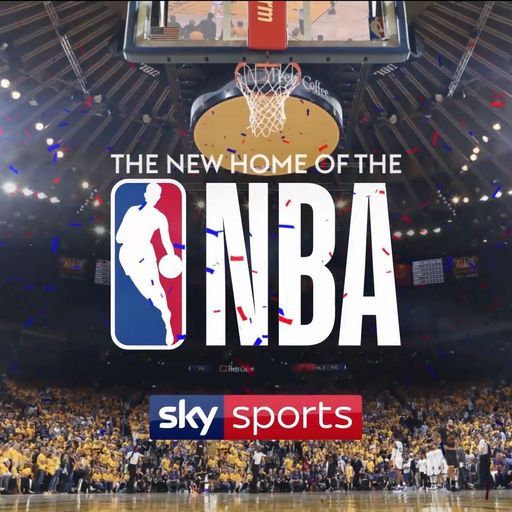 Get NBA news on your phone
Want the latest NBA news, features and highlights on your phone? Find out more
The Celtics closed within one when Murray heated up. His fadeaway 13-footer gave Denver a 93-90 lead. He then hit two three-pointers in a personal 8-0 run to give the Nuggets a 104-96 lead midway through the fourth quarter.
Irving hit another basket to cut the lead to five but Murray beat Marcus Smart off the dribble for a layup. He hit two more layups to reach 48 points and a 114-105 lead with 1:43 left.
Murray had a few chances to reach 50 points but missed a three-pointer and a lay-up with the outcome still in doubt. He also missed a meaningless three-pointer at the buzzer.
Toronto Raptors 124-111 Utah Jazz
Kyle Lowry scored 17 points, dished out 11 assists and collected seven rebounds to lead the Toronto Raptors to a 124-111 victory over the host Utah Jazz on Monday night.
Three other Raptors players also scored 17 points – led by Serge Ibaka, who came off the bench to make all eight of his shot attempts before fouling out early in the fourth quarter.
Alec Burks led Utah with 22 points off the bench in his first game back after missing four games with a left-hand chip fracture. Rudy Gobert added 14 points and 12 rebounds for the Jazz.
Utah played without Donovan Mitchell (sprained ankle) for the second time in three games. Toronto played with Kawhi Leonard (jammed foot) for the second consecutive game.
The Jazz fell to 0-4 at home for the first time since the 1974-75 season. It is their first four-game losing streak at home since the 2013-14 season.
New Orleans Pelicans 116-122 Oklahoma City Thunder
With Oklahoma City star point guard Russell Westbrook out in the second half with an ankle injury, Dennis Schroder scored nine consecutive Thunder points in the fourth quarter to help his team to a 122-116 win over the visiting New Orleans Pelicans.
Schroder finished with a season-high 22 points off the bench – 16 in the second half – as the Thunder (5-4) extended their winning streak to five after losing the season's first four games.
For New Orleans, it was the sixth consecutive loss after a 4-0 start. It's the Pelicans' longest losing streak since losing the first eight games of the 2016-17 season.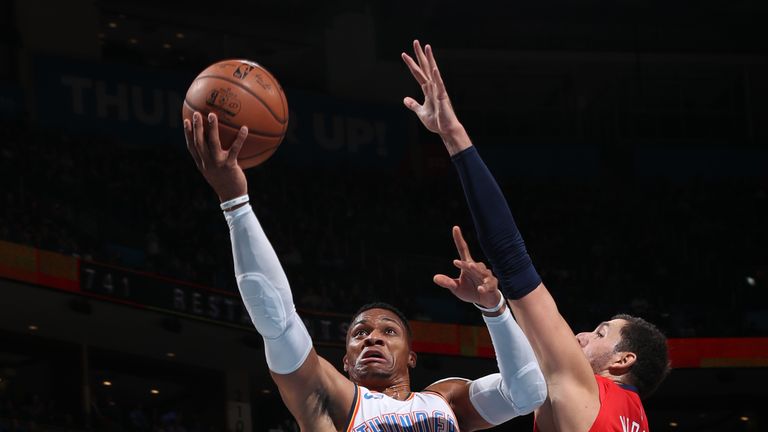 Schroder got his chance for a big finish after Westbrook twisted his left ankle with 4:25 remaining in the third quarter.
Westbrook rolled over and grabbed onto his left leg before slapping the floor in pain and frustration. Soon afterwards, he went to the locker room, not putting any weight on the leg. He didn't return and his status is unclear. Westbrook missed the season's first two games following offseason knee surgery.
Houston Rockets 98-94 Indiana Pacers
James Harden scored 28 points, but his lone block helped the Houston Rockets secure their third consecutive win, 98-94, over the Indiana Pacers at Bankers Life Fieldhouse.
Pacers guard Victor Oladipo scored seven consecutive points down the stretch, but Harden blocked an Oladipo shot with 28.8 seconds left and the Rockets leading 93-90. Harden later sealed with victory with two free throws with 5.4 seconds remaining.
Harden and PJ Tucker (nine points, five rebounds, two steals) hit key three-pointers down the stretch to offset the Oladipo surge, who led Indiana with 28 points.
Domantas Sabonis added 17 off the bench for Indiana while Tyreke Evans and Bojan Bogdanovic scored 11 points apiece.
Clint Capela chipped in a double-double of 18 points and 10 rebounds for the Rockets.
Chicago Bulls 116-115 New York Knicks (2OT)
Zach LaVine's career-high 41st point, a free throw with 0.2 seconds left in the second overtime, snapped a tie and lifted the visiting Chicago Bulls to a 116-115 win over the New York Knicks.
The Bulls snapped a four-game losing streak. The Knicks lost for the third time in four games.
Antonio Blakeney had 17 points and Jabari Parker added 15 points for the Bulls, who received a double-double from Wendell Carter Jr (11 points, 13 rebounds).
Knicks reserve Enes Kanter had a historic game in defeat by recording 23 points, 24 rebounds and seven assists, becoming the first player to notch 20 points, 20 rebounds and five assists off the bench since Hall of Famer Charles Barkley had 31 points, 21 rebounds and nine assists for the Philadelphia 76ers on November 28, 1986.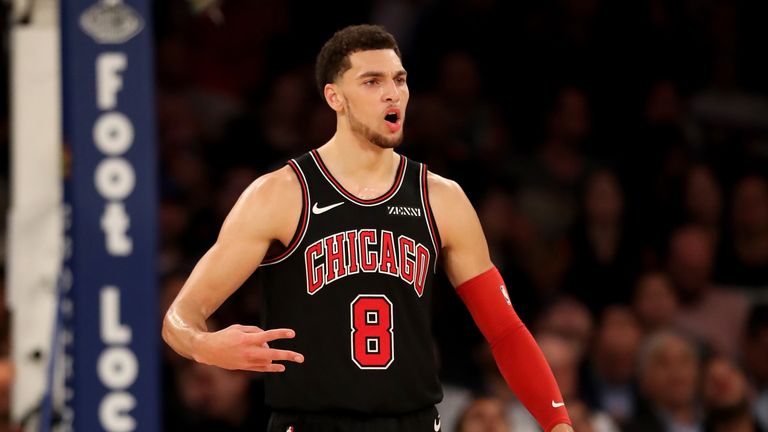 Allonzo Trier had 21 points for the Knicks while Damyean Dotson (18 points), Emmanuel Mudiay (16 points) and Mario Hezonja (15 points) all scored in double figures. Noah Venieh (10 points, 11 rebounds) had a double-double.
LaVine scored the last five points for the Bulls and also came up with a key defensive stop. His driving layup with 2:19 left in the second overtime gave the Bulls a 112-111 lead. After Trier's scoop layup put the Knicks ahead by one, LaVine hit one of two free throws to tie the score with 1:07 remaining.
After Kanter missed a jumper, LaVine hit a driving layup to give the Bulls the lead with 43.5 seconds left. LaVine missed a potential game-sealing pull-up with 10.9 seconds left, after which Mudiay tied the game with a layup with 2.7 seconds remaining.
Following a timeout, LaVine took the in-bounds pass around half-court and drove the lane, where he was fouled by Mudiay. LaVine hit the first free throw to break his previous career high, set when he was playing for the Minnesota Timberwolves against the Sacramento Kings on December 23, 2016, and missed the second on purpose.
Trier pulled down the rebound but could not get a shot off as the clock expired.
Cleveland Cavaliers 100-102 Orlando Magic
Evan Fournier nailed a tie-breaking jump shot at the buzzer to give the Orlando Magic an improbable 102-100 home win after the Cleveland Cavaliers turned the ball over twice in the final 20 seconds.
The Cavaliers had a three-point lead with 18.7 seconds left in the game, possession of the ball and the shot clock turned off, but Cedi Osman's bad pass was intercepted by DJ Augustin, who was fouled and made both free throws.
Two seconds later, Kyle Korver turned the ball over, and Evan Fournier made 1 of 2 free throws to tie the game after he was fouled at the basket with 13 seconds to go.
Orlando made a defensive stop and got the ball back with 1.8 seconds left.
Aaron Gordon inbounded the ball to Fournier, who made a shot fake and took one dribble before swishing in a three-pointer as the clock ran out.
Fournier finished with 15 points, and Gordon had 23 points and nine rebounds as the Magic won back-to-back games for the first time this season.
The Cavaliers have now lost nine of their first 10 games to start the season, including each of the past three.
Miami Heat 120-115 Detroit Pistons
Josh Richardson had 27 points, eight rebounds and four assists as the Miami Heat snapped a three-game losing streak with a 120-115 overtime victory over the slumping Detroit Pistons.
Goran Dragic contributed 21 points, seven rebounds and six assists, while Dwyane Wade added 18 points. Kelly Olynyk chipped in 13 points off the bench and Bam Adebayo added 11.
Wade moved into 30th place on the league's all-time scoring list during the first half, surpassing Clyde Drexler (22,195 points).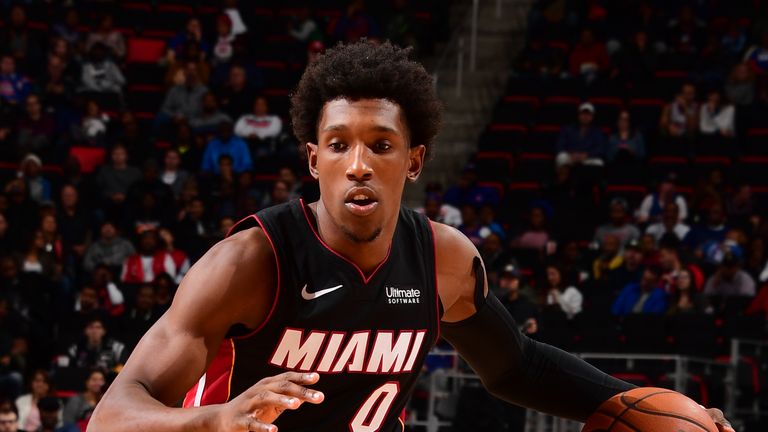 Andre Drummond powered for 25 points and 24 rebounds but Detroit lost their fifth straight game. Reggie Jackson also had 25 points while Blake Griffin supplied 24 points, 15 rebounds and seven assists before fouling out late in regulation.
Jackson hit a floater in the lane with 1:27 left in overtime to give Detroit a two-point lead. Richardson answered with a three-pointer 21 seconds later. In the closing seconds, Richardson missed a three-pointer but Detroit's Glenn Robinson also misfired on a corner three.
The officials called a clear path foul against Detroit with 2.1 seconds left and Adebayo hit both free throws. Richardson then tacked on two more free throws to clinch the victory.
Minnesota Timberwolves 109-120 Los Angeles Clippers
Tobias Harris and Danilo Gallinari scored 22 points each and Lou Williams added 20 off the bench as the Los Angeles Clippers held off a late run from the visiting Minnesota Timberwolves to earn a 120-109 victory.
Harris shot 4-for-7 from three-point range as the Clippers were 14 of 31 (45.2 per cent) from behind the arc as a team. Seven Los Angeles players made three-point shots as the Clippers improved to 4-1 at home.
Derrick Rose scored 21 points for Minnesota in his second start of the season. In his first start last week against the Utah Jazz, the former MVP had a career-high 50 points. Karl-Anthony Towns scored 20 points for the Timberwolves, but just seven after the first quarter. However, he grabbed a game-high 12 rebounds.
Timberwolves guard Jimmy Butler also had 20 points, 16 of which came in the fourth quarter. Butler, who has been a trade target, did not play Sunday night at Portland because of "precautionary rest".
The result ended the Clippers' six-game losing streak against the Timberwolves, which had been their longest current losing streak against a single opponent.
Memphis Grizzlies 101-117 Golden State Warriors
Stephen Curry and Alfonzo McKinnie connected on three-pointers in a 14-point Golden State Warriors run late in the third quarter that propelled the two-time defending champions to a 117-101 victory over the visiting Memphis Grizzlies on Monday night.
Klay Thompson scored a game-high 27 points for the Warriors, who won their eighth straight overall and sixth in a row at home despite losing Draymond Green in the second quarter to a foot injury.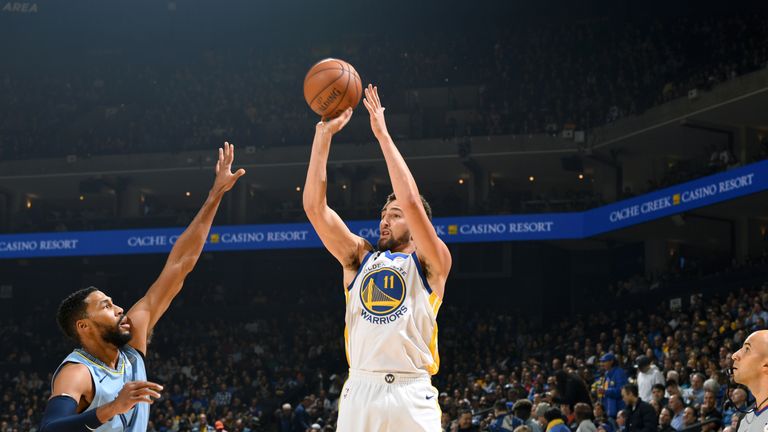 Marc Gasol flirted with a triple-double for Memphis with eight points and game highs in rebounds (10) and assists (nine).
On Saturday, November 10, you will be able to follow the Milwaukee Bucks @ Los Angeles Clippers, also available on a free live stream, from 8:30pm on skysports.com and the Sky Sports app.
Sky Sports is the new home of the NBA in the UK with live coverage throughout the week, including selected live games free to all Sky subscribers via Sky Sports Mix.
And www.skysports.com/nba will be your home for news, reports, video and features throughout the season while you can follow us @SkySportsNBA
Source: Read Full Article