NBA: Philadelphia 76ers face stern back-to-back test at Milwaukee Bucks
The Philadelphia 76ers will look for their first win on the road when they face the Milwaukee Bucks, live on Sky Sports Arena in the early hours of Thursday morning.
The Sixers (2-2) are coming off a tough 133-132 overtime loss against the Detroit Pistons, an encounter they played without their point guard Ben Simmons, who missed out after aggravating a back injury during the first quarter of the Sixers' previous game against the Orlando Magic.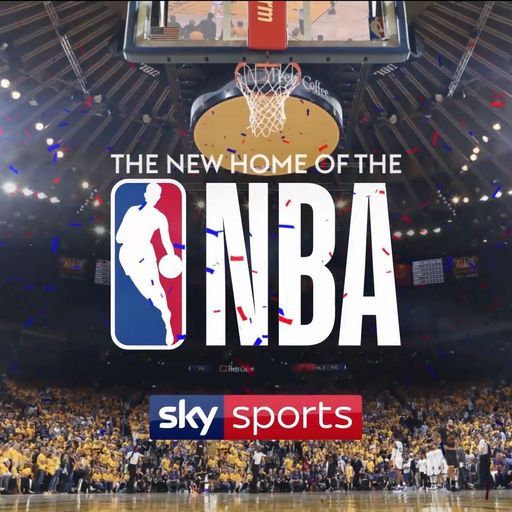 Follow Sky Sports NBA on Twitter
See the NBA's best plays and stay up to date with the latest news
The Milwaukee Bucks (3-0) pose a stern test. They have dispatched the New York Knicks and the Indiana Pacers in their last two outings. Giannis Antetokounmpo has looked every inch an MVP candidate so far, averaging 27.3 points, 5.7 assists and a league-leading 16 rebounds in Milwaukee's unbeaten start.
Both teams harbour expectations of being among the top seeds for the playoffs so this early season clash will provide an initial insight into the Eastern Conference pecking order.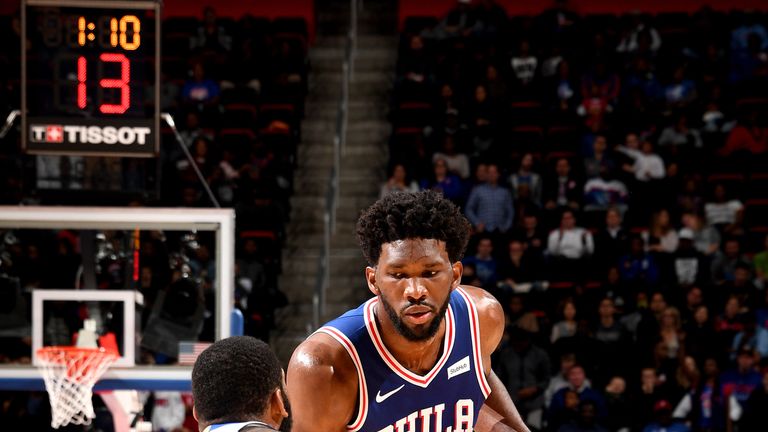 Key Battle: Joel Embiid vs Fatigue
Given Embiid's long injury history, the Sixers have previously held their franchise center out of the second game of back-to-backs. That appears to be a thing of the past although questions about Embiid's overall conditioning, voiced loudly during last season's playoffs, persist.
In addition, if Ben Simmons misses the game through injury, Embiid's workload will surely increase against the Bucks.
Embiid has looked in great shape to this point – but will he be able to bring the energy on the second night of back-to-back games while carrying extra responsibility?
Numbers Game
11.8 – That's the improvement in Milwaukee's total points per game this season under new coach Mike Budenholzer. The stodgy offense of last season (in which the Bucks averaged 106.5 PPG) is a thing of the past.
This season, albeit over a small three-game sample size, they are averaging 118.3 PPG with Coach Bud calling for more three-point shooting (40 attempts per game, compared to last season's 24.7) which, in turn, has created more space and made it easier for Antetokounmpo to work closer to the basket.
Last time out
One to watch (76ers) – JJ Redick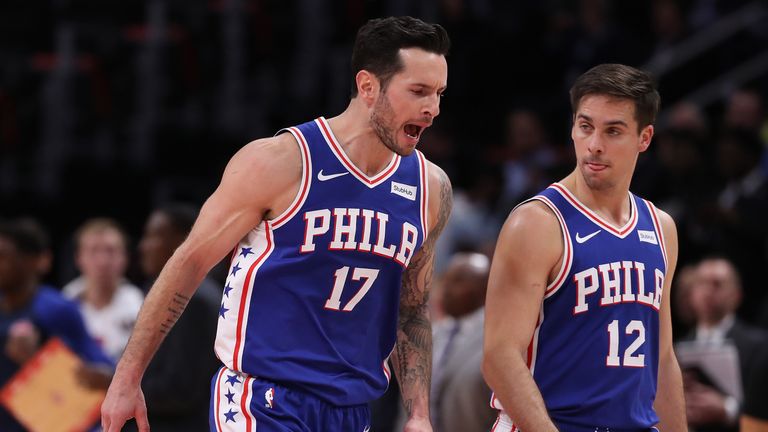 The veteran sharpshooter doesn't command as much attention as his team-mates Embiid and Simmons but, year in and year out, his accuracy from three-point land makes him a valuable member of the Sixers' arsenal.
Redick posted 30 points (including six three-pointers) against Detroit only to be upstaged by former Clippers team-mate Blake Griffin's game-winning 50-point outburst. In the Sixers' win against the Orlando Magic, Redick drained 8-of-13 three-balls en route to a 31-point haul. He'll hope to continue his stellar early-season form against Milwaukee.
One to watch (Bucks) – Khris Middleton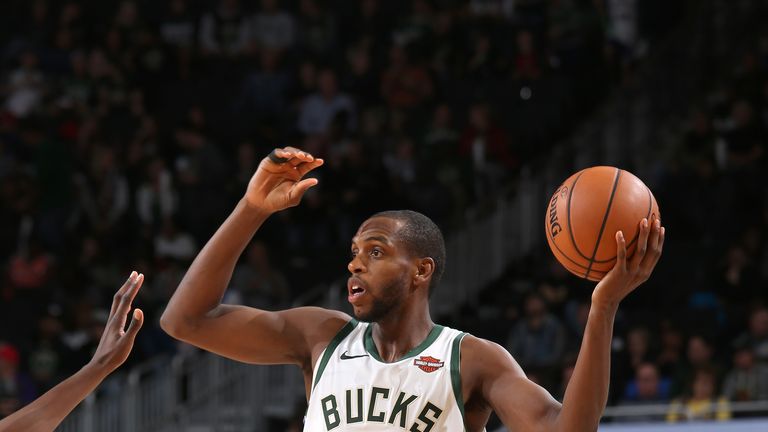 While Antetokounmpo grabs headlines for the Bucks, his team-mate Khris Middleton goes about his business with quiet efficiency. The small forward torched the Knicks in his last outing, hitting 11 of his 14 field goal attempts (including 7-of-8 from three-point attempts) on his way to 30 points.
Once thought of as a 'three and d' player, Middleton has developed his all-round game. He can still lock an opponent down on defense and, as his performance against the Knicks attested, can still make three-pointers, but he's also a threat from mid-range, can initiate the Bucks' offense and be a distributor when required. He is the perfect deputy to franchise centrepiece Antentokounmpo.
Philadelphia 76ers @ Milwaukee Bucks
Live on Sky Sports Arena, Thursday 2:30am
Week 2 – Wednesday's games
Sky Sports is the new home of the NBA in the UK with live coverage throughout the week, including selected live games free to all Sky subscribers via Sky Sports Mix.
And www.skysports.com/nba will be your home for news, reports, video and features throughout the season while you can follow us @SkySportsNBA
Source: Read Full Article