NBA: Boston Celtics aim to deny Oklahoma City Thunder first win of new season
The Boston Celtics travel to face the Oklahoma City Thunder hoping to deny their hosts a first win of the new season, live on Sky Sports Arena and Sky Sports Mix in the early hours of Friday morning.
The Celtics (2-2) are coming off a shock 93-90 home loss to the Orlando Magic on Monday night still searching for the consistency that took them to last season's Eastern Conference finals. They have alternated wins and losses through their opening four games.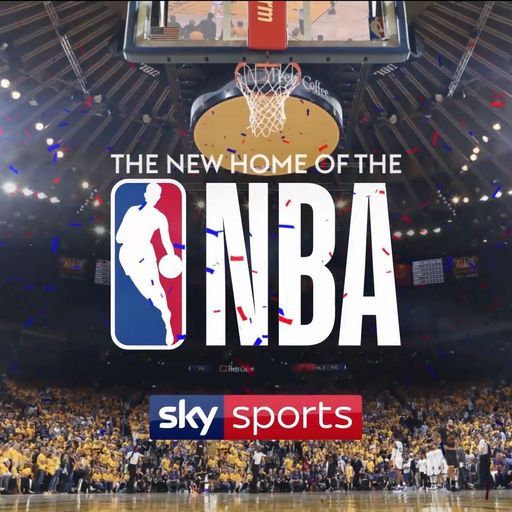 Follow Sky Sports NBA on Twitter
See the NBA's best plays and stay up to date with the latest news
Gordon Hayward has returned to the starting line-up having completed a successful rehabilitation following his horrific broken leg in the opening game of last season. However, he and fellow franchise star Kyrie Irving have looked some way short of their best form.
Oklahoma City (0-3) have endured an even worse start to their season, losing all three of their contests to date. Their All-Star guard Russell Westbrook missed the first two of those defeats as he completed his recovery from summer knee surgery. Yet his presence was not enough to stop the Thunder slipping to a third successive defeat, a shock 131-120 home reverse to the Sacramento Kings.
Key Battle: Al Horford vs Steven Adams
This big-man battle pits Horford's finesse against Adams' physicality. The Celtics will be without back-up center Aron Baynes (hamstring strain) which puts more pressure on 32-year-old All-Star Horford to handle the bruising New Zealander on the boards.
Despite the Thunder's early-season struggles, Adams has thrived, averaging 14.7 points and 14.3 rebounds per game. He is also tied for most offensive rebounds (18) which means he keeps possessions alive and earns his team-mates second-chance shooting opportunities.
Usually a highly efficient player, Horford has struggled with his shot over the Celtics' last three games although he also impacts games through passing and rebounding. He flirted with a triple-double (14 points, 10 rebounds, nine assists) in the loss to the Toronto Raptors.
Last time out
Numbers Game
41.2 – The Boston Celtics' field goal percentage through four games of the new season, the league's third-lowest figure. While a tough schedule and off-season rust have contributed to this dramatic drop (the Celtics' FG% was 45 per cent across the 2017/18 season) will be causing coach Brad Stevens some concern.
The Thunder's shooting has been even less accurate. They rank dead last (30th) with a league-worst FG% of 39.0 per cent, per NBA.com/stats. Surrounding volume-shooters Russell Westbrook and Paul George with accurate perimeter shooters has been the Thunder's Achilles heel for some time. And it's looking likely to be a problem this season too.
One to watch (Celtics) – Gordon Hayward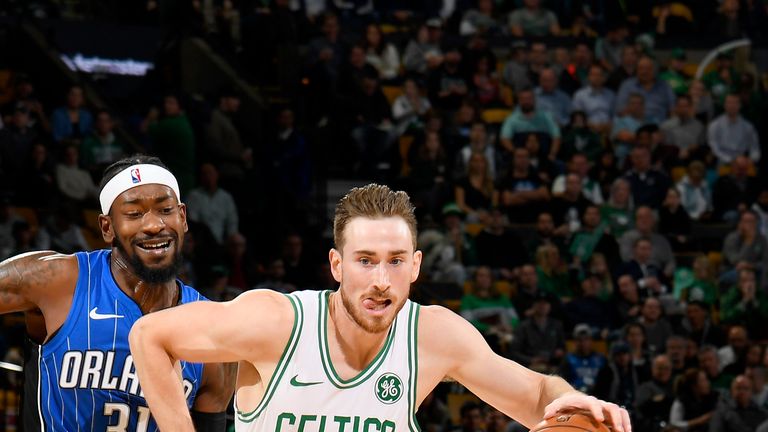 Hayward's return to the court following his arduous 12-month recovery after breaking his leg will ultimately push the Celtics even closer to the NBA title. But, understandably, he has not returned to his best form yet.
Hayward admitted he still suffers pain in his ankle every time he plays and he was rested for the Celtics win against the Knicks. In three appearances this season, he is averaging 11.7 points per game, way down on the 21.9 PPG he averaged in his last full season. That will be addressed once his confidence in his body increases. For now, each time he takes the court is an opportunity to track his progression as he bids to return to All-Star level.
One to watch (Thunder) – Dennis Schroder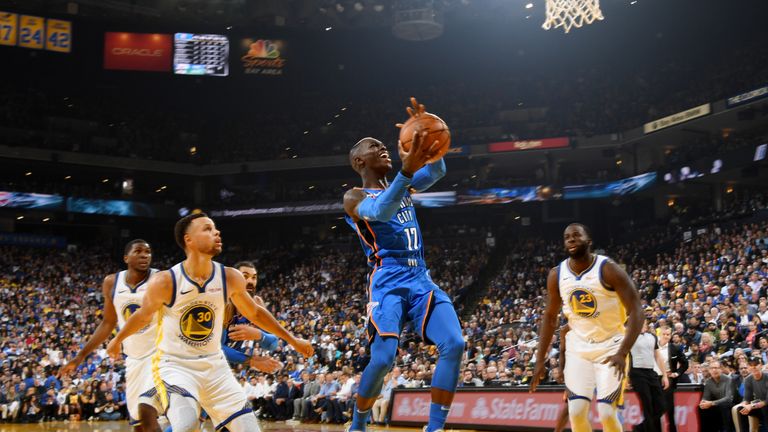 After five years as a starter in Atlanta, the German-born Schroder moved to Oklahoma in the summer and is being used as a sixth man, asked to provide a scoring punch when Westbrook and George are not on the court.
So far, Schroder has been productive, if extremely inefficient, averaging 14.3 points and 7.3 assists through the Thunder's opening three defeats making a lowly 28 per cent of his shots.
Boston Celtics @ Oklahoma City Thunder
Live on Sky Sports Arena, Friday 1am
Thursday night's games
Sky Sports is the new home of the NBA in the UK with live coverage throughout the week, including selected live games free to all Sky subscribers via Sky Sports Mix.
And www.skysports.com/nba will be your home for news, reports, video and features throughout the season while you can follow us @SkySportsNBA
Source: Read Full Article