Golden State Warriors suspend Draymond Green for one match without pay
Draymond Green was banned from Golden State Warriors' win over Atlanta Hawks without pay for "conduct detrimental to the team" in the fallout from Monday night's explosive exchange with All-Star team-mate Kevin Durant.
Green reportedly sacrificed more than $120,000 (£92,000) in the process of missing Tuesday's victory.
Durant scored 29 points and Jonas Jerebko recorded a 14-point, 13-rebound double-double in Green's absence to help Warriors pull away from the Hawks for a 110-103 victory.
Green's suspension came after he was loudly confronted by some team-mates in the locker room for his decision-making on the final play of regulation of the 121-116 overtime loss to the Los Angeles Clippers, league sources told ESPN.
The intensity in the locker room was heightened because the matter of Durant's impending free agency reportedly was raised.
The organisation spent Tuesday dealing with the aftershocks of Monday night's confrontation, while working through the issues involving the team's dynamic, according to league sources.
The Warriors closed the fourth quarter at Staples Center with an 11-0 run and had a chance to win in the final seconds, tying the score at 106-106.
Green grabbed a rebound and dribbled up the court before fumbling the ball in traffic at the top of the key.
Durant was seen clapping his hands, an apparent call for the ball.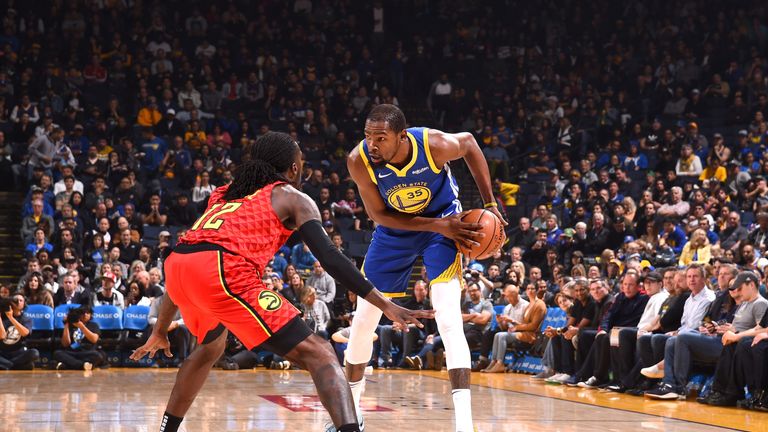 After the buzzer sounded and the players went to the bench, Durant yelled at Green for not passing him the ball under the basket.
Television cameras captured their animated conversation, but both players declined to discuss what was said.
"It doesn't matter," Green told The Mercury News after the game. "You all are going to report what you want to report."
Other team-mates argued with Green over his choice in the final moments to keep the ball, but Green forcefully defended himself, raising the volume level in the room, sources said.
Golden State team-mate Shaun Livingston characterised the exchange between Durant and Green as "just team spirit."
"Guys wanted a different outcome than what happened," Livingston said. "Obviously, Dray had the turnover. Guys might have thought they were open or wanted the basketball, didn't get it.
"Things happen like that in sports. But it was good to see some fire, some emotion."
Source: Read Full Article