World Series shows baseball love runs deep, from Cape Cod to Santa Monica Pier
The 2018 World Series spanned the country, from the Atlantic Ocean to the Pacific Ocean.
The Boston Red Sox beat the Los Angeles Dodgers in five games, in the first Fall Classic fully hosted by coastal cities on opposite shorelines of the United States since the Yankees beat the Padres in the 1998 series. This was only the eighth time since the Dodgers and Giants moved to California in 1957 that's happened.
MORE: MLB offseason: Important dates for awards, free agency
I wanted to take advantage of the rather unique geographical opportunity. The idea was to visit two truly coastal, iconic communities and find one person in each spot to talk baseball with. Why only one person? Because trying to encapsulate a community's relationship with its local baseball franchise in one day — one morning, really — would be a fool's errand. So, instead, I wanted to find one person with a connection to baseball and a deeper connection to the community and tell that person's story.  
The morning after Game 1 in Boston, I drove out to Cape Cod. Before Game 3 in L.A., I woke up early and drove to the Santa Monica Pier.
I didn't know who I'd find to talk with, but that's the best part, right? 
Turns out, I couldn't have stumbled across two better people to interact with. Here are their stories.
'We get to talk about baseball every day'
HARWICH, Mass. — Eduardo Nunez's pinch-hit three-run home run put the icing on Boston's 8-4 victory in Game 1, and after writing my column at Fenway Park, I finally get back to my hotel in Rockland around 3 a.m.
My alarm goes off four hours later, and after a quick shower, I start my trip to Cape Cod. If nothing else, I figure I could find someone wearing Red Sox gear at one of the many Dunkin' Donuts on the Cape. That would be easy enough, right? 
Before that, though, I stop in the Salt Pond Visitor Center and the entrance to the Cape Cod National Seashore. My first question to David Quincy, the friendly gentleman at the front desk is this: "I have two hours. What do I have to see?" 
He smiles. "You'll want to get to the beach, and you'll want to see a lighthouse." He told me how to make that happen in one quick stop.
My next question, of course, is about baseball. Is there a place that's baseball-centric, one I can't miss? Not just somewhere that would have Game 2 on the television that night, but somewhere that lives and breathes baseball all year. 
David smiles again. "You need to go to the Hot Stove Saloon in Harwich." 
"You mean, 'Hot Stove' as in what they call baseball's offseason?"
He nods. Yeah, that's definitely where I needed to go. 
First, the beach. I don't even notice the gray seal initially, as it cruises slowly down Coast Guard Beach, maybe 10 feet from the water's edge. I race down the sand to get a better view. The seal pays me no mind and goes along its chosen path. 
ok, I'm way too excited about this. saw a gray seal swimming down the shoreline. if you look closely, you can see it's wearing a Red Sox hat pic.twitter.com/hFW2ixbf3p
The Nauset Lighthouse sits just up the shoreline from where the gray seal ignored me. The Cape shore is constantly changing, with the sea claiming and giving back land on a yearly basis, and the original spot eroded away many years ago.
The cloudy sky contributed to an exceptional view.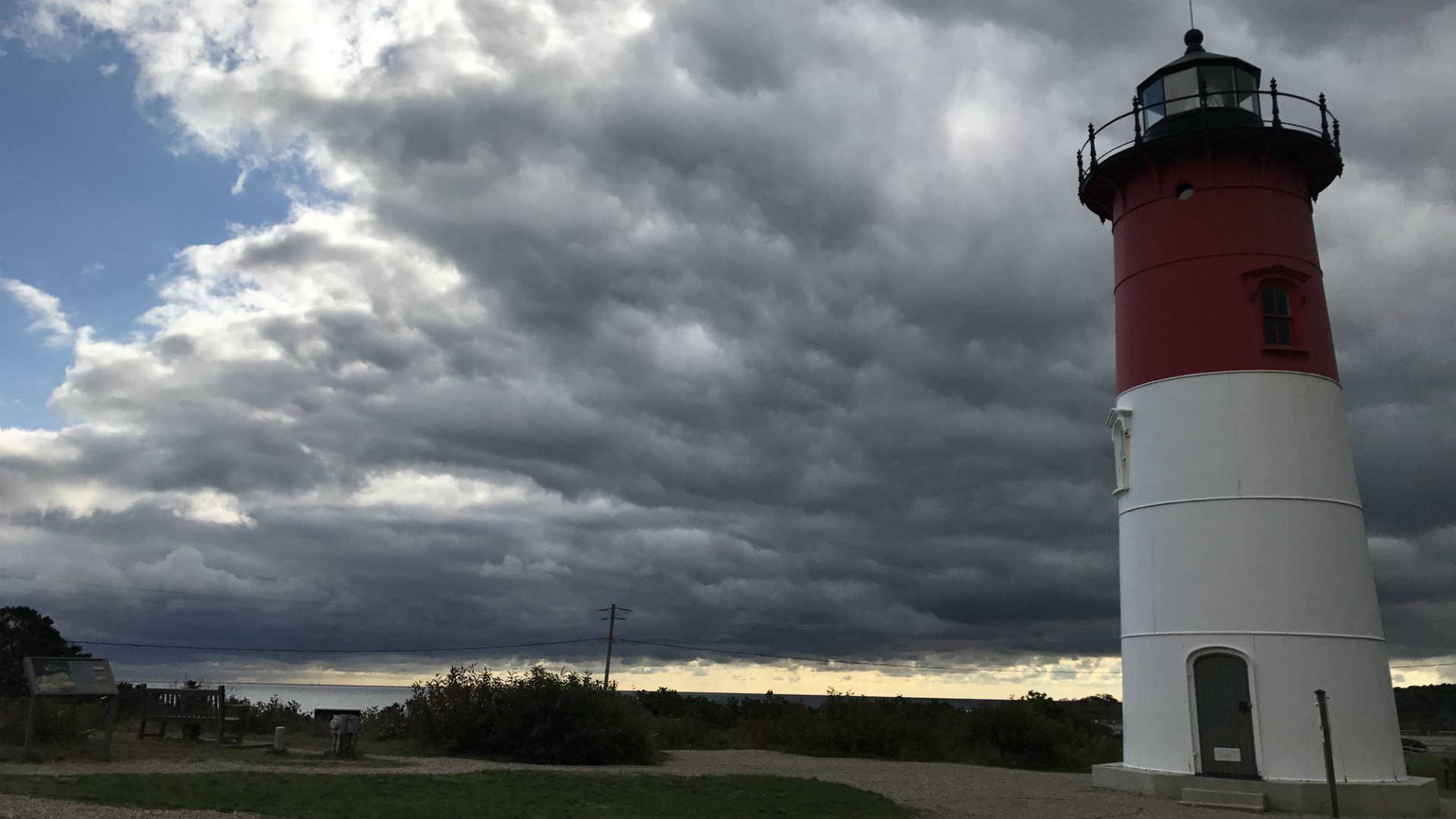 The Nauset Lighthouse, in the Cape Cod National Seashore. (Ryan Fagan/SN)
From there, I hit up the Hot Stove Saloon for lunch. The Cape thrives on a tourist economy, and this was the offseason. Still, there are nearly as many Red Sox signs and bumper stickers as there are "See you next spring!" signs hanging up on closed-for-the-season businesses. 
Immediately after walking into the Saloon, I know I'm in the right place.
In a display case near the entrance, there's an old Sporting News publication. Perfect. This one was called "The Sporting News Dope Book" and it's not what you might think. Back then — Yogi Berra was on this cover, from 1952 — "dope" just meant "inside information." 
I order the cod tacos — what else? — and walk around the saloon, taking in, and taking pictures of, all the wonderful baseball memorabilia on the walls. 
The Hot Stove Saloon is the bar Gabe Leidner and his dad, Ron, always wanted to open.
"I was born here but my father was a Coast Guard guy, so I pretty much bounced around the first 20 years of my life," Gabe tells me. "Moved back to the Cape, had just gotten out of the military and was looking for something to do. Just so happened that spot opened up, and my old man and I had always talked about opening up a small bar. So that worked pretty well." 
Gabe and Ron opened the Hot Stove Saloon in the spring of 2005. As Red Sox fans know, that's just a few months after their beloved team finally broke the curse and won the franchise's first World Series title since Babe Ruth was sold to the Yankees. 
I find a couple of issues of The Sporting News from the 1960s hanging on the wall. Seeing those old issues is always a cool reminder that I'm pretty lucky to do what I do for a living, and even more lucky to work for a company with such deep roots to America's original pastime. Gabe says some of their collection comes from eBay finds, some is on loan from a local historical society and some is sent to them by people who want to donate to the cause.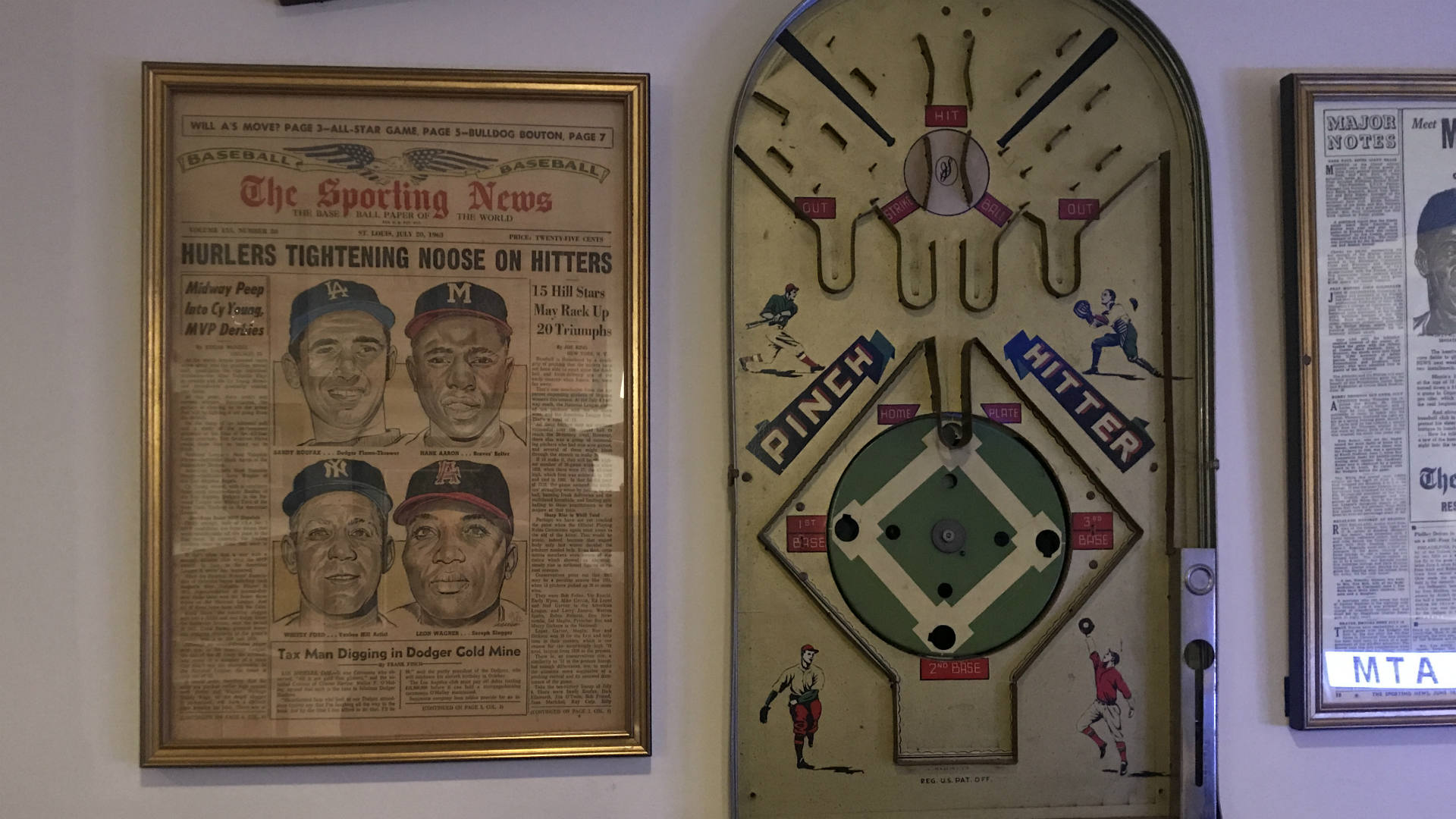 Two great items of baseball memorabilia on the walls at the Hot Stove Saloon. (Ryan Fagan/SN) 
"Being on the Cape, we get a lot of tourists from all over the country," Gabe says. "People love it in here, historic baseball in general. The walk around looking for their team or whatever they find."
But on the Cape, baseball isn't just about the Red Sox. The area hosts the annual Cape Cod League, a summer showcase for the best players in college baseball. It's one of the only wood-bat collegiate baseball leagues, and it's earned its reputation as a proving ground for players who want to show they can make it as a professional. The CCBL's roots that go all the way back to 1885. The current setup includes 10 teams and a 44-game schedule that runs from the middle of June to the middle of August. 
"It's awesome," Gabe says. "It's all college teams. Very exclusive to be a part of it. It's a wooden bat league, and that's what makes it great. A lot of big-leaguers came through the Cape league. There are Sox now who played in the Cape league, like Jackie Bradley. Chris Sale played here, which is really cool."
Another thing that's pretty cool about owning the Hot Stove Saloon on the Cape? 
"We get to talk about baseball every day," Gabe says.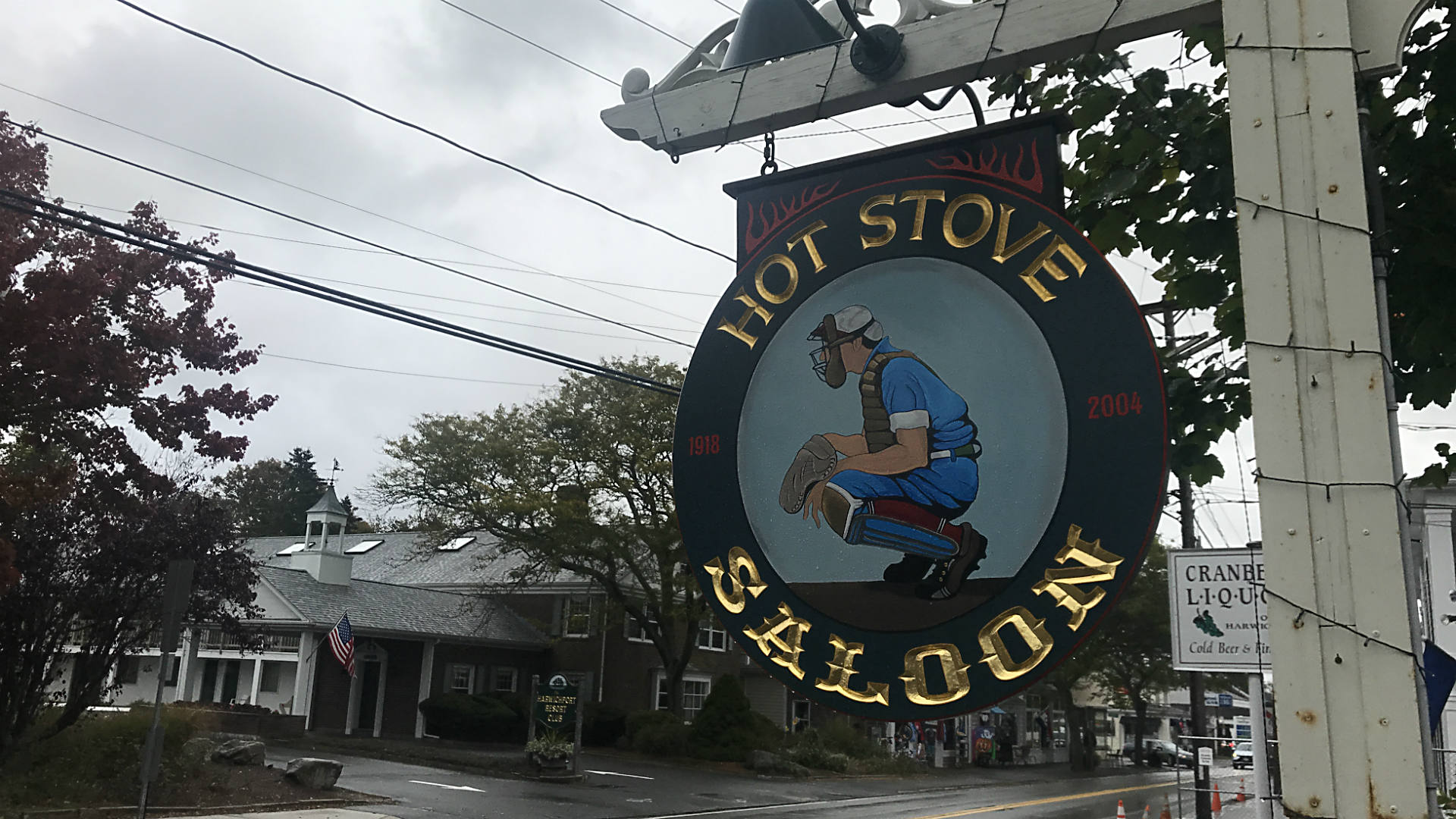 'The Dodgers are one of my favorite-most teams'
SANTA MONICA, Calif. — Quenton Williams is spending his birthday in one of his favorite spots in the world, on the fishing deck at the end of the Santa Monica Pier.
He's wearing a Dodger blue shirt, so I ask him whether he's a Dodgers fan, and he proudly tells me was born 53 years ago in Los Angeles County General Hospital, just a couple of miles from Dodger Stadium, where his hometown team would play Game 3 of the World Series a couple of hours later.
MORE: Dodgers, Kershaw have one question: Where to go from here
Quenton knows everyone on the deck. At least, they feel like they knew him after a couple of minutes in his presence. He's fishing for Spanish mackerel, or whatever happens to bite the bits of cut-bait squid he has on the three hooks at the end of his rig. A couple of days ago, he tells me, there were so many mackerel in the water that you couldn't even flip over the bail and set the hook before the fish were racing off with the bait. The bite is much slower this morning, but the tide is coming in, and he promises better things are to come, quickly.
Wearing a Dodger blue shirt, Quenton bounces around the fishing deck, divvying out bait and talking with the locals, and sharing fishing stories with the tourists. On this day, his own fishing setup, leaning up against the wall on the right corner, is well down on his personal priority list. Quenton is sharing his birthday happiness with everybody, and I'm happy to be sharing the sunshine with him on the deck. 
Quenton and his spanish mackerel. (Ryan Fagan/SN)
On the Cape shoreline, 3,082 miles to the northeast, I had on multiple layers, gloves and a lightweight ski cap. The trees were turning beautiful reds and yellows. On the pier, I'm in shorts and a T-shirt, and the ocean is a beautiful blue. 
Before meeting Quenton on the fishing deck, I walked around the bustling pier — 17.3 miles away from Dodger Stadium, but more than an hour away by car if you happen to be on the 10 at the wrong the time of day — and on the Santa Monica beach for a bit. There wasn't much Dodger memorabilia to be seen, to be honest, save for the occasional folks wearing jerseys or T-shirts. From there, I went to the Venice Beach boardwalk. Same thing. 
I asked one guy wearing a Clayton Kershaw jersey on the pier whether he thought the Dodgers would come back from their 2-0 World Series deficit. "God, I hope so," he said, with more desperation than confidence in his voice.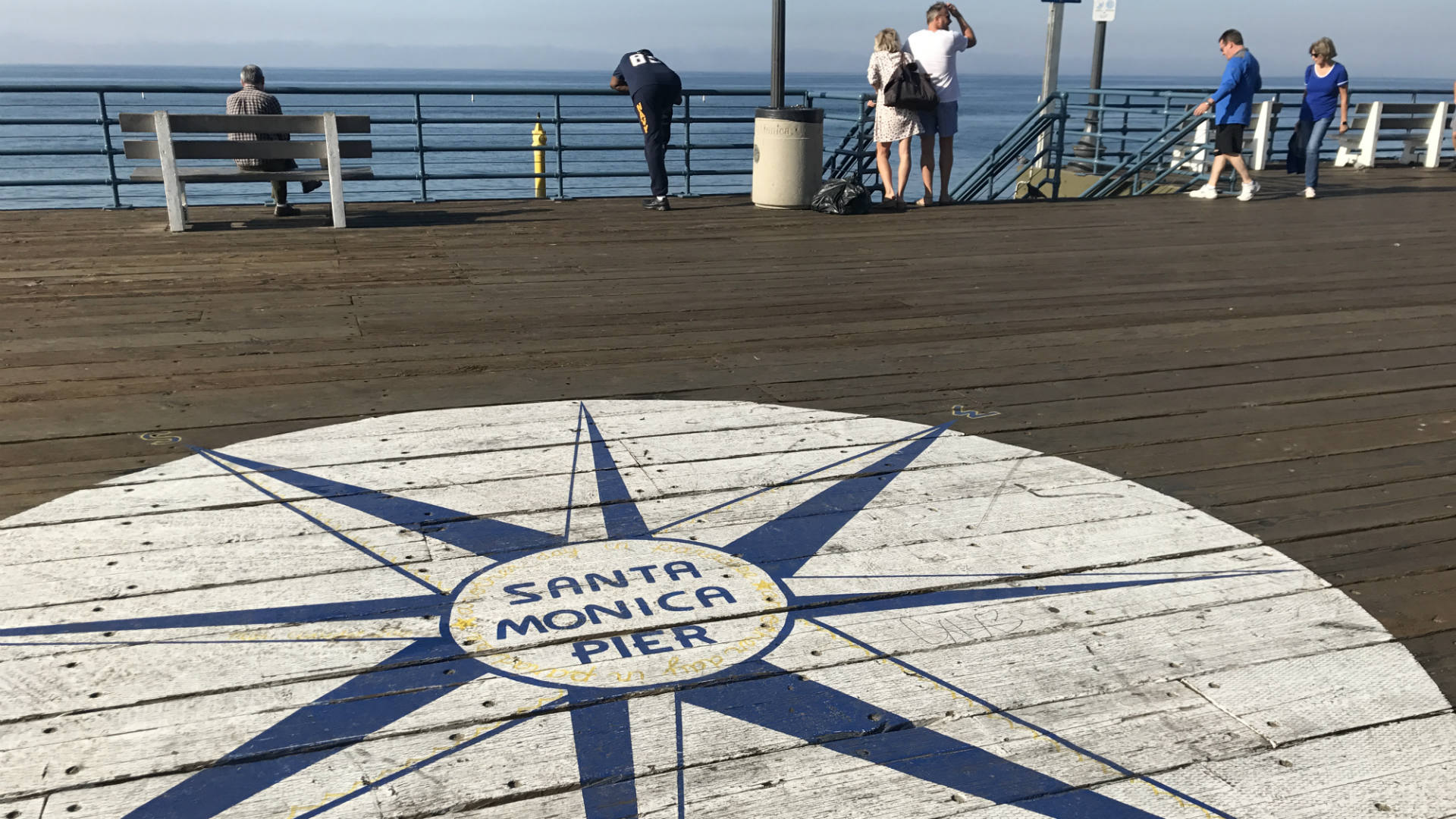 Dodgers colors for the sign, right? (Ryan Fagan/SN)
Quenton and I start talking about the Dodgers.
"The Dodgers went to Boston and pissed us off these last couple of games but we know now that they're here — see, you get comfortable in your home zone — they're going to win today," he says in a way that made me believe him. "We always start off low, then we come back strong. Watch. We going to win this one today, then we're going to lose again here one more time. And after that, that's it. We win. Trust me. I know them Dodgers."
He was close. The Dodgers did win Game 3 — an epic 18-inning contest — and then lost the next one, just as he predicted. I was starting to think Quenton was as clairvoyant as some of the folks on the Venice Beach boardwalk think they are, but the Red Sox won Game 5 to wrap up the series. 
Oh, well. 
"I mostly watch gospel concerts, but the Dodgers, the Dodgers are one of my favorite-most teams. You know we're football fans now, too, in this town," Quenton says. He stops, abruptly, reaching for his fishing rod. "Oh, this one's biting!"
The rod stops shaking as quickly as it started. 
"Ain't much, though," he tells me. "He would have bent it."
There's a pinniped hanging around in the water here, too. This one's a sea lion Quenton calls Sammy, and he's much more gregarious than the Cape gray seal. Sammy long ago figured out it was easier to eat by barking for tourists and begging for food than actually catching fish on his own. There are visible scars around his neck, and he's missing his left eye.
Beggin' Sammy pulls at tourists' heartstrings. (Ryan Fagan/SN)
Sammy has the routine down. He acts injured and swims slowly, until a fisherman hollers and starts reeling up a fish. Then, he darts over with stunning quickness and agility to try to steal the fish off the hook. As I'm talking with Quenton, the guy next to us yells and starts to reel up a little mackerel. Sammy races over, grabs hold, momentarily, but the fisherman wins the tug of war.
There are giant gashes in the little fish, courtesy of Sammy's teeth. Quenton offers to cut up the mackerel to use for bait, which he then distributes among those holding fishing poles on the pier. It's a share-and-share alike community. 
Quenton comes back after 10 minutes or so. 
"What time does the game start today? I wish I had tickets," he says, as he looks out to the buoys where the dolphins have been cruising, a couple of hundred feet out from the pier. The water has his attention now. "It's high tide like a son of a gun. I don't see the rocks anymore."
He grins. "Oh, it's on."
♦♦♦
I had to head to Dodger Stadium for Game 3, so I wasn't able to stick around and count all the Spanish mackerel I'm sure Quenton hauled in that day.
And the Hot Stove Saloon is an hour-and-a-half from Fenway Park without traffic in the offseason — and, from what I hear, a disaster on an in-season weekend — so I wasn't able drive back to the Hot Stove Saloon the next day and hang with Gabe and other new friends, talking about where Bryce Harper and Manny Machado will wind up as free agents, or what trades the Sox should pull off in the offseason.
But it's nice to know those things happened. It's nice to know baseball conversations happen all over the country, not just at the ballparks during playoff games.
And it's always great to be a part of those chats, with good people who have a lifelong connection to the sport.
Source: Read Full Article