Double Shuffle making swift recovery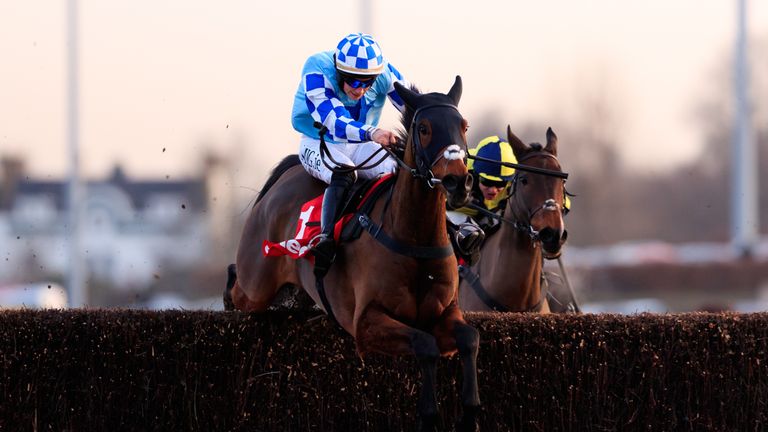 Tom George has praised the medical staff who helped Double Shuffle make a speedy recovery after a scare following his first-fence fall at Wetherby on Saturday.
Last season's King George runner-up took a tumble for the first time in his career in the Charlie Hall Chase, and went from being slightly lame to giving connections real cause for concern.
Double Shuffle was taken to a local equine hospital, where he spent the night, and was soon back on his feet again and is completing his recuperation at George's yard in Gloucestershire.
"We had a bit of a scare with him. He came off the course slightly lame and he deteriorated in the racecourse stables and he then went downhill and was of obvious concern," said George.
"He was taken to the Rainbow Equine Hospital in Malton. They were absolutely top class to get the job done as quick as they did.
"He had all the X-rays and then he started improving and in a matter of hours he was walking again. It transpired he had hit the nerves in his shoulder and had the equivalent of what we know as a dead leg.
"He spent the night at the vets and is now back home and he trotted out fine this morning (Monday), so it was a scare which at this stage has had a good outcome."
He added: "It was a worry. Once they start going like that, you always fear the worst. Thankfully, it's gone the right way for him.
"He's having a bit of physio on Tuesday and hopefully he'll be out in the paddock and we'll be riding him out again in the next couple of days.
"It was a shame he did that. He's never done it before and may never do it again, but most importantly he got away with it."
Source: Read Full Article