Would Oleksandr Usyk trouble Anthony Joshua at heavyweight?
There is a new, intriguing challenge for Anthony Joshua to consider. Oleksandr Usyk has the brains but does he have the brawn? James Dielhenn assesses Usyk's heavyweight assault.
A knockout of Tony Bellew on Saturday means Usyk's cruiserweight career is likely complete – it yielded an Olympic gold medal then all four world title belts and the World Boxing Super Series tournament. His sights are set on bigger things, literally.
He will "definitely" target Joshua, the unified world heavyweight champion, but stepping into the top division where giants lurk is a dangerous business. Flashy skills won't necessarily help you against sheer brute force.
How Usyk measures up
How the heavyweights measure up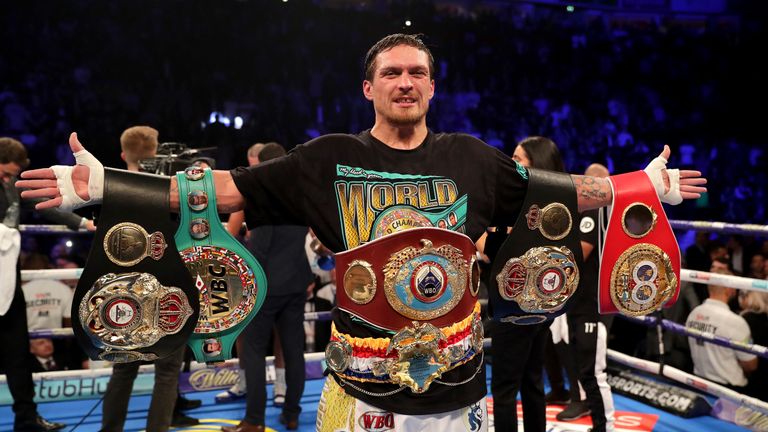 Becoming heavyweight champion of the world is not what I'm dreaming of. It's my goal. It's what I'm planning to do.
Oleksandr Usyk
There is reason to believe Usyk could bridge the gap from his cruiserweight comfort zone.
Standing 6'3" Usyk is taller than Alexander Povetkin, Derek Chisora and Carlos Takam and only an inch shorter than Dillian Whyte and Joseph Parker. None of those heavyweights have a longer reach than Usyk's 78".
Weight is the major problem he will face.
Usyk's 14st 4lbs frame must increase by a stone, at least, but that is still some way short of Joshua's huge physique which has recently been trimmed to just shy of 18st.
Povetkin, Joshua's most recent challenger, is an example of a 15st heavyweight who packs a punch.
Deontay Wilder notably weighs-in light (15st 4lbs last time out) but he stands four inches taller than Usyk with five inches more reach.
"Usyk needs to move up in the right stages, and figure out what it's like being with 17 or 18 stone guys who can punch very hard," Joshua said in September.
"It's not just based on skill, the heavyweight division. It's based on will. How much you can take.
"I know he's got amateur experience and has done well as a cruiserweight but if he moves up to the heavyweight division, it will also test his will as well as his skill."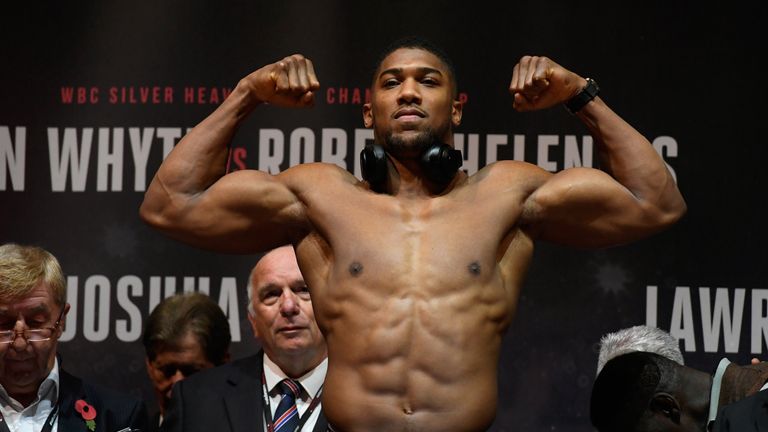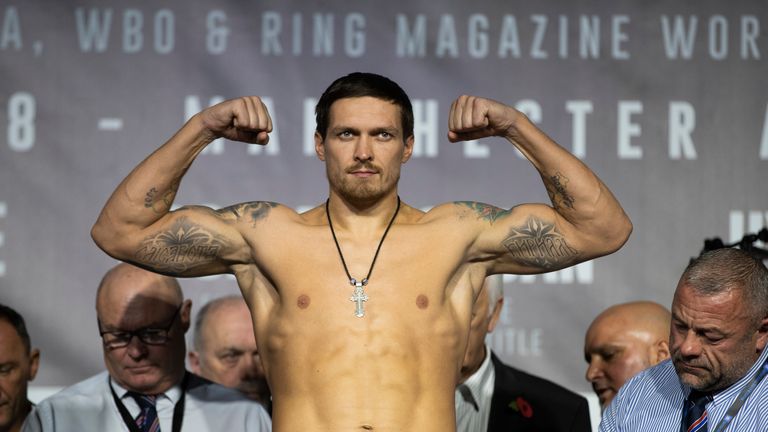 Usyk's endurance, footwork and elusiveness are the reasons that he plans to challenge Joshua.
His work-rate and the quantity of punches that he throws over the 12-round duration would cause problems for naturally bigger men unaccustomed to working at his pace.
He has a chin, too – arguably the most vital commodity in the top division.
As amateurs, Usyk beat Joe Joyce, now a 6-0 pro heavyweight whose height, reach and weight is almost identical to Joshua's.
"There were only five weight categories so it was like a catchweight," Joyce remembered. "But he was taking out the super-heavyweights as well!
"His punches didn't bother me because he was lighter, but he was so crisp and sharp. With his head movement, it is really hard to even lay a glove on him."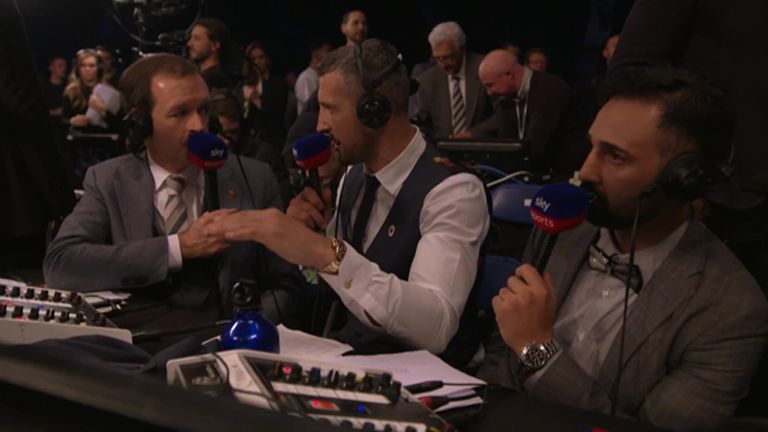 It is when punches fly towards him that Usyk might find problems. Bellew had success in the early rounds by landing a counter right hand, delivered straight down the pipe when the southpaw Usyk crept forwards.
That is Joshua's favourite punch. And his version of the straight right hand is a different kettle of fish to Bellew's.
Would Usyk be able to paint his pretty pictures in the face of Joshua's heavy shots? And would his balance be maintained at a two or three stone weight disadvantage?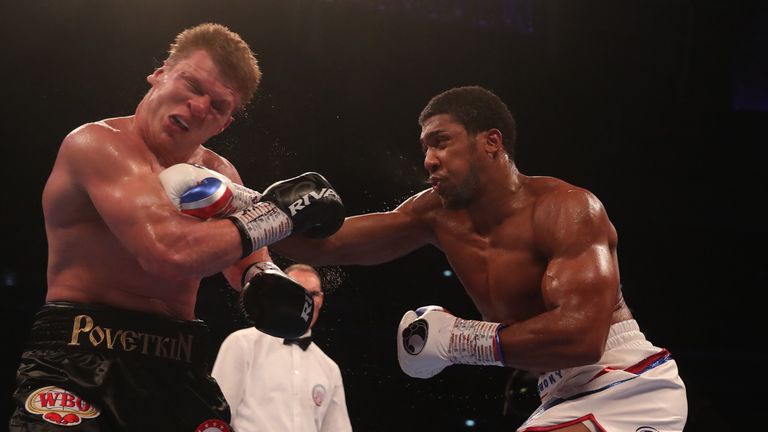 From cruiserweight to heavyweight
Cruiserweight kings have enjoyed success as heavyweights in the past, before squaring up to the division's ruler.
Evander Holyfield and David Haye are the only men to be world champions in both divisions. They possess identical dimensions to Usyk. They weighed less than 16st as heavyweights which is a ballpark figure that Usyk would likely reside in, too.
Holyfield famously beat Mike Tyson (a small heavyweight in his own right) and Haye toppled the enormous but limited Nikolai Valuev. But they were unable to overcome, respectively, Lennox Lewis and Wladimir Klitschko (giants above 6'5" tall and around 18st).
Bellew said post-fight about Usyk: "The only thing that will hold him back is his size. He won't be able to keep imposing himself. Someone like Tyson Fury would be phenomenally hard to beat, purely because he is that big."
Usyk is a threat but Joshua is a bigger task, in more ways than one, than he has ever faced.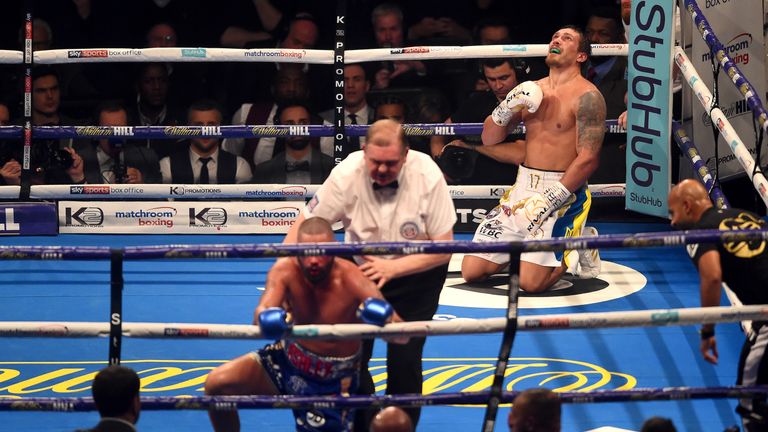 Source: Read Full Article