Usyk vs Bellew: Talking points from weigh-in as Oleksandr Usyk and Tony Bellew unleashed physiques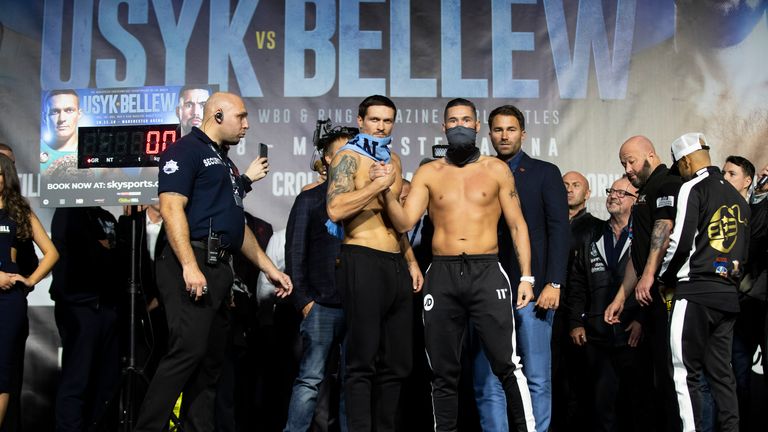 Who was the guy with abs stood next to Oleksandr Usyk? Tony Bellew has carved a physique fit for the occasion, writes James Dielhenn.
Click here to book Usyk vs Bellew
Cruiserweight is Bellew's true calling, don't forget, although he hadn't accepted that himself for three quarters of his career. Years were spent worrying about a diet, then time was spent abusing the scales, but the optimum Bellew is a cruiserweight.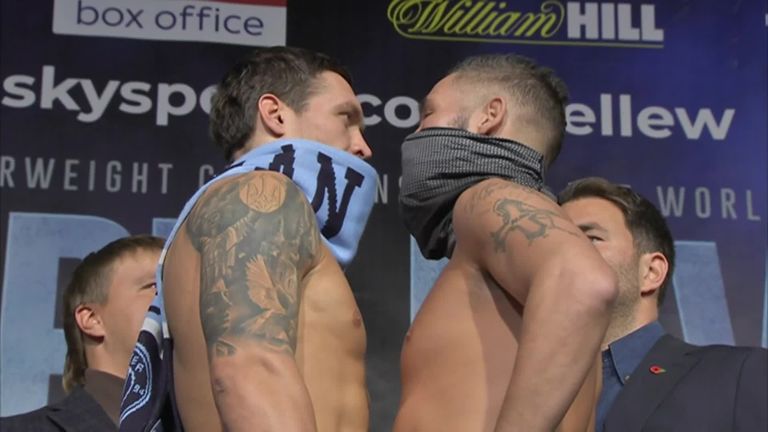 One sight of a 14st 3lbs Bellew sporting muscles around the midriff at Friday's weigh-in was a reminder that, against Usyk, he will be a more dangerous proposition than those years spent in the divisions below or above.
David Haye, conquered in Bellew's two most recent fights as heavyweights, said last week: "Since he moved up to cruiserweight his whole career has fallen into place. Maybe that's the weight that he should have always boxed at."
Yet it required the Liverpool fighter to sink to excruciating depths before this realisation dawned in 2013. Consider the limp, fragile Bellew who lost his world light-heavyweight title fight to Adonis Stevenson and consider him now. A boy and a man.
There is nearly a two stone difference between light-heavyweight, where Bellew boxed his first 23 pro fights, and cruiserweight where he finally won a world title in his 30th bout. For context, Bellew needed a strict and professional diet and training regime for Saturday's fight to guarantee he made the 14st 4lbs cruiserweight limit. How he ever cut the additional mass is mind-boggling, in hindsight.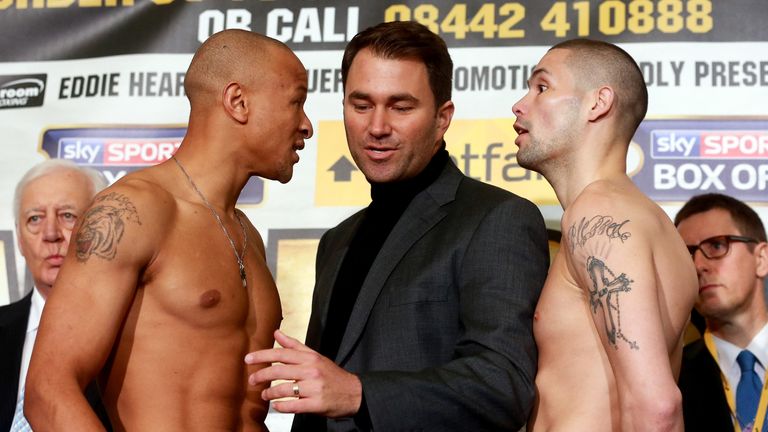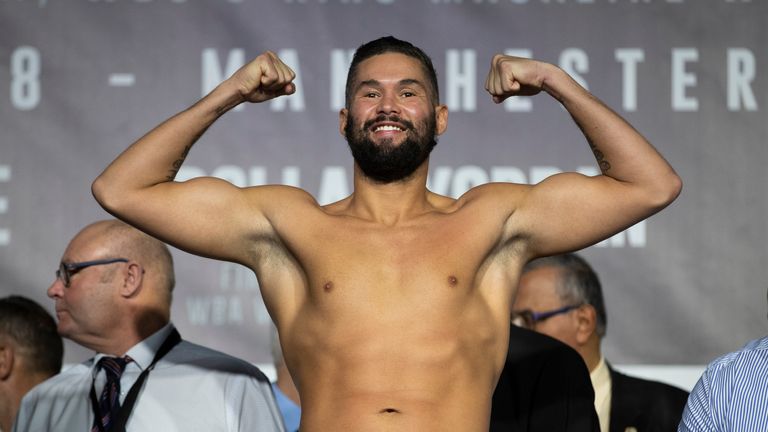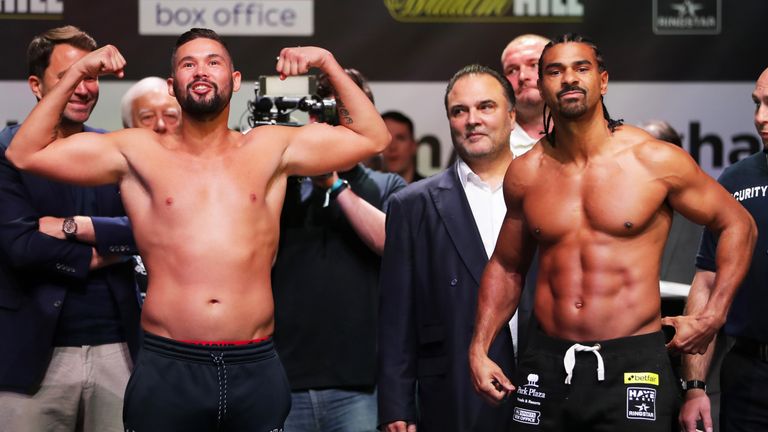 "I've basically been on a diet for six years," he said five years ago after losing to Stevenson. "I can't continue to punish my body the way I do. I look at my body frame and shape compared to most guys in the division above me [cruiserweight] and I'm even bigger than them."
The power in Bellew's thumping punches and, perhaps more importantly, his resistance to an opponent's attack is greatly enhanced at his natural size of cruiserweight. This was perfected at Goodison Park in 2016 when he thrashed Ilunga Makabu to win the WBC belt but the lure of Haye took him to heavyweight.
"Fat boy" was his self-effacing description of the 15st frame that twice beat Haye, who himself has moved from cruiserweight to heavyweight.
He was always moonlighting in that division – initially teasing a challenge of Deontay Wilder then backtracking when he met the WBC heavyweight champion and realised how long his arms were.
Cruiserweight is where Bellew is sturdy, speedy and spiteful.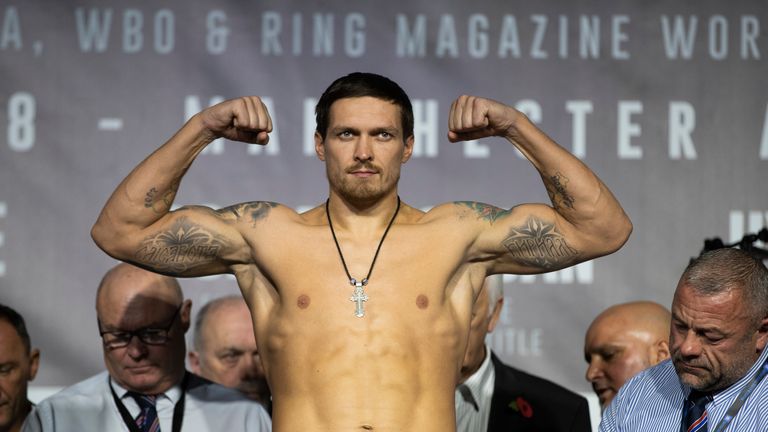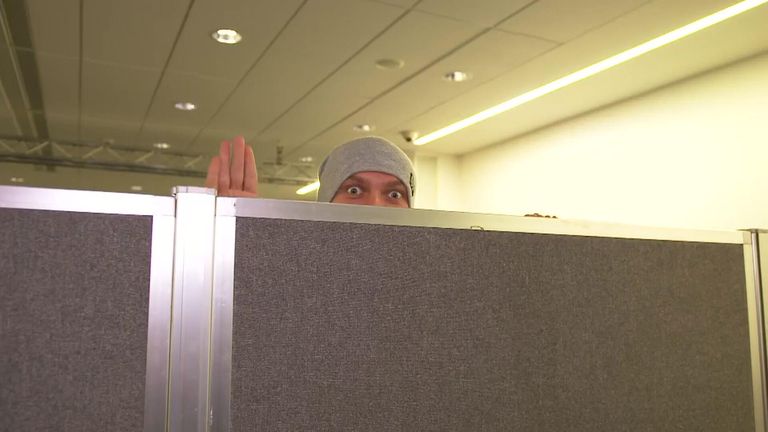 Usyk, the undisputed champion of the division, was far more athletic as he stood shirtless hoisting the Ukrainian flag above his head.
It was a moment where you briefly considered the future – if things go Usyk's way in Manchester on Saturday, his sights are set firmly on Anthony Joshua.
Usyk stands 6'3" which is the bargaining chip that he has, three inches shorter than Joshua but on par with plenty of heavyweights. Increasing a natural 14st 4lbs frame into the realm of a champion who weighs around 18st is an interesting proposition.
That is something that will have to wait until Sunday, anyway.
Usyk and Bellew were well-matched on the scales, a pound apart in weight and identical in height. Identical in skill or willpower? Let's find out.
Watch Usyk vs Bellew for the undisputed cruiserweight title, at Manchester Arena, on November 10, live on Sky Sports Box Office, from 6pm. Book it online here.
Even if you aren't a Sky TV subscriber you can book and watch it at skysports.com/boxofficelive.
Source: Read Full Article