Tony Bellew '100 per cent' confident he'll beat Oleksandr Usyk, says Eddie Hearn
Tony Bellew is "100 per cent" confident he will beat Oleksandr Usyk in their cruiserweight fight, says promoter Eddie Hearn.
Bellew is challenging the undisputed Ukrainian champion for all four of his belts, with the two men to face off at the Manchester Arena on Saturday night.
Usyk conquered the cruiserweight division in just 15 fights, and poses one of Bellew's most formidable challenges to date.
Asked about Bellew's mindset ahead of the bout, Hearn told Sky Sports: "Just 100 per cent belief that he's going to do it. He can visualise it, he can see it, he can feel it.
"He just believes it's going to happen, and I think that's part of the process – the key to making it happen, is believing it.
"It's not going to be easy, it's going to be epic. I think it goes down as the greatest win, from a British fighter, of all time.
"You talk about [Lloyd] Honeyghan against [Donald] Curry, and things like that, but this is for the undisputed championship.
"It's up there with Honeyghan-Curry, and all the great wins, but it also has everything attached to it.
"It's the ultimate legacy fight, the ultimate career-defining fight, and that's what is really spurring him on."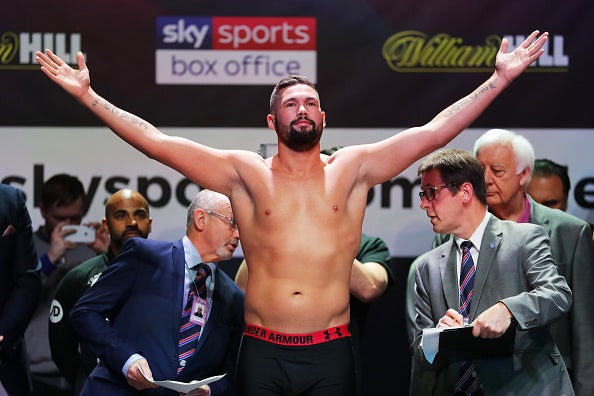 Hearn also suggested that Bellew would be wise to follow through with his desire to retire after the fight – regardless of whether or not he wins in Manchester.
"What a time to retire, if he was to beat Usyk, to be able to say 'I'm done.' To bow out on that one.
"It's always going to be tempting, because again, I think one of the hardest thing about retiring is when you feel like you're improving, and he is improving at the moment. That's the worst thing about it.
"It's so hard to leave when you feel like you're getting better, or not in decline, and he's not in decline, and he won't be in decline in this fight.
"But that, I think, is sometimes the right time – is to say that I'm not on the down slide, a bit like [Carl] Froch.
"He didn't have to go through those fights where he got old, or he started to not look himself, and that's actually quite nice. It would be a shame to see Bellew, after everything he's done in the last couple of years, do that."
Follow the Independent Sport on Instagram here, for all of the best images, videos and stories from around the sporting world.
Source: Read Full Article