Daniel Jacobs' story is about more than 'The Golden Child' and 'The Miracle Man'
Editor's note: This is the first installment in a two-part profile of Daniel Jacobs and his boxing journey.
SAN CARLOS, Calif. — It's a warm September afternoon and Daniel Jacobs has just finished his workout at the SNAC gym as he prepares for his showdown with Serhiy Derevyanchenko on Oct. 27 at the Hulu Theater in New York for the vacant IBF middleweight title. He's seated on the ring apron, thumbing through his phone. 
"There he is," says Chris Algeiri, the former WBO junior welterweight titleholder and current boxing nutritionist. "He's ready whenever you are."
MORE: Join DAZN and watch more than 80 fight nights a year
Jacobs looks up at me as I approach and extend my hand. He shakes it but has a look in his eyes that suggests that he knows what this interview will be about. For the past half-decade, the talk surrounding Jacobs' career has been about overcoming cancer. It's an exceptional narrative and has seen him shift his nickname from "The Golden Child" to "The Miracle Man" as the 31-year-old embraces the influence his incredible comeback has had on others. 
However, it has put the rest of Jacobs' life in a fog. There is much more to Danny Jacobs than defeating cancer and, truthfully, he hasn't really had the opportunity to tell his story.  
"I'm not here to talk about cancer," I tell him. "I'm here to talk about you."
He holds his grip and cocks his head to the side.
"You have to be tired of talking about overcoming cancer and your next fight in every interview," I say. "It's time to talk about who you were before cancer and who you have been after. People know about 'The Miracle Man' but let's peel back the layers on the man behind that nickname."
Jacobs slowly lets go of my hand.
"Thank you," he says.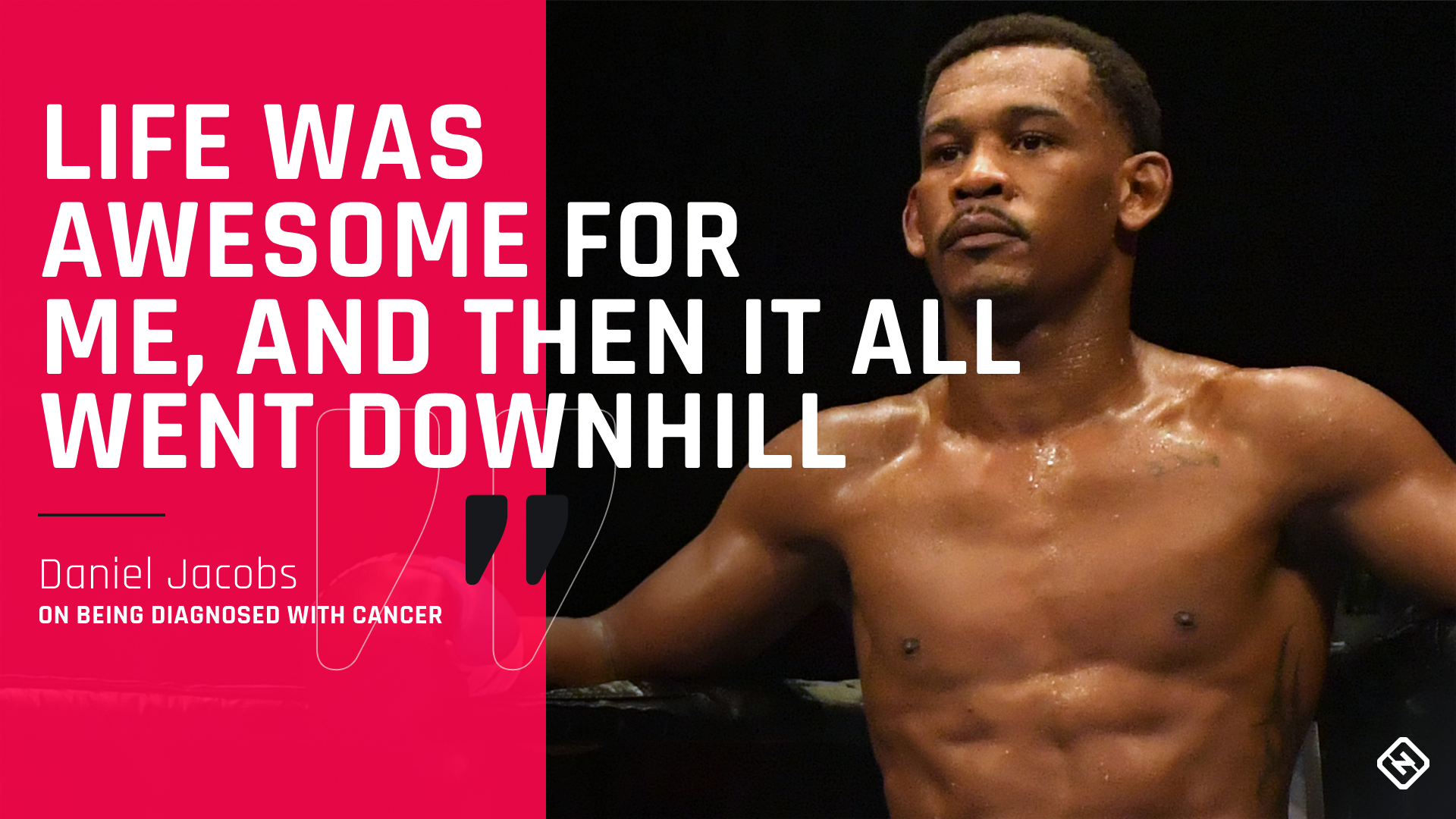 Before Daniel Jacobs fended off osteosarcoma, a rare form of bone cancer that nearly ended his boxing career and his life, the kid from Brooklyn was Golden Boy Promotions' prized possession. Touted as the future in boxing, Jacobs rampaged through the middleweight division with 20 consecutive victories (17 knockouts) before being shockingly stopped by now-retired Russian boxer Dimitry Pirog on the undercard of Juan Manuel Marquez vs. Juan Diaz II. In a world where a single loss can derail an entire career, Jacobs had his proverbial back against the wall. 
But this wasn't the first time Jacobs would have his back against the wall, and it certainly wouldn't be the last. 
"(My introduction to boxing) was a bully who picked on me in the eighth grade and I stood up for myself even when I really didn't know how to fight," Jacobs recalls. "I wasn't much of a fighter at all. I found out that the same kid who was picking on me was going down to the local boxing gym. A bunch of my friends geeked me up to sign up so I can go down there and get this bully, get the revenge."
MORE: Jacobs needs impressive win to make Canelo fight
Jacobs says that it was "love at first sight" when he entered the gym. Although his motivation was revenge, he ended up with an adoration for discipline.
"I immediately fell in love with the atmosphere, with the smell, with the hard-working men that were down there," he says. "It was something new, a new craft that I can get into that will keep my mind off of so many different things. Growing up in Brownsville at that time was very rough, so I was looking for an outlet."
Jacobs took a liking to the sport and adapted rather quickly. For being a kid who didn't know the first thing about fighting, Jacobs quickly realized that he packed a punch and the technical aspects became second nature. Not too long after he started training, he was put in the ring with the bully.
"I beat him up," he says with a smile as he looks off into the distance, visualizing that moment nearly 20 years ago. "He never returned. I stuck with it and never ever leaving the gym a day after that. The rest is kind of history."
Kind of.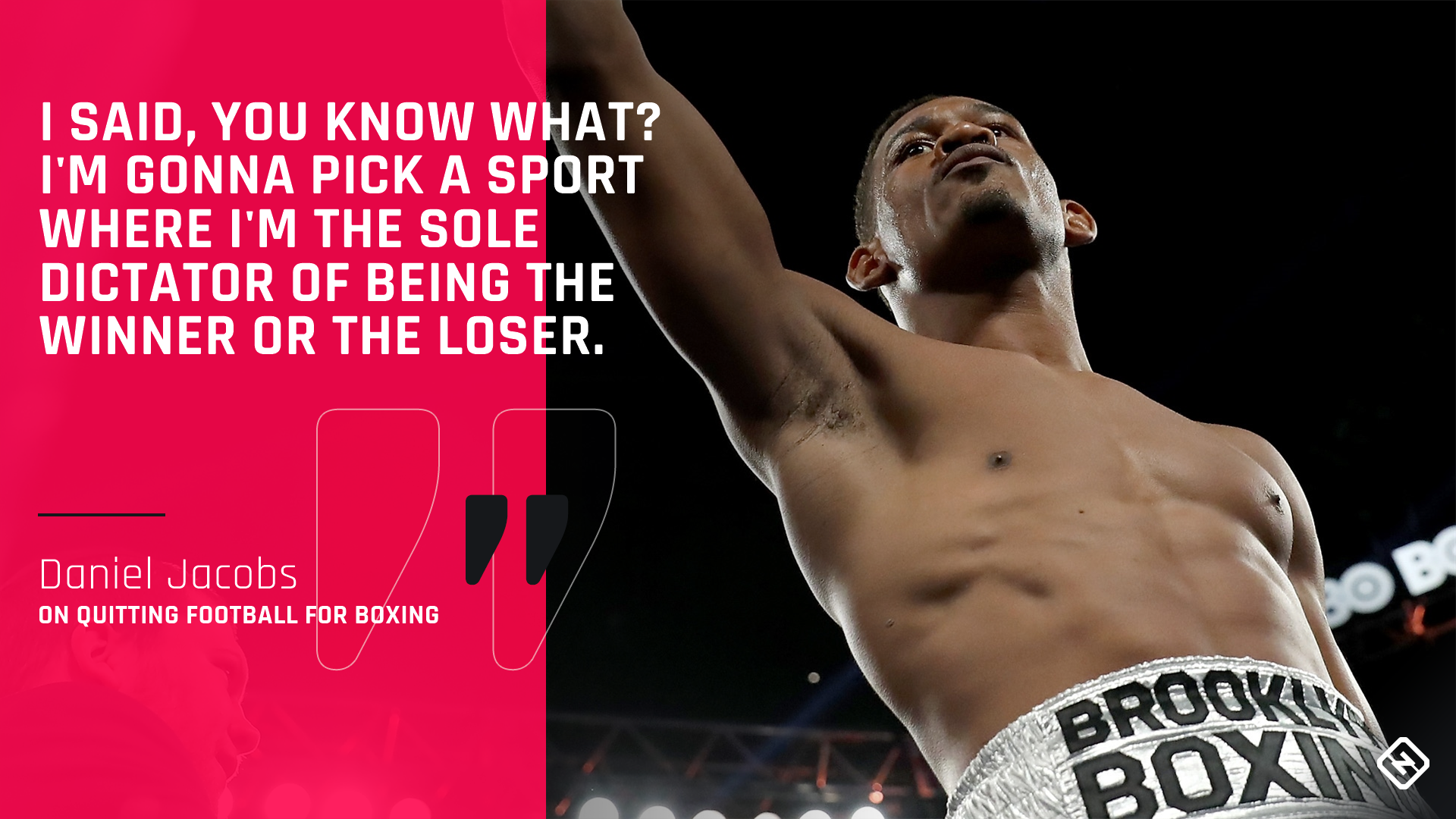 Boxing kept Jacobs out of the very trouble that often soaks into the bodies of young black men in Brownsville. Between the sport he was growing an adoration for and a religious grandmother who did her best to keep him in line, Jacobs began to see a way out. Even though this wasn't a story of a downtrodden kid who needed a pair of boxing gloves to keep him from spending his future behind bars, Jacobs' narrative is one where he learned to not take anything for granted. 
"I have a great memory of my childhood," he says while explaining that there is a sense of community in Brownsville that he remains proud of to this day. "I'm fortunate for where I come from because even though I didn't grow up with a silver spoon in my mouth, it allowed me to appreciate any little thing that I have."
Jacobs' parents separated when he was 2, and his mother moved in with his grandmother. The loving touch of his grandmother was something he gravitated toward, whereas his mother was firmer with how she raised her boy. With his father gone, Jacobs found himself being raised by women. 
"I was raised by my grandmother, my mom, about five or six aunts and female cousins as well," he says. We were all in one building. I definitely learned how to respect and how to treat women. I know that the strong, black woman is the most beautiful creature in this world, so that's why I always have the utmost respect for my sisters. That's why I make sure I'm not out here disrespecting women and acting a fool."
MORE: Derevyanchenko stands in Jacobs' way of path to Canelo, GGG
With all these women in his life, it took some convincing for Jacobs to pursue a career in boxing. Although he excelled in football, his heart was with boxing. And that notion was driven home during a high school championship game when his team lost because the quarterback decided to run the football rather than throw it to a wide open Jacobs in the end zone. 
"I said, you know what, I'm gonna pick a sport where I'm the sole dictator of being the winner or the loser, and from that day I never picked up a football and I just kept with boxing," he says. 
As for mother and grandmother, they weren't exactly fond of his decision. However, he was pretty good at this thing we adoringly call the sweet science, and that helped them to accept the teenage boy's decision. 
Jacobs had an exceptional amateur career, with a record of 137-7. He's a four-time New York Golden Gloves champion, a two-time PAL national champion and won the Junior Olympics national championship. He wasn't a fighter who needed to compete in club shows during his journey to become a pro boxer. His highly decorated amateur career afforded him financial benefits that allowed him to move out and take care of himself at a young age. The transition from amateur to professional was one that proved easy for Jacobs. Fighting without headgear opened the door for Jacobs to put a hurting on his opponents.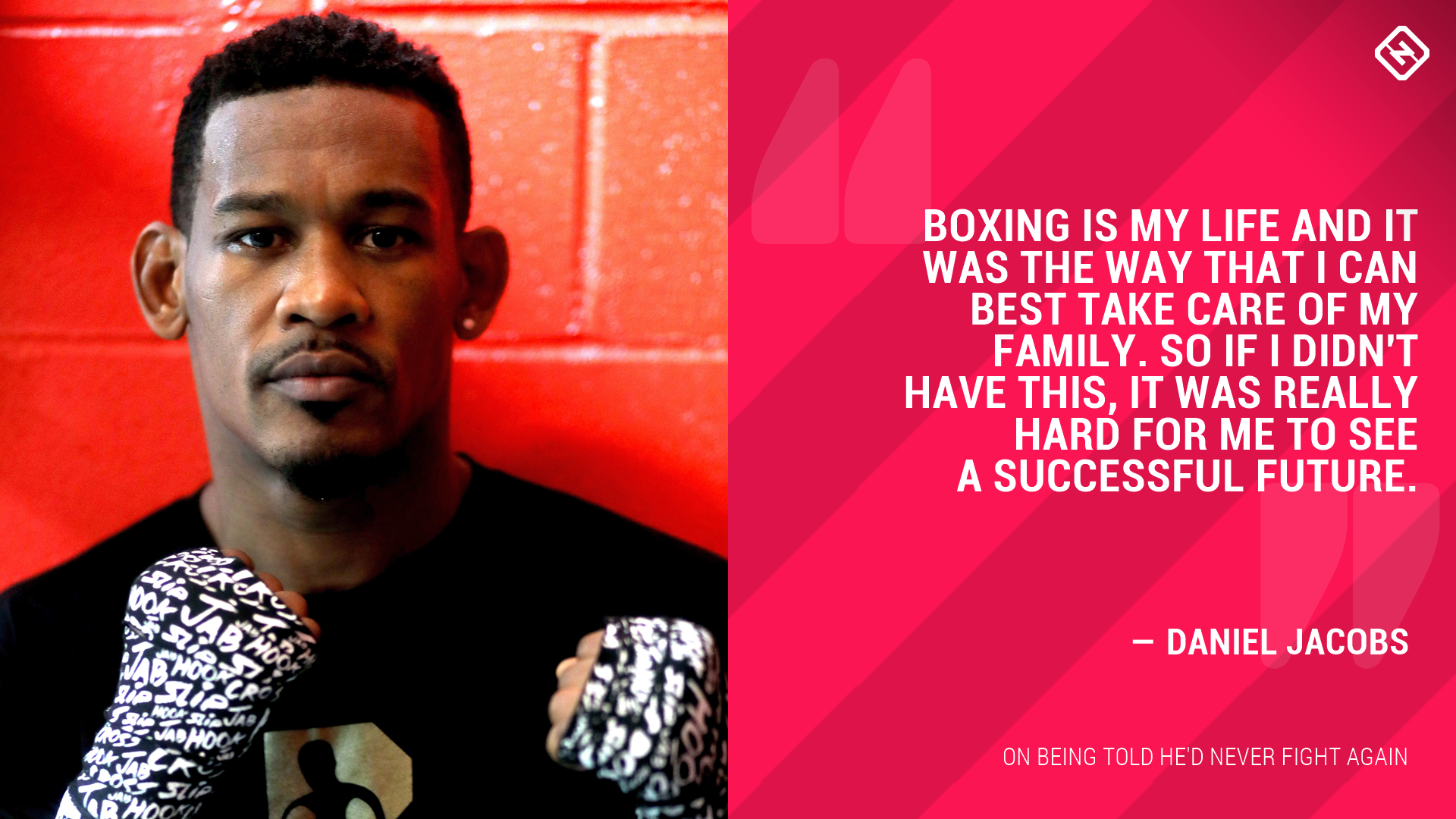 "The Golden Child" turned pro on Dec. 8, 2007, against Jose Jesus Hurtado. He remembers the night quite fondly because he ended up making his debut on the undercard of Floyd Mayweather's showdown against Ricky Hatton. 
"I was scared to death," he says, shaking his head. "When you take the headgear off and you put the small little gloves on, anything can happen. And as a young man you're not mature enough to be confident enough to go in there and know you can just do your job."
It didn't take long for that fear to turn into confidence as Jacobs needed only one round to take care of business.  
"I hit him with the right hand, knocked him out and it was over," he says, throwing a right hand himself. "I was just like looking at my gloves, looking at my corner like, 'Is this what the professional world is like? I think I like this. I can get with this!' From that point on, I think we fought 12 times in 11 months for our first year of boxing."
Jacobs continued to find himself on high profile events. Bernard Hopkins vs. Joe Calzaghe for his fifth fight, Juan Manuel Marquez vs. Joel Casamayor for his ninth fight and Oscar De La Hoya vs. Manny Pacquiao for his 13th fight. 
MORE: Jacobs vs. Derevyanchenko fight date, time, card, how to watch
With the victories, people began to take notice. Boxing journalists anointed him as the next big thing and he was paid handsomely for his efforts. And as a young man without a father figure in his life, it became increasingly hard for Jacobs to manage his newfound success. Try as he might, he lacked fiscal responsibility to put up money for a rainy day. 
And that rainy day was coming.  
"I just remember spending so much money on so (much) miscellaneous different s— that really didn't have any meaning to it," he says. "I remember somebody told me you gotta smarten up, you gotta wise up because one day you might need that money to fall back on. As a young kid, I just knew it was coming. I was fighting every month. I was getting five thousand, six, eight thousand. I was putting these four-, six-rounded fights. I was good. I was in Long Island City in a high riser. I move out the projects. You know what I mean?" 
Jacobs pauses. The smile on his face dissolves and he turns away to look out the glass doors. 
"Life was awesome for me and then it all went downhill."
Before he was diagnosed with cancer and nearly lost his career, Jacobs experienced a significant loss that didn't happen in the ring. 
His grandmother was deep in her own fight with cancer and Jacobs had to helplessly watch as the women he affectionately called his rock began to wither away. Four days before he was set to step in against Pirog for the vacant WBO middleweight title, his grandmother succumbed to the disease. 
Rather than taking the time to grieve, Jacobs pressed on with the fight. It was a decision that cost him dearly.
"I was criticized for not pulling out of that fight," Jacobs says. "My family and manager asked me to pull out. I told them I wanted to do it in my grandmother's honor. What I didn't know was that mentally I wasn't ready. Knowing that she wanted me to fulfill those dreams, I thought I could get over that hump. I just couldn't."
One might think the loss of the person you are closest to in life and a loss in the sport you hope to be successful at would be rock bottom. But rock bottom wasn't quite there for Jacobs.
Despite losing his first fight and his grandmother — something he gets choked up talking about — he had established a life outside boxing. He met his girlfriend, Natalie, in 2005 and the couple had their son, Nate, in 2009. 
Becoming a father without a relationship with the man who shares his DNA proved to be a task in itself for Jacobs. He harbored resentment for his father, who wasn't completely out of his life, but had remarried and started a new family away from Danny. He maintains that he was able to let go of that resentment but the effect it had on him was something he couldn't escape. 
"I've always vowed that if I had a child, I would treat him right. My father was a perfect model for me because everything that he did wrong, or everything that he did I would just do the opposite," he says. "Which would be the right thing to do. So that is being in your son's life 100 percent, give them love, give them affection, give them discipline. All those critical things that a child needs. But most importantly, be there."
He stops himself short. A single tear falls and it's a watershed moment when all those feelings come back. Losing his first fight, his grandmother and not knowing where his life would lead him became a lonely journey without a man he could relate to. He says he forgives his father for not being there when it mattered most, but he certainly doesn't forget. 
"Man, I still cry to this day," he says as he chokes up. "It might be a certain memory I might have, it might be a song I listened to that reminds me of my childhood, but you can never let that go, you know?
"People don't understand the impact that it has on you. It's so common in our community to not have dad in the house. He's like a f—ing thought in the back of your mind or he's always in the background, you know? It's so common but what's not common is what people know (about) how that affects us. I still have issues with myself as a man dealing with this s—. Because it's like I still love him, but he's the same way today as he was back then."
A broken spirit, Jacobs would bounce back with a pair of wins and head to Iraq to support American troops. Upon his return, Jacobs noticed that there was something wrong with his legs. What was assumed to be a pinched nerve worsened as time went on. He went from walking with a cane, to crutches, to a walker and then to a wheelchair within three weeks.
Ah, the familiar part of the interview. This is the part Jacobs has repeated numerous times for the past half-decade. He was diagnosed with osteosarcoma and told that he would never fight again. He decided that he'd fight back and endured a hellacious 19 months of recovery before making his return on Oct. 20, 2012. But what isn't talked about as much is the challenge his family dealt with financially. Keep in mind, the only job Jacobs ever had was boxing and there was a possibility that he'd never fight again. 
"I victimized myself so much, but it was just, it was really, really challenging accepting the fact that I had cancer," he says. "Because this was my fate, this is my life. Boxing is my life and it was the way that I can best take care of my family. So if I didn't have this, it was really hard for me to see a successful future.
"And not just a successful future, but the future that I wanted for myself. I had found a love and for someone to tell you just out of the blue, 'You're never gonna be able to do this again,' I mean, that's some hard stuff to swallow and accept."
Coming Friday: Part II
Source: Read Full Article