Daniel Jacobs patiently, confidently waits for the spotlight: 'It's gonna be my time'
Editor's note: This is the second installment in a two-part profile of Daniel Jacobs and his boxing journey. Read Part I here.
SAN CARLOS, Calif. — Daniel Jacobs' long journey back to the boxing ring has often been discussed, but the effect that fighting cancer had on his family has gone relatively unstated. Jacobs' fight against the disease was like a boxing match — "The Golden Child" and osteosarcoma duking it out. On the outside were the people who helped Jacobs prepare for this war of attrition against his most dangerous opponent to date. 
The Jacobs family struggled financially as the bills kept rolling in and Jacobs was forced to move back in with his mother in the Brownsville section of Brooklyn. Jacobs' girlfriend, Natalie Stevens, provided as much financial support as she could for Jacobs and their son, Nathaniel, but the burden she shouldered weighed heavily on him. Stevens also had to be that soft touch that Jacobs missed after his grandmother died.
MORE: Join DAZN and watch more than 80 fight nights a year
"I think about it all the time; how would it have been if she was there? But I also know that my grandmother gave me enough material to live on my own," Jacobs says when discussing the void his grandmother's death left at the most difficult time of his life. "They say the only thing that your parents don't teach you is how to live without them, but my grandma's religious beliefs allowed me to accept death even though it was so hard to live without her. It's still so hard to live without her, but I had an understanding and that kind of kept me through. 
"I abandoned religion a long time ago, but at the same time, whatever connection I get to have, whether it's through a dream or thought, she was there with me, and that's how I've always looked at it, like she was never gone. She just was in the background."
Stevens stepped in to be that foundation that Jacobs desperately needed. She took care of him and kept the family afloat to take much of the burden off Jacobs so he could focus on the task at hand. 
"We had a brand-new child, we were scrambling to find and make a way for ourselves, but she was there every day," Jacobs says. "She saw me take my first steps when I learned how to walk again, she was there when I took my last steps when I walked out the hospital, and she's there to this day. She's my best friend."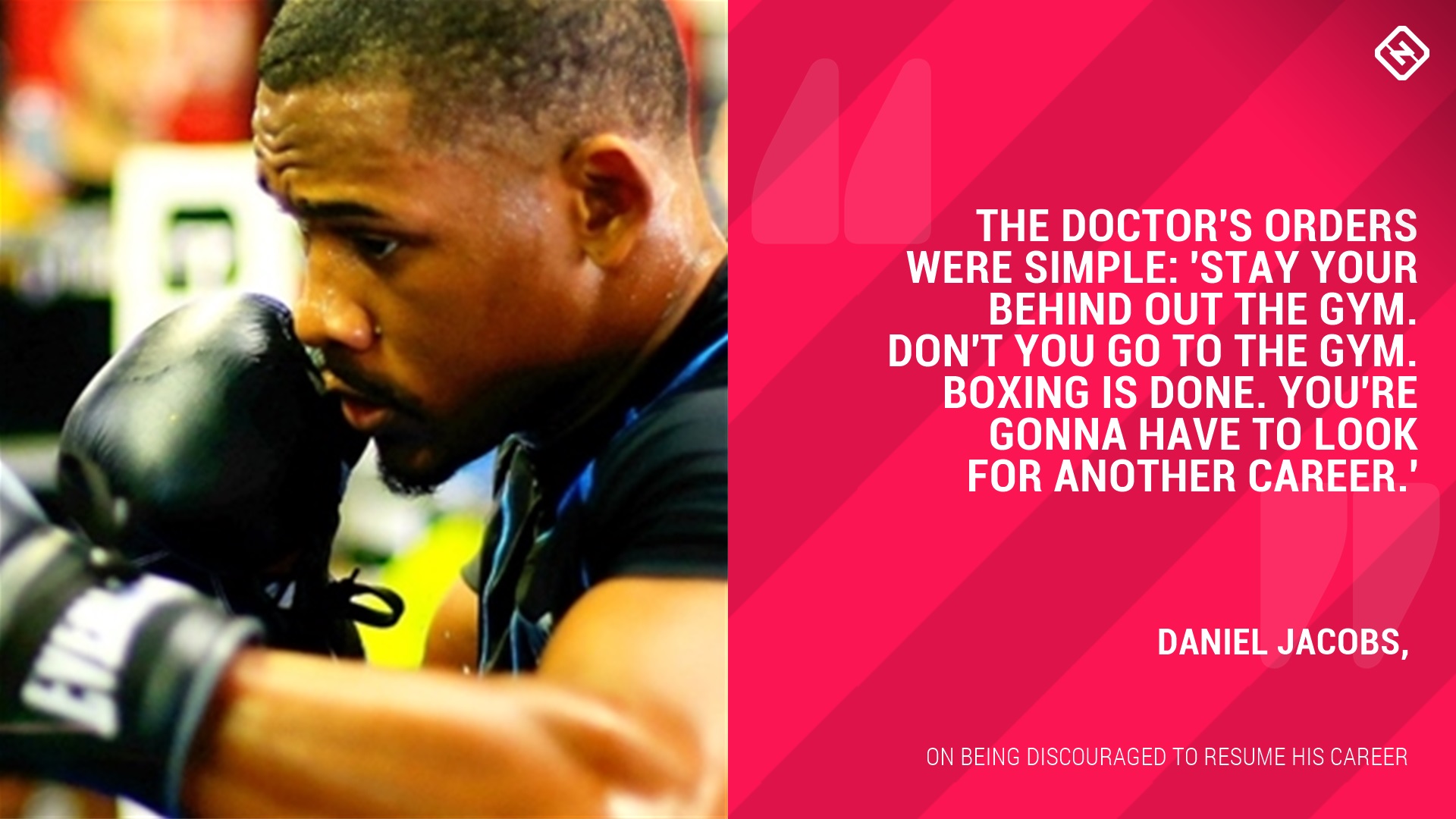 There's no reason to retread old ground, but in short, Jacobs beat cancer and managed to walk again but returning to the sport he loved was thought to be unachievable. Jacobs loves hard, though, and love causes people to do amazing things. The first place he went when he was discharged from the hospital was the boxing gym. 
"The doctor's orders were simple: 'Stay your behind out the gym. Don't you go to the gym; boxing is done. You're gonna have to look for another career,'" he says, laughing. "It was devastating, but after a while it turned into a motivation because once I was able to walk again, I was like, 'That's half the battle,' because I just couldn't accept not being able to box again. I was so motivated. It was the hardest challenge that I ever faced."
Jacobs willed himself into the best shape of his life and plowed through the competition with 10 straight victories, all by knockout. The only fear he had was that he wouldn't be as good as he was before cancer. Instead, he was better.
PART I: Jacobs' story about more than 'The Golden Child,' 'The Miracle Man'
"I remember my first walkout, seeing the atmosphere again, seeing the fans cheer, it was like, 'Wow this is unbelievable.' Getting into the ring, there was no fear. It was all motivation. I wanted to prove that I can control my destiny," he says. "I went in there, knocked the guy out in a minute and some change, and it was a sign, you know what I mean? It was a sign to take this s— full throttle because you may not have this opportunity again."
Few fighters get a second act in their careers, but here was Jacobs getting a second act in both his boxing career and his life. He had been knocked down but refused to stay on the canvas. For him, cancer was a much greater threat than any opponent who stood across from him in the ring.
That was, until he was set to face the boogeyman of boxing, Gennady Golovkin, in his 11th fight after his return from cancer. It sounds silly, but there were people who gave Jacobs a better chance at beating cancer than the devastating force known as GGG. He entered the fight as a massive underdog who was expected to have his lights turned out before hearing the final bell. Instead, Jacobs put together an exceptional performance that many thought should have awarded him the victory, and arguably a victory more definitive than either of Saul "Canelo" Alvarez's showings against GGG.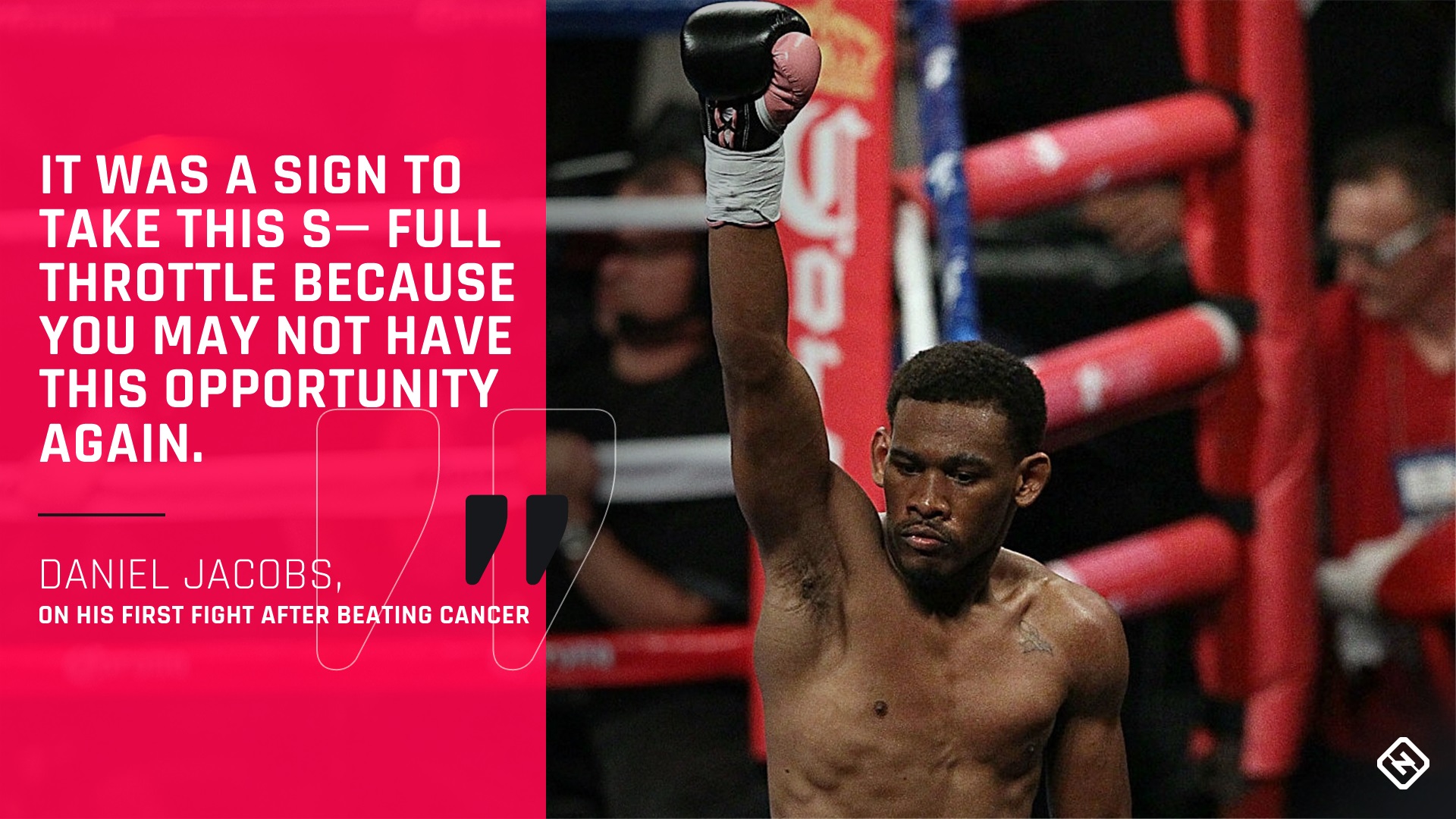 For whatever reason, the 31-year-old Jacobs isn't on any pound-for-pound lists despite a resume that boasts victories against the likes of Peter Quillin, Sergio Mora, Ishe Smith and Caleb Truax and the toe-to-toe battle with Golovkin that should have only enhanced his profile. 
"For some reason, my name always gets swept under the rug, which, to me, is more motivating than it is frustrating," he says. 
What might be truly frustrating is that he remains a relative unknown outside boxing circles. Despite his unfathomable battle with cancer and his exceptional record as a fighter who has an 81 percent knockout-to-win ratio, Jacobs has yet to receive the mainstream attention he deserves.
There's a rigid dichotomy between being a great boxer and being great for boxing fans, especially when the topic of race is dragged into the conversation. Over at least the past two decades, African-American fighters have had to have something beyond skill. Floyd Mayweather Jr. figured out that becoming a heinous character that people would pay to see lose made him a massive draw. Adrien Broner has had a slightly above-average career, but his antics outside the ring have helped him put more butts in seats than have Shawn Porter, Keith Thurman, Errol Spence Jr. and other African-American fighters who eschew the boisterous villain stereotype.
MORE: Jacobs needs impressive win to make Canelo fight
Even Mike Tyson, who was dynamite in the ring, had a persona whose chaotic elements made him more attractive than, say, Lennox Lewis or Evander Holyfield. 
Fighters such as Alvarez, on the other hand, have the support of their countrymen and don't need to rely on creating a persona to get over with fans. One would think that Jacobs, who has established the Get in the Ring Foundation to acknowledge children's needs in the areas of cancer and obesity and become an exceptional commentator, would be more renowned than he is. Unfortunately, positivity doesn't sell, especially when you're a black man in boxing.
"It's the world that we live in today," he says, sighing. "You have all these different reality shows, all social media, all these different things where people have to act a certain way to get attention. It's frustrating when you have such a well-mannered, outspoken, generally good person who doesn't receive the same success as a knucklehead or somebody who is of a different race."
MORE: Derevyanchenko stands in Jacobs' way of path to Canelo, GGG
Jacobs becomes more animated when this subject comes up. It's obvious he has feelings about it and is letting them out.
"Listen, it's crazy because I almost have to work twice as hard to get the amount of attention as it is for somebody who's a little lighter than me or from a different country than me, you know?" he says incredulously. "Their people stick together. It's not that our people don't stick together, but we have so many different sports, we have hip-hop and we all have so many different things that fight for our attention. I don't blame our people, I just blame … I don't blame anybody. It's just a frustrating thing because I'm American."
Respect and recognition are all Jacobs really wants. He has fought and beaten the toughest opponent that any man can face. He was told that he'd never fight again and is now on the verge of becoming a world champion against Serhiy Derevyanchenko (they'll meet Saturday, Oct. 27, in the Hulu Theater at Madison Square Garden). That victory could open the door to a future fight with Alvarez or a rematch with Golovkin. As a cancer survivor, he has dedicated his life to helping others who are battling the disease and doing what he can to guide them through the physical and emotional struggles that come with it. He is winning at life, but it's going to take time for the rest of the world to catch on.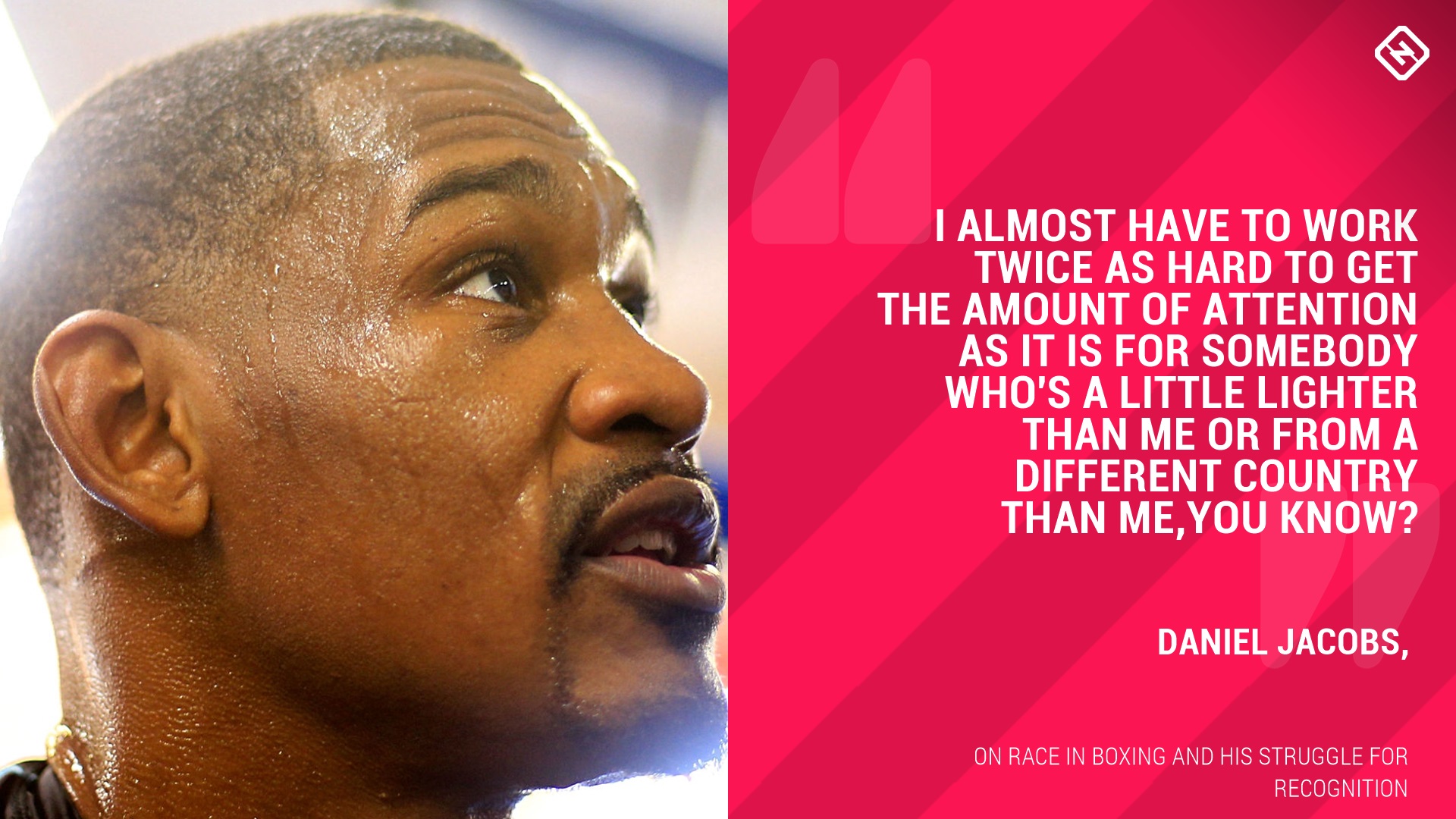 "I just think that it's not my time yet," he says. "Even though I know what I possess, even though the boxers in the boxing world know what time it is, the mass public haven't grasped towards me yet. But it's gonna be my time. 
"This fight is a very, very pivotal fight because it'll put me in the best possible position to fight those big names of the guys who have those huge crowds, or the countries behind them, or the support of the mass public, and once I do what I have to do, hopefully I can be a crossover star and get some fans from those sides."
Regardless of whether he becomes a mainstream attraction or remains your favorite fighter's favorite fighter, one thing is for sure: His grandmother would be proud of what he has accomplished. 
"She probably would've been extremely proud of me that I became champion and that I reached my goals," he says. He takes a deep breath before continuing. "As she'd always say, she could never be there to support me to physically see it, but she was always rooting for me in the background. I was cool with that. 
MORE: Jacobs vs. Derevyanchenko date, time, card, how to watch
"So I could imagine she would've just been the same way, like, 'Pop, I'm so proud of you. I love you. Go to the store and get me this or get me that.' Back to normal. Through all the glitz and glamour and attention that I was getting, she'd never viewed me in that light. She always viewed me as who I was, her grandson."
Most fighters talk about leaving a legacy in the ring. While that is important to Jacobs, it's not all that he's invested in. Throughout the ups and downs of his career, he hopes to leave a legacy that affects people from all walks of life who have had seemingly impossible obstacles to overcome. 
Daniel Jacobs is not just a boxer. He's not just "The Golden Child" or "The Miracle Man." He's not just a cancer survivor and a world champion. He is many things. Most important for him, though, is being something for Nathaniel that his father wasn't necessarily for him: a dad.
If nothing else, he wants to leave a lasting impression on the boy who doesn't look at him through the same lens as the rest of the world does. Nathaniel is too young to truly understand what his father has been through, but Jacobs knows just how important it is to be present so that his son can one day appreciate what daddy has done for him.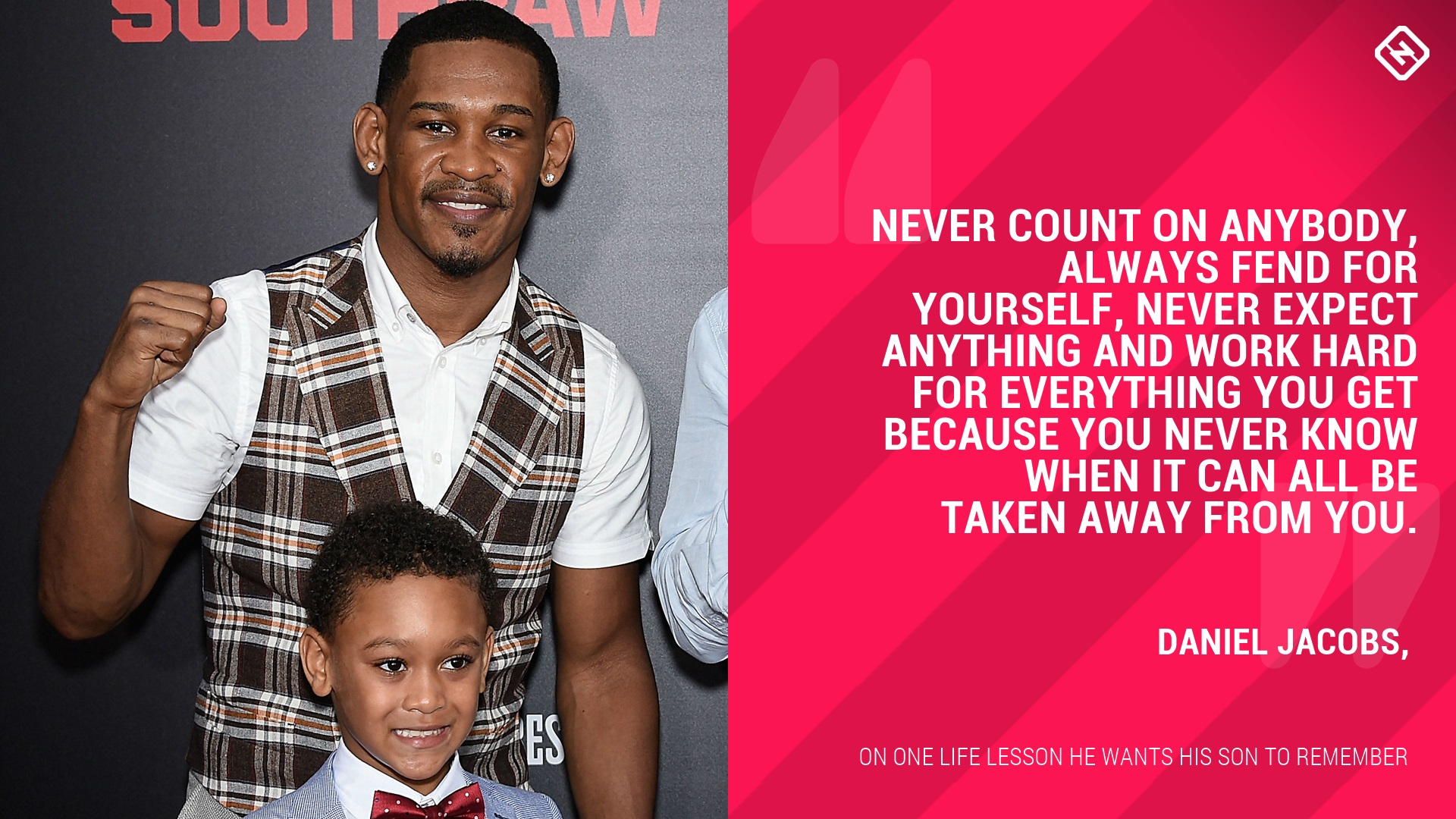 "Once daddy is gone, he's going to appreciate the things that I've taught him through my life and my mentality," he says. "One life lesson I always want him to remember is to never count on anybody, always fend for yourself, never expect anything and work hard for everything you get because you never know when it can be all taken away from you."
The recorder stops, and we walk to the black SUV that is going to whisk him away. I extend my hand and the grip he responds with is different than the one we had when we met. This wasn't an interview; it was a conversation, maybe even a therapy session. There were moments when Jacobs truly let his guard down and wore his emotions on his face. He had the opportunity to tell his story without being restricted to the familiar narrative that has been shackled to him for the past five years.
"Thank you for your time," I tell him as he climbs into the back seat of the vehicle. The door closes, but before he departs he rolls down the window. 
"No," he says, "thank you."
Source: Read Full Article