SN All-Access: Behind the scenes as blue blood UNC plays true road game at Wofford
EDITOR'S NOTE: Sporting News went behind the scenes in Spartanburg, S.C., to offer a glimpse at what Wofford's home game against UNC meant for the school.
SPARTANBURG, S.C. — The standing-room-only crowd has reached a fever pitch, with tipoff of the season-opening basketball game between No. 8 North Carolina and Wofford a scant 13 minutes away. The baby-blue clad Tar Heels fans have traveled well, but they're drowned out by the Wofford faithful inside the university's state-of-the-art second-year facility. 
The Terriers' new home can't match the Dean Smith Center in Chapel Hill in size or scope. But inside the 3,400-seat Jerry Richardson Indoor Stadium, the atmosphere, excitement, anticipation — and pride — is every bit the Dean Dome's equal. 
MORE: Remembering Cincinnati's forgotten 1962 NCAA championship
In this moment, though, the Wofford players can't hear any of their rabid supporters from the intimacy of their locker room. Coach Mike Young has the floor, and he has their attention. Young runs down, for the hundredth time, the key points of the game plan, and finishes by tapping emphatically on the whiteboard by plays he wants fresh in their minds. 
"Side out-of-bounds," Young barks. "Daffodil. Elon. Providence. Good?"
He stops, and his expression softens. 
"Look around," he says, making eye contact across the room. "This is a great night — for you, for our team, this program, this college. Class. Play with class." 
His words pick up intensity and tempo.
"This one is not for the timid," he says. "Never is. Not this game. Not the game of basketball. Go fight, fellas. All right? Go fight! Let's go. Whaddya say?"
The players spring out of their chairs, and the noise inside the locker room briefly matches the decibel level in the rest of the arena. 
♦♦♦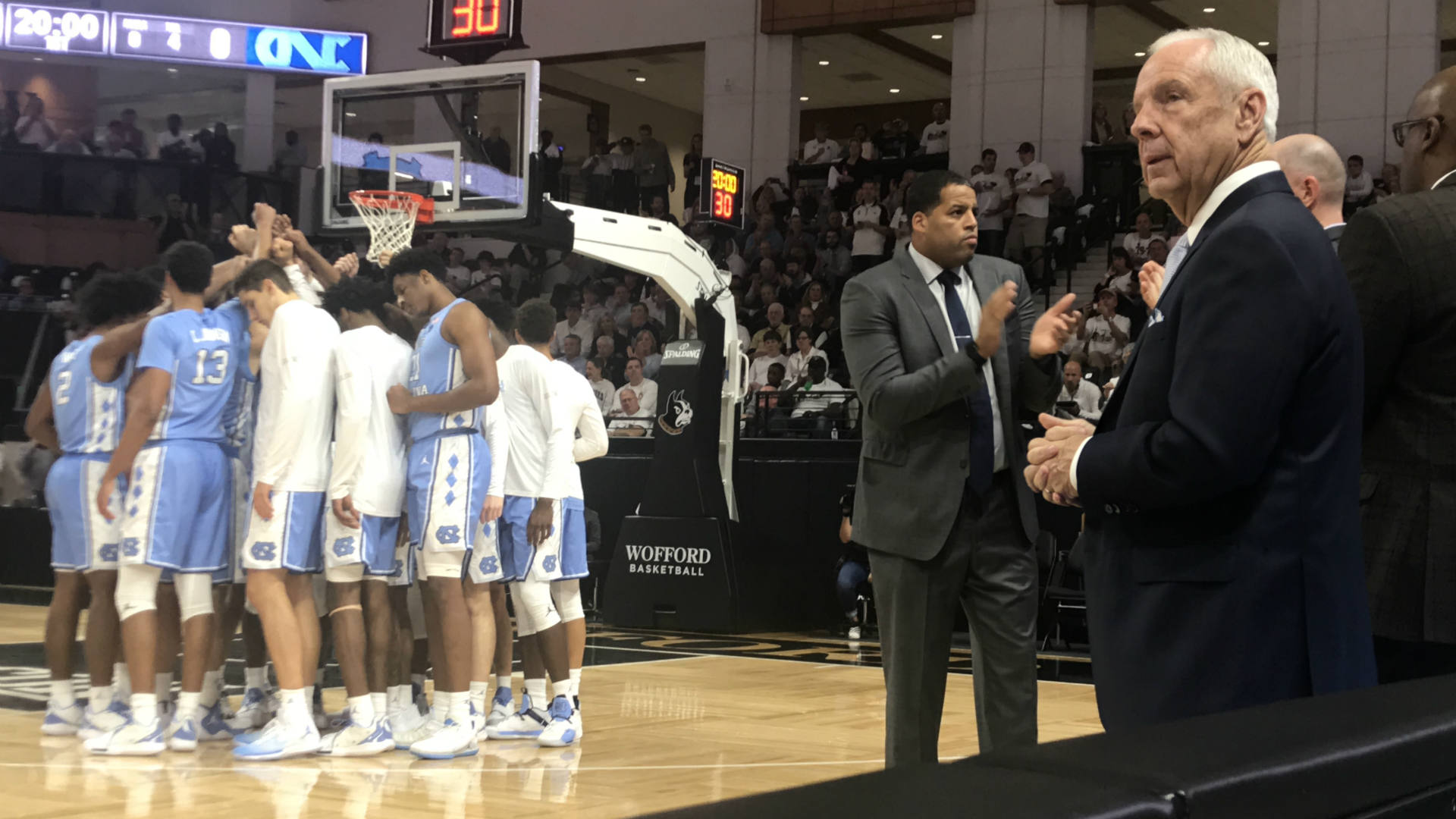 Carolina's team huddles before tipoff against Wofford while coach Roy Williams looks on (Ryan Fagan/Sporting News).
This game, this event in the town of Spartanburg, is as much about the circumstances as the end result. 
Wofford, with an enrollment of 1,650 students, is one of the premier programs in the Southern Conference, with four NCAA Tournament bids out of a one-bid league since 2010. North Carolina (enrollment 18,814) is college basketball royalty, though, an ACC heavyweight that regularly competes for — and wins — national championships.
Programs like UNC aren't obligated to play road games against teams in leagues like the SoCon, so they don't. To that point: The Tar Heels are the only power-conference team in the AP preseason Top 25 poll to schedule even a single road game against a low/mid-major program — and they're doing it twice this year. After Wofford, the Heels' next game is at Colonial Athletic Association team Elon on Friday.
But these games matter. North Carolina at Wofford is a day the smaller-school players, the university and even the community never forgets.
"It's a dream come true, man," senior Cam Jackson told me after practice in mid-October. "Having my dream lived out at Wofford, and having a team like North Carolina — blue bloods — coming to Spartanburg is just more than I ever thought would happen while I was in school. I always wanted to play the big schools and knock 'em off, that was the goal. But having them come to us — like Georgia Tech did last year, South Carolina did last year — it's more than you expect, coming to a small school like this. It's really a blessing to have the opportunity to play a team like this in front of our home crowd."
♦♦♦
It's a little after 11 a.m. on game day. The Wofford players arrive early for the morning shootaround, to nobody's surprise. Punctuality — always, attention to detail — is the Wofford way. 
Also, y'know, it's UNC day.
"It's kind of taken on a life of its own around here," Will Murphy, a first-year assistant coach who was promoted from director of basketball operations in October, says with a wry smile before the work officially begins.
Young walks onto the court, dressed like the tipoff is eight minutes away, not eight hours down the road. The only thing Young's to-the-nines jacket-and-slacks ensemble is missing is a tie, and trusted assistant Kevin Giltner admits with a grin that he feels a bit underdressed in a Wofford T-shirt, shorts and basketball shoes. 
The head coach is ready for this game, but for now he'll have to settle for running his team through a detailed but not exhausting mid-morning workout. First, a team circle — everyone in the program, from the coaches to the fifth-year seniors to the freshmen to the team managers — around the giant Wofford "W" in the middle of the court for a chat.
Wofford coach Mike Young addresses his team the morning before the against UNC (Ryan Fagan/Sporting News).
MORE: Reid Travis gives Kentucky the veteran it's lacked for years
As practice starts, Jay McAuley, the associate head coach, takes the team through sets Carolina loves to run. The scout team is imitating UNC, at least until McAuley stops it with a "Freeze!" for a teaching moment. 
"What do they want more than any part of the floor?" he asks his squad. 
Several players shout the answer: "Paint!" 
"Paint, that's right. The slips, the ball screen, the motion. They feed the post. Do what we do, and do not deviate from it. Keep them out of the paint."
This task will be easier said than done. North Carolina is really, really good, and Luke Maye isn't the only Tar Heel who loves to work inside. The Heels have a decided size advantage.
LaPhonso Ellis is the color man for the evening's ESPN2 broadcast. He's watching the shootaround with play-by-play partner Rich Hollenberg. He's probably as excited for this contest as anyone who didn't graduate from Wofford or is not living in Spartanburg. 
"The low/mid-major schools always go to the high majors to play, so the local fans don't get the opportunity to actually go and take it in," Ellis says. "So for North Carolina and the other major programs who have been willing to go in someone else's backyard, I think is pretty special. And it says a lot about Roy Williams, too."
Williams, as his mentor Dean Smith before him, understands the value of trips like this, for his program and for the campuses where the Tar Heels play. 
UNC opened its season AT Wofford tonight and plays Game 2 AT Elon.
I asked Roy Williams why games like this, in the home gyms of smaller schools, are important to him. pic.twitter.com/94cpwXoaQo
Sometimes, going back to his days as the Kansas head coach, Williams schedules games near the home towns of his players; think back to the game at Evansville for Tyler Zeller in 2011. Sometimes, it's for personal reasons: Williams is from Asheville, N.C., and in 2011 Carolina helped UNC-Asheville open its new arena. 
The genesis of this game goes back many, many years. When Young was a kid (he's 55 now), he attended the Dean Smith Carolina Basketball Camp in Chapel Hill.
"Michael Young was in my camp when I was a high school coach working for Coach Smith, and he got back in my gym when I came back and worked as an assistant," Williams says. "So I've known him since he was 13 or 14 years old."
This particular matchup was facilitated by Eddie Fogler, a UNC alum who was a long-time college hoops coach himself. Fogler called Young to ask whether he'd be interested in a two-for-one home-and-home series with the Tar Heels. Of course, Young was interested. Soon after, the deal was done. 
More big-time college coaches should follow Williams' lead.
♦♦♦
It's a little after 12:30 p.m. Fletcher Magee — Wofford's senior scoring star — and Ryan Larson — a freshman from Minnesota — are the last two players still shooting before the Tar Heels get the gym floor. For the coaches, it's time for lunch.
Young climbs into his car, along with McAuley and Murphy. Pearl Jam's SIRIUS station, Channel 22, is on the radio. "I'm betting Ryan's a Pearl Jam guy," Young says to his assistants. He's not wrong.
A live version of "All Along the Watchtower" is playing, with Neil Young on stage, too. The head coach turns up the volume and sings along. The drive to lunch, in Burwell Dining Hall on campus, isn't long enough, so we have to depart the vehicle before the song ends. 
Greg O'Dell, one of the best players in Wofford history, is joining the group for lunch. Young raves about O'Dell as a player, and who O'Dell is now as a person. He's still third on Wofford's all-time scoring charts in school history, at 2,208 points. Fun fact: O'Dell, who drove in from Washington, D.C., for this game, was part of the group that played in President Barack Obama's regular basketball game when he was in office. 
As the group walks through Burwell, everyone has words of encouragement for Young and his coaches. Good lucks and glad hands. There's occasional sarcasm, too.
"Hey, when's your next game? I haven't heard anything at all about it," the assistant baseball coaches ask the assistant hoops coaches. 
Spoiler: They have heard about it. Everyone's heard about it.
Young intentionally left his phone in his office before heading to lunch, partially because it hasn't given him a moment's silence in, well, forever. Anyone associated with any level of power in the program has been besieged with ticket requests, and it's been nonstop for those at the top of the program's pyramid. 
Spoiler, Part 2: There aren't any tickets to be found.
"It's easily the toughest ticket in Wofford sports history," Thom Henson, the color analyst for Wofford basketball and football broadcasts for two decades, tells me during shootaround.
MORE: SN's 2018-19 preseason All-Americans
The great thing about this game, from Wofford's perspective, is that it has the chance to host one of the most storied college hoops programs in the country on its still-very-new home court. The amazing thing about this game? It's actually a revenge game. 
For the Tar Heels. 
Last year, the Terriers bussed the 200-some-odd miles mostly up Interstate 85 into Chapel Hill and stunned the Tar Heels, who were ranked No. 5 at the time, in a 79-75 victory. 
"I definitely remember what happened to us last year," Williams said after Tuesday's game. "They spanked us in our home building."
I asked Magee about the unique situation a few weeks ago after a Wofford practice.
"It is weird to think about," he said with a laugh. "I think they'll be more ready for us, being the first game of the year for them. I'm sure they'll be more prepared, just fully ready to go."
The Terriers built a sizable lead last year and had to hold off a big UNC push down the stretch. Magee had 27 in that one, including a couple of huge 3-pointers late to seal the upset. 
"It was definitely a really special experience for us. I think about that moment we knew it was over, when we were up four with a second left, and we inbounded the ball, I think about that feeling, just having the ball in my hands," Magee said. "The whole game, you don't really smile or let it get to you until, you know, it's totally over. So when the clock finally hit zero, that feeling that just rushed through me was amazing."
♦♦♦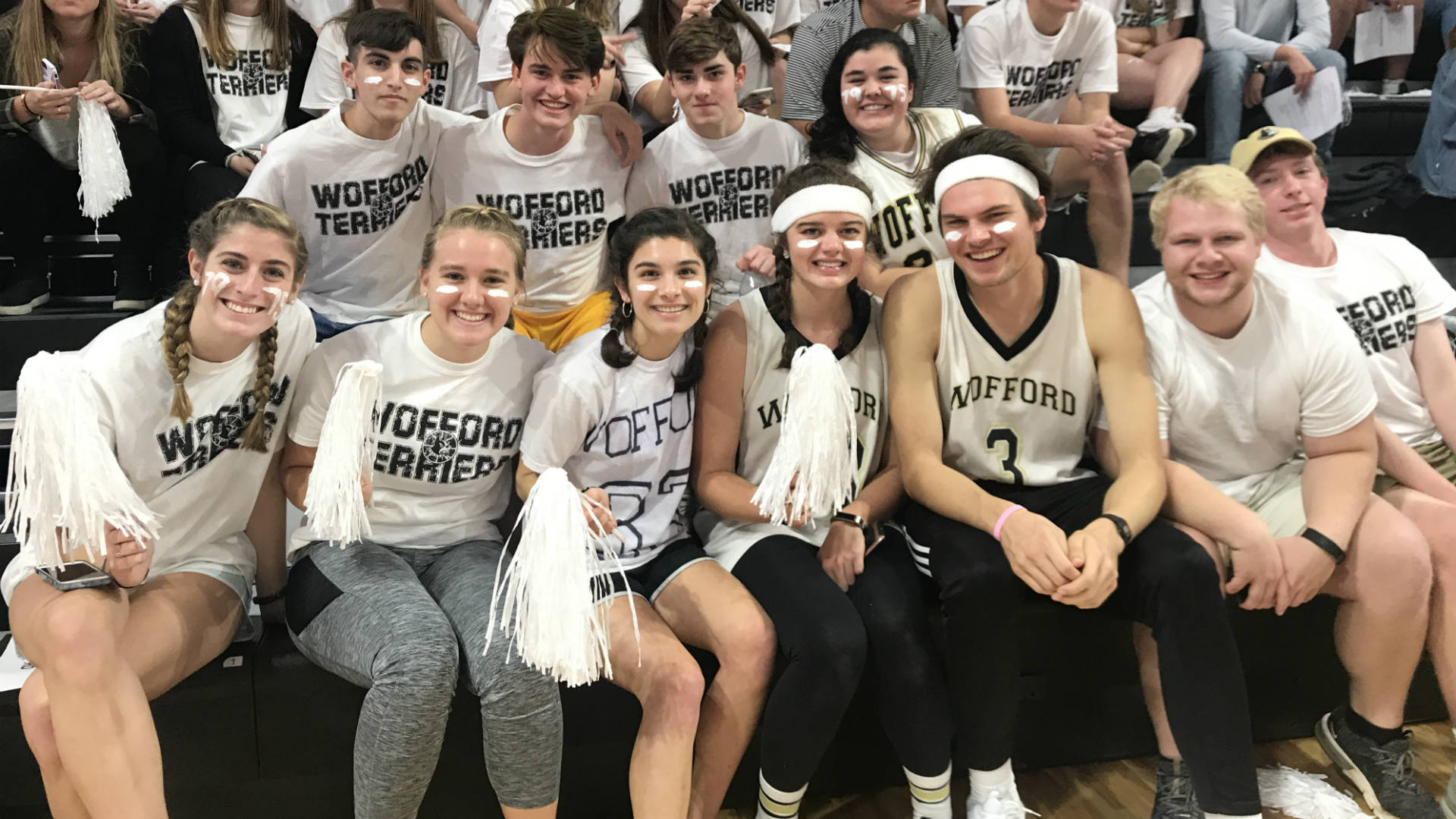 Wofford students show up in droves to support the Terriers' game vs. UNC (Ryan Fagan/Sporting News).
It's a little after 5:30 p.m., and the arena doors have just opened. The students stream in with the most vigor, led by junior Jonathan Hall; he was the first to arrive on game day, four hours earlier. The student section is first-come, first-serve, and sitting down front was important to the early arrivers, even though there isn't a bad seat in the venue.
The scene waiting for the doors to open was much less chaotic than a couple of days ago, when students lined up to actually get their tickets.
Outside the arena, those who couldn't finagle tickets but still wanted to be a part of this unique event are tailgating. Henson, who knows about these types of things, says he can't ever remember anyone tailgating for a Wofford basketball game. 
Inside the arena, upstairs from the lobby, T-shirts are being handed out for free. It looks as if there are at least that enough shirts stacked on the tables to fill the building's 3,400-person capacity. The clothing message, though, isn't necessarily pro-Terriers. On one side of the shirt, an outline of the state of North Carolina with the team name. On the other, an outline of the state of South Carolina, with Wofford's team name.
They have a couple of T-shirts to give away at the UNC-Wofford game today … pic.twitter.com/ZxIzNLRKcA
Tipoff can't arrive soon enough. 
♦♦♦
It's a little after 8 p.m., and the first half has been an exercise in patience for the host team. As a group, they made only 2 of 16 shots from beyond the 3-point arc, and their star, Fletcher Magee — who was named to the preseason Jerry West Award watch list and drilled 43.9 percent of his 3-point attempts last season — is 0 for 4 from deep. 
Still, the Terriers only trail by seven. Hope remains, as the crowd reminds them on every possession.
Then, finally, Magee knocks down his first triple of the game six minutes into the second half and makes another on Wofford's ensuing possession — both with the signature Magee degree of difficulty — and in that moment, everything feels different.
MAGEE FOR THREEEEE! pic.twitter.com/S88tBrVq36
A Chevez Goodwin bucket inside caps a 12-3 run for the Terriers and knots the game at 46 all and the crowd reaches frenzy status. Hope feels like reality for the first time since UNC raced out to an early double-digit lead in the first half. This is what the capacity crowd had been dying to see. Shouts of joy replace shouts of encouragement throughout the arena. 
But the Tar Heels are the eighth-ranked team in the country for a reason. Cameron Johnson, now a grad student at UNC and fully healthy after offseason hip surgery, splashes home three 3-pointers of his own over the next few minutes, opening up breathing room the Tar Heels won't relinquish. 
Carolina wins, 78-67, behind 24 points from preseason first-team All-American Luke Maye, 20 from much-improved sophomore big man Garrison Brooks and a stellar defensive effort by Kenny Williams, who effectively chased Magee around the court for most of the night. 
♦♦♦
It's a little after 9:30 p.m., and though the game's been over for almost 45 minutes now, the floor is still full of people. Players from both teams linger, talking with family and friends. Sometimes, the normal end-of-game traditions just aren't enough.  
Thank you Terrier fans ? pic.twitter.com/z9nVHwROGn
Young greets a constant stream of family and fans and alumni, shaking hands and smiling. Nobody's ready for this day to end, not quite yet. 
When he gets a moment, he walks over and grins, "Wasn't this great? Wasn't this a great college basketball atmosphere?"
As was the case earlier in the day, he's not wrong. 
Source: Read Full Article