NBA round-up: Chris Paul scores 32 as Houston Rockets snap losing streak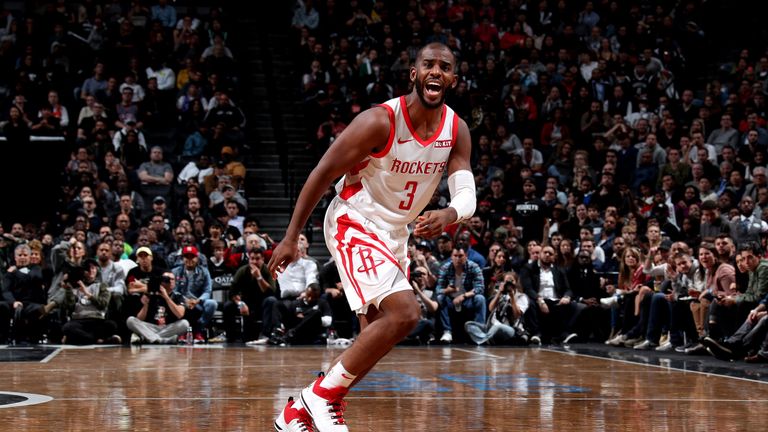 Chris Paul scored 32 points as the Houston Rockets ended their four-game losing slump with a 119-111 victory at the Brooklyn Nets.
Friday night's results
Houston Rockets 119-111 Brooklyn Nets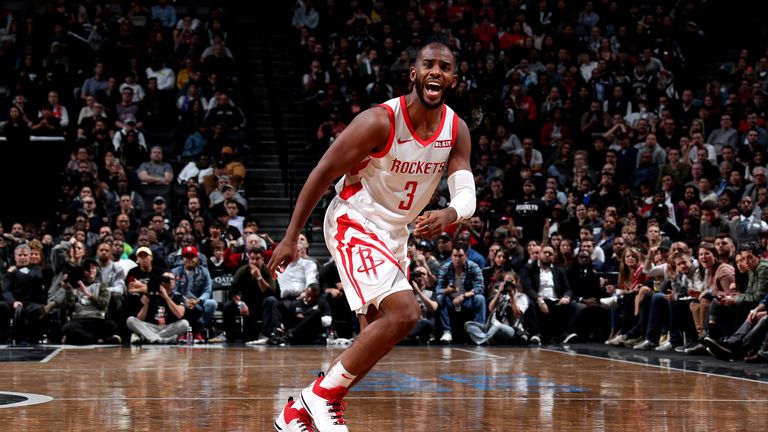 Chris Paul scored a season-high 32 points as the Houston Rockets opened a season-high five-game road trip by rallying from a 14-point deficit to record a 119-111 victory over the Brooklyn Nets on Friday night.
Paul helped the Rockets avoid their first 1-6 start since 2010-11 by shooting 13-for-27 from the field. He also made five three-pointers, including two that beat the buzzer in the second and third quarters.
Paul recorded his 70th career game with at least 30 points, his first since January 26 at New Orleans. The point guard added 11 assists and seven rebounds.
Carmelo Anthony put the Rockets ahead for good with about seven minutes left in the third quarter by hitting consecutive three-pointers and added a season-best 28 points. He also hit consecutive three-pointers with about five minutes remaining in the fourth to stem a Nets run and give Houston a 106-102 lead.
Clint Capela dominated inside with 22 points and 13 rebounds as the Rockets outscored the Nets 76-54 over the final 27:11. Eric Gordon contributed 21 points as the Rockets shot 49.4 per cent from the field.
The Rockets played their third straight game without James Harden (strained left hamstring). Harden worked out on the court before the opening tip and coach Mike D'Antoni said he would probably play Saturday in Chicago.
Caris LeVert scored a career-high 29 points for the Nets, who also shot 49.4 per cent while losing for the fourth time in five games.
Toronto Raptors 107-98 Phoenix Suns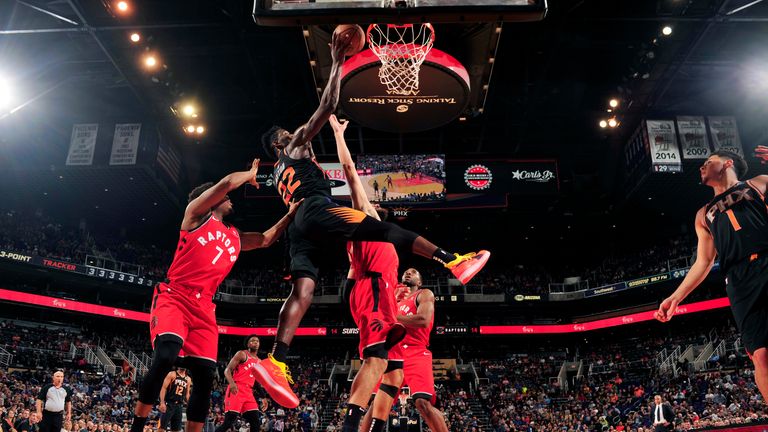 Kawhi Leonard scored 19 points, grabbed six rebounds and added five assists as the visiting Toronto Raptors defeated the Phoenix Suns 107-98 to move to 8-1.
Kyle Lowry added 11 points, 12 assists and six rebounds for the Raptors, who have won eight of their first nine games this season. The Suns have lost seven in a row after winning their season opener.
It was the seventh consecutive game in which Lowry has had 10 or more assists, matching a team record. It was his sixth double-double of the season.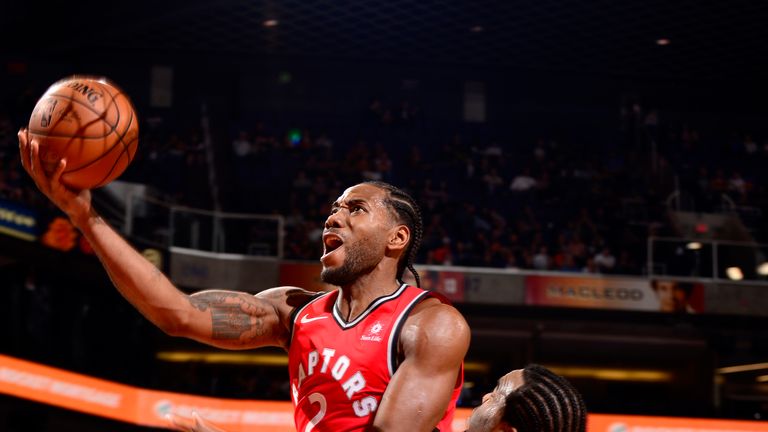 Jonas Valanciunas had 16 points, seven rebounds and four blocks for Toronto while Serge Ibaka added 14 points and Pascal Siakam had 10.
Leonard left the game and went to the dressing room with 2:42 to play with what was described as a jammed foot.
Isaiah Canaan had 19 points for the Suns, while Deandre Ayton had 17 points and a career-best 18 rebounds. Devin Booker added 18 points, Josh Jackson 11 while Trevor Ariza and TJ Warren had 10 apiece.
Oklahoma City Thunder 134-111 Washington Wizards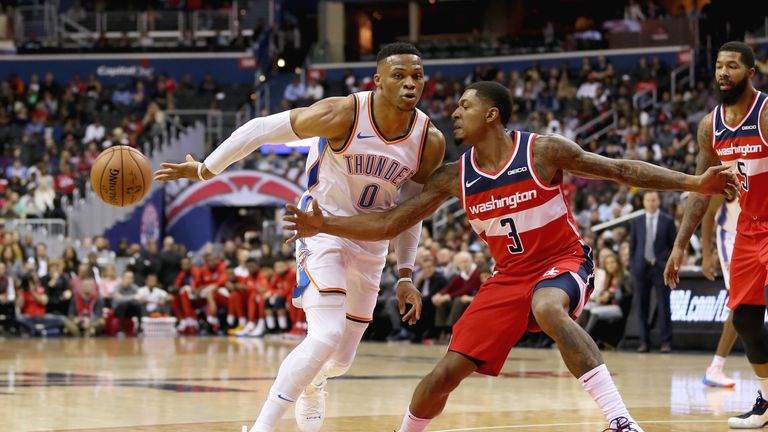 Russell Westbrook had 23 points and 12 assists while Jerami Grant scored 22 as the visiting Oklahoma City Thunder routed the Washington Wizards 134-111, spoiling the debut of Dwight Howard.
Westbrook hit 10 of 16 field-goal attempts and Grant made nine of 11 for the Thunder, who pulled away in the second quarter.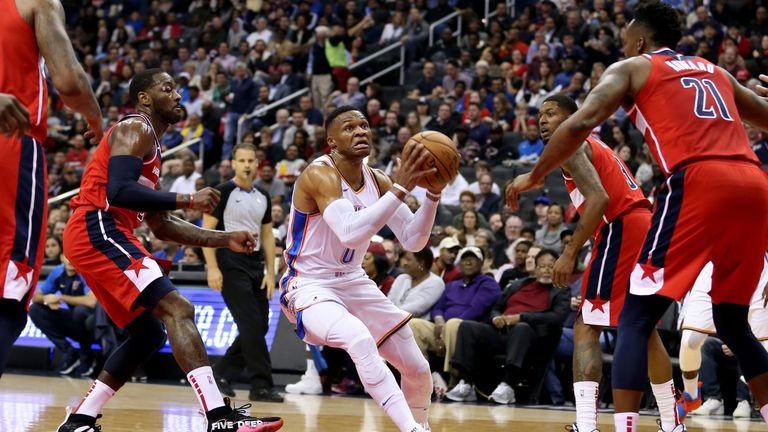 Paul George scored 17 points and Dennis Schroder added 16 off the bench as Oklahoma City, playing the second of road back-to-backs, won their fourth straight game.
Bradley Beal led Washington with a game-high 27 points.
Howard, who missed training camp, preseason and the team's first seven games due to a strained piriformis muscle in his lower back, scored 20 points on 7-of-8 shooting in 23 minutes.
John Wall had 19 points and nine assists, but also committed seven turnovers as the Wizards lost their fifth straight game.
New York Knicks 118-106 Dallas Mavericks
Undrafted rookie guard Allonzo Trier scored 23 points and led four bench players in double figures as the New York Knicks earned their first road win of the season with a 118-106 victory over the struggling Dallas Mavericks.
The Knicks gained confidence and control of the game with a 13-3 start to the third quarter that led to a 33-18 advantage in the period and an 89-77 lead after trailing by three points at half-time.
Dallas, led by Dennis Smith Jr's 23 points, hoped for some good fortune at home after an overtime loss at San Antonio and a one-point defeat at the Los Angeles Lakers in their previous two games.
But sloppiness that led to 18 turnovers, a lethargic offense and a toothless defense doomed the Mavs to a sixth consecutive loss.
The Knicks, meanwhile, found some offense they will need as they started a stretch with eight of their next 11 games on the road.
New York, who came into the game ranked 25th in the NBA in scoring (106.0) and 26th in field-goal percentage (43.1), had seven players score in double figures. The Knicks shot 54.8 per cent overall despite going just seven of 29 from beyond the arc.
Los Angeles Clippers 120-95 Orlando Magic
The Los Angeles Clippers stopped a two-game losing streak with a 120-95 blowout win over the Orlando Magic.
The Clippers outscored Orlando 35-22 in the second quarter to grab a 57-44 half-time lead, and Orlando never threatened in the second half.
Lou Williams led Los Angeles with 28 points, and Tobias Harris scored 21.
Boban Marjanovic posted a double-double with 10 points and 11 rebounds in his first start with the Clippers. Marjanovic got the nod ahead of Marcin Gortat, who was healthy but did not play. Gortat had started 186 straight games, but was averaging just 3.6 points and 5.5 rebounds per game through eight starts this season.
The Clippers head back to Los Angeles with a win after losing consecutive games at Oklahoma City and Philadelphia.
Indiana Pacers 107-105 Chicago Bulls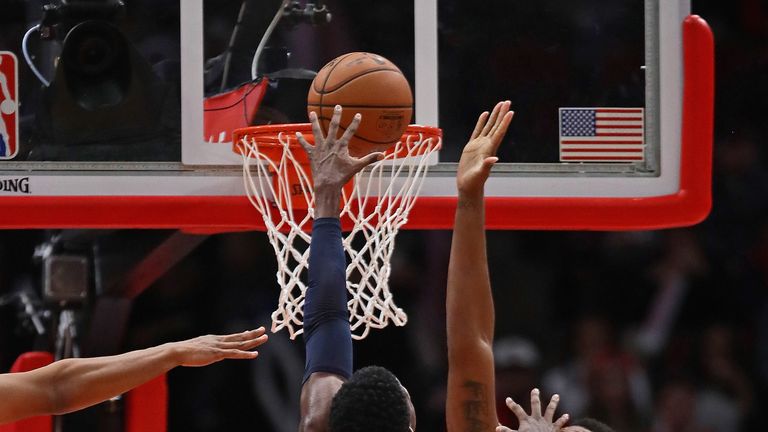 Darren Collison's 19-footer broke a tie with 18.5 seconds, helping the Indiana Pacers survive a see-saw battle and overcome the host Chicago Bulls in a 107-105 victory.
After watching Antonio Blakeney improbably rally the Bulls from a 105-101 deficit with a four-point play with 30.5 seconds to go, the Pacers called a timeout and got the game-winning shot from Collison 12 seconds later.
The Bulls had two subsequent chances to tie and a third to win, but Zach LaVine misfired on a 14-footer and Justin Holiday missed with a three-pointer with 5.7 seconds left before Blakeney's 19ft buzzer-beater was blocked by Myles Turner.
The win was the Pacers' fourth straight on the road and the fourth overall in their last five games.
Chicago, meanwhile, dropped a third straight to begin a four-game homestand.
Memphis Grizzlies 110-100 Utah Jazz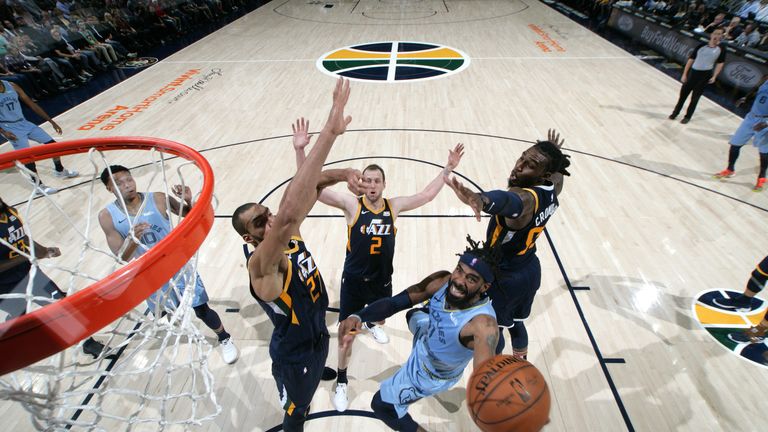 Mike Conley scored 28 points and Shelvin Mack added 19 off the bench to rally the Memphis Grizzlies to a 110-100 road victory over the Utah Jazz.
Marc Gasol added 17 points, 10 rebounds and seven assists to help the Grizzlies notch their second road win over the Jazz. Memphis have won three straight and five of six overall.
Ricky Rubio scored 22 points to lead Utah. Joe Ingles added 19 points, and Jae Crowder chipped in 18. Rudy Gobert collected 16 rebounds. The Jazz remain winless at home, dropping to 0-3 in Salt Lake City.
Utah played without guard Donovan Mitchell. He was sidelined with right hamstring tightness after suffering injury in the fourth quarter of Wednesday's 128-125 loss to Minnesota.
Minnesota Timberwolves 99-116 Golden State Warriors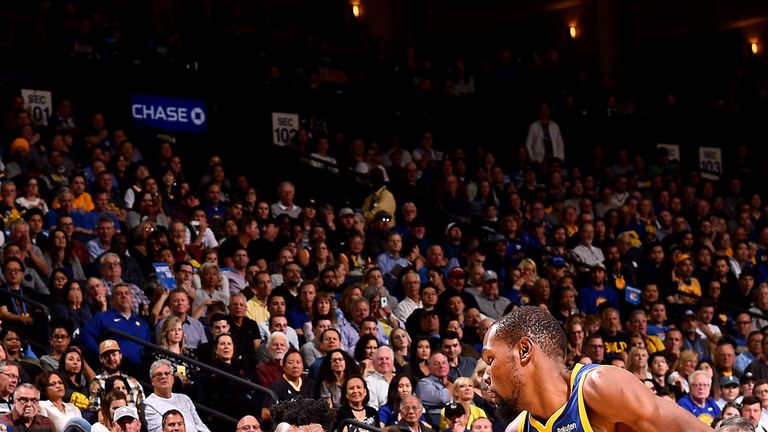 Klay Thompson saved 10 of his 22 points for the first six minutes of the fourth quarter, helping the Golden State Warriors overcome a deficit to beat the Minnesota Timberwolves 116-99 in Oakland.
Kevin Durant led all scorers with 33 points and Stephen Curry dropped in 28 with nine rebounds and seven assists for the Warriors, who won their seventh straight, but failed to reach 120 points for the first time during the streak.
Andrew Wiggins had 22 points and Jimmy Butler scored 21 for the Timberwolves, who lost Derrick Rose five minutes into his first stint off the bench with an ankle injury. Rose was coming off a career-high 50-point explosion Wednesday at Utah.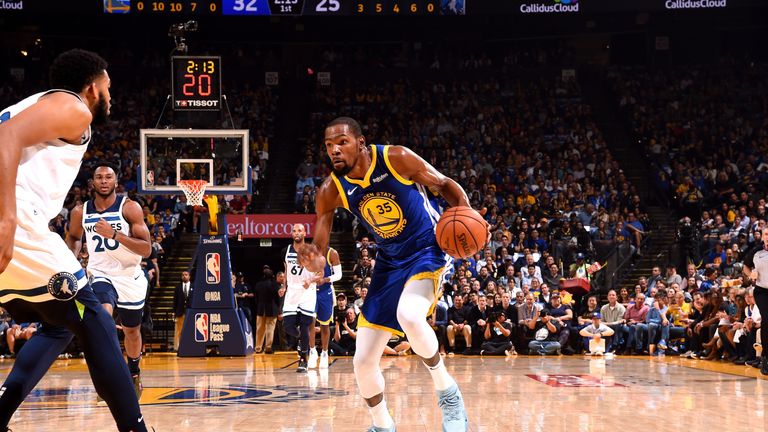 After leading by as many as 12 in the first half, the Warriors found themselves down 87-83 at the start of the fourth quarter before Thompson caught fire.
After trading baskets with Butler, Thompson buried consecutive three-pointers to put Golden State ahead for good 91-89 with 10:19 remaining.
Watch the Detroit Pistons take on the Philadelphia 76ers via a free live stream on skysports.com and the Sky Sports app on Saturday at 5pm
On Saturday November 10, you will be able to follow the Milwaukee Bucks @ Los Angeles Clippers, also available on a free live stream, from 8:30pm on skysports.com and the Sky Sports app.
Sky Sports is the new home of the NBA in the UK with live coverage throughout the week, including selected live games free to all Sky subscribers via Sky Sports Mix.
And www.skysports.com/nba will be your home for news, reports, video and features throughout the season while you can follow us @SkySportsNBA
Source: Read Full Article