Phipps lashes Folau, suggests controversy cost Tahs shot at finals
Departing NSW and Test halfback Nick Phipps has hit out at sacked former teammate Israel Folau and suggested his actions cost the Waratahs a spot in the Super Rugby finals.
Phipps scored a try in the Waratahs' season-killing 35-24 loss to the Brumbies at Bankwest Stadium on Saturday night, a match that was his, Sekope Kepu's and Curtis Rona's last home game in NSW colours.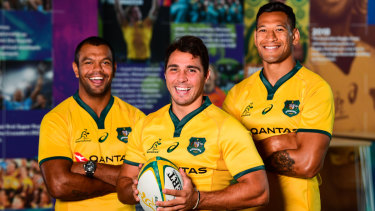 Happier days: Kurtley Beale, left, Nick Phipps and Israel Folau less than a month before Folau's Instagram post sparked outrage. Credit:Stuart Walmsley/RUGBY.com.au
The 71-Test halfback appeared on Channel Nine on Sunday morning, saying he was not angry at Folau but "extremely disappointed".
"Disappointed in the way way he decided to reflect those views. He can have those views, that's fine, everyone's allowed to have their own opinions," Phipps said.
"It's not something that the majority of us share but the way that it came out and the way that it's happened twice now is disappointing.
"We wanted to be making finals at the Waratahs this year and we haven't really been given that opportunity to make it."
…It's disappointing that I'm watching the game that I love be picked apart for the last eight months.
Phipps said Folau went to ground after his April 10 post condemning homosexuals, among other groups, to hell, a move that left his teammates "on trial" for something they had no part in.
"It's disappointing because the players that haven't been involved in this are still so on trial. There's no right side to be sitting on, apparently, everyone's got an opinion about it," he said.
"There are players very close to Izzy who are very Christian as well and that's tough for them to understand and it's tough for us as well.
"When you're on the road doing battle every week, it's a very tight-knit group and then when one of your own – who you love and respect, every single day train with, work hard with – [does this], it's very distracting and sad."
Making a game of it: Nick Phipps crosses for the home side at Bankwest Stadium, but it proved to be a mere consolation.Credit:AAP
"I can't speak for everyone. I definitely don't agree with the stance he's taken but that's his view," Phipps said.
"I'm extremely disappointed in the stance (Folau) has taken, but it's obviously something that's very important to him and I can't speak for the rest of the group but there's a lot of players disappointed in the way it's all gone down.
"It's something that's distracted us from our goal this year to be making finals and it's disappointing that I'm watching the game that I love be picked apart for the last eight months.
"There's so many good stories out there about rugby union and we're not getting to talk about them."
Source: Read Full Article