'Second only to NBA': Sydney at the heart of NBL's second coming
The first basketball gold rush in Australia, like most places around the world, arrived in the early '90s on the back of Michael Jordan and the Chicago Bulls. The commercial and cultural infiltration was profound, spectacular and enduring.
It was Starter caps and Larry Johnson/Grandmama extolling the virtues of Converse Reacts. It was Jordan and Larry Bird in a McDonalds advertisement going shot-for-shot for a Big Mac and fries.
There was Patrick Ewing and Hakeem Olajuwon and 'The Admiral' David Robinson in the low post and Tim Hardaway's UTEP 2-Step and Shawn Kemp dunking holes in people's faces and guys like Detlef Schrempf with flat-tops like they had just left the Marines to wander onto an NBA court.
In Australia, it was NBA Action on a Saturday morning before Andrew Gaze and Lanard Copeland and the D-Train, Dwayne McClain, took over in the NBL. They were household names then and for enduring hoops fans, still are.
D-Train: Dwayne McClain avoids the close attention of Tigers forwards Robert Sibley and David Simmons in 1992. Credit:Tim Clayton
This isn't a wistful meander back through time, because it serves a purpose to identify a generation of local basketball fans that Larry Kestelman, who now owns the NBL, feels was lost to the cause. Now many of them are back in the stands, as are an entirely new generation of supporters. So is basketball on a whole, perhaps more emphatically than ever before.
"When you get through to about 80 per cent of all possible capacity of stadiums, you probably feel like it's hard to keep growing," Kestelman said of the NBL's record home-and-away season total of 714,346, an average of 6,378 per game.
"We're very happy. We're trying to set up a product of entertainment. That's the business we're in… off the court, everyone loves it, the atmosphere and production is great."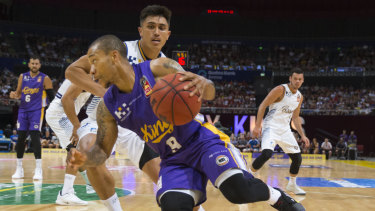 All hail: Kings like Jerome Randle have been a success story for the NBL in a crucial market, as has the return of the Brisbane Bullets further north.Credit:AAP
Sydney has been at the heart of the second coming of the sport, with Andrew Bogut's signing for the Kings a masterstroke not only for the quality he brings to the court but the presence and character he provides when he's not in uniform. And on Twitter.
Fans have responded in kind and it has been the Harbour City at the centre of the league's growth as the NBL heads into its playoffs next week, with the Kings on the road against Melbourne United on Thursday.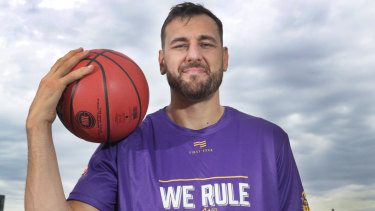 Poster boy: Andrew Bogut has been at the centre of the NBL's success this season. Credit:AAP
"We're thrilled the city is behind the Kings. The other venues are also very full and I think there was something like 35 per cent growth in Sydney, they've broken all records for the Sydney Kings," Kestelman said.
"What we had to do in Sydney is to make sure the product is world class. And that started with attracting the right owners. You need to get the right people involved. The sort of show they put on at the games is world-class. It's an amazing venue they run. And then you put a good team on the court that will actually perform.
"You put all that together and people will come… people aren't silly, they know when something is good in front of them. They vote with their feet and their dollars. They respect what the Sydney Kings and basketball is doing."
Everyone in Australian basketball respects what Kestelman has been doing. The internet and property mogul has transformed the NBL from a competition on the verge of capitulation just four years ago to a summer mainstay.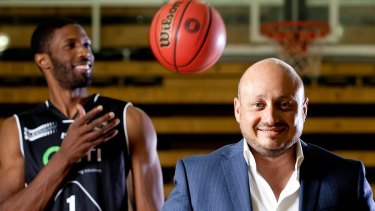 Larry Kestelman: 'I can tell you now, what fans are seeing in Australia in terms of product and entertainment, is only second to the NBA.'Credit:Arsineh Houspian
He often hears people remark how quickly basketball has rebounded, so to speak, but behind closed doors it has been anything but an overnight success story, with years of toil and vision and a good dose of luck producing an excellent league that has been rewarded with patronage, broadcast deals and sponsorship dollars.
"It is back. But I'm sure it feels more like an overnight success from the outside than the inside. We've been working at this for a long time. We took over Melbourne [United] seven or eight years ago and starting learning how to put on a great show, then four years ago we took over the league.
"But it feels like it has really started to accelerate and that's about building a new fanbase. We probably left a bit of a fanbase behind when the game dropped off 10 or 15 years ago.
"There's a generation that grew up starting to watch the NBA. And it's more accessible. Now, we really compete with the whole world. So if our product is not right, people won't give up time and effort and money to watch it.
"I can tell you now, what fans are seeing in Australia in terms of product and entertainment, is only second to the NBA."
The NBL was able to ride the bow wave of the NBA explosion in the early 90s and now finds itself in an era where more Australians than ever before are not only playing in the US but reaching upper-tier status.
Ben Simmons was the first Australian player to become an NBA All Star and his Philadelphia 76ers coach, former Boomers mentor Brett Brown, waxed lyrical during the week about the health of the sport back Down Under.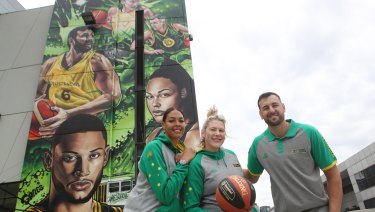 Super stars: Liz Cambage, Lauren Jackson and Andrew Bogut pose in front of a Marvel Stadium mural to promote the 2019 NBL finals.Credit:AAP
Brown has a decades-long association with the local game, having coached some of the great names of the NBL, including Ben's father Dave Simmons.
"Let's start with where the sport is at, it has never been healthier," Brown said as the 76ers hosted an Australian Heritage Night during the week.
"I've been involved with Australian basketball since 1985 and that is a long time. When you look at the quantity of players, both male and female, in the United States collegiate system… I think you are up over 200 athletes… they are respected as tremendous competitors and English speakers.
"It is a highly recruited nation and if you look at their chances for a medal, it has never been stronger. The quantity of NBA players from Australia now in the league has never been bigger."
The Boomers have yet to earn a medal at an Olympic Games, unlike the Opals, who have been consistently strong at international level and have claimed two bronze medals and three silvers since 1996.
Should Australia be able to field a full-strength men's team at Tokyo 2020, surely the men's medal drought can finally come to an end.
"If you stand back and have a look, there is also the simple fact that we are really good at the game," Kestelman said. "And it's a global game.
"We all love our football codes, netball… but apart from soccer, basketball is the biggest sport in the world. That's an inspiration for our kids. When you pick up a ball, the world is out there and there is a path right to the top."
Kestelman knows sports can go through periods of serious upswing, followed by dips or plateaus in popularity. Both the BBL and the A-League, two of the NBL's summer rivals, have endured muted campaigns while basketball stadiums have been rocking.
The sport's administrators have tapped into a huge participation market and Kestelman feels a greater responsibility to the wider game, vowing not to take his eye off the ball as basketball enters an enthralling finals series and a countdown to another Olympic Games.
It is a highly recruited nation and if you look at their chances for a medal, it has never been stronger.
"We are in a sport that can make decisions and control our own fate. The sport is united from Basketball Australia right through to the grassroots. We're in a great position," he said.
"I'm going to do my bit not to let it fail."
Source: Read Full Article